Going for a bike ride? Taking a shower? A bath? Perhaps you're on a boat or you're taking a holiday? Want some music for your travels? Well, check this new speaker out from Polk Audio. It's the Swimmer Duo speaker and, although it'll work fine on it's own, you can link two of these together and use them as the left and right speakers.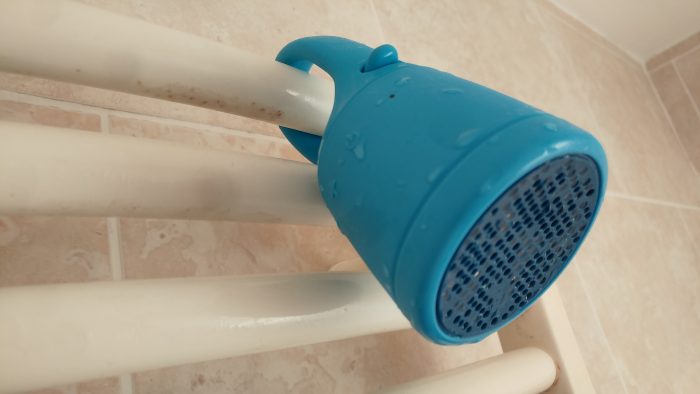 Many years ago, when I was in Las Vegas (yes, a bit posh, but it was part of our Honeymoon), I dropped my phone into the pool. This speaker, though, loves the pool. It can be totally immersed in up to 3 feet of water for a full 30 minutes thanks to the IPX7 rating. Now, while I can't afford to go back to those casinos and try this in the pool, I can at least put this in the shower and play slot machines online instead. It's sort-of the same, so here's the test 🙂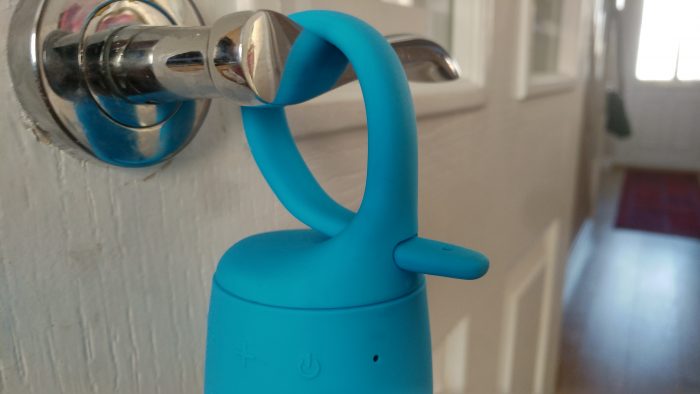 Out of the box there's a twisty, bendy top section which holds, hooks and twists like a mad rubberised monkey hand. Imagine a watch strap with more rigidity to it and you're almost there. You can attach it to a shower head, a door handle, your handlebars, a pole, light fitting, tap or anything in-between. The rubberised arm can either be bent around an object or hooked into a small hole to maintain the hold. Loop it round and off you go.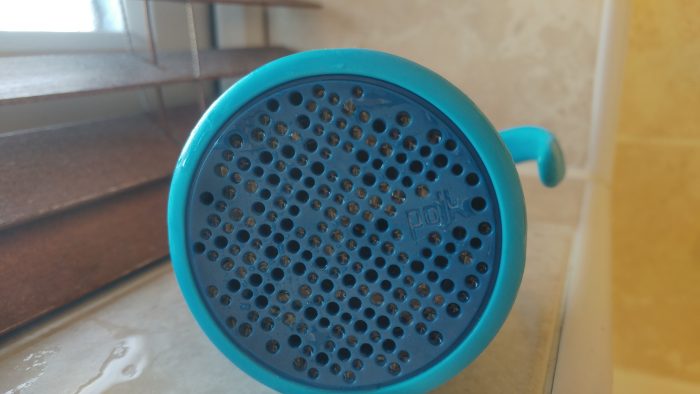 Wait, you don't have anything to hook it on? Don't worry, unscrew this attachment and you'll have yourself a suction cup instead. Then you can plonk it onto a door, some wall tiles, a window or the side of a pool or bath. Your choice really.
When you take the attachment off, which you do by unscrewing it, you'll see the microUSB charging port (cable provided) and the AUX line-in. I can't particularly see you actually using this 3.5mm audio-input because you won't be able to use the attachment at the same time, but then again if you do plug it in you'll instantly lose the waterproof protection so…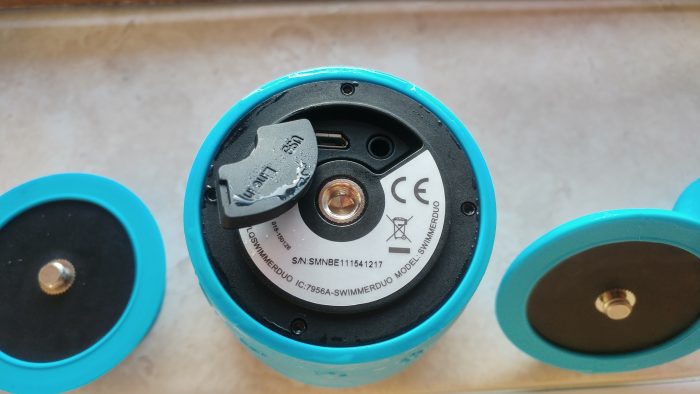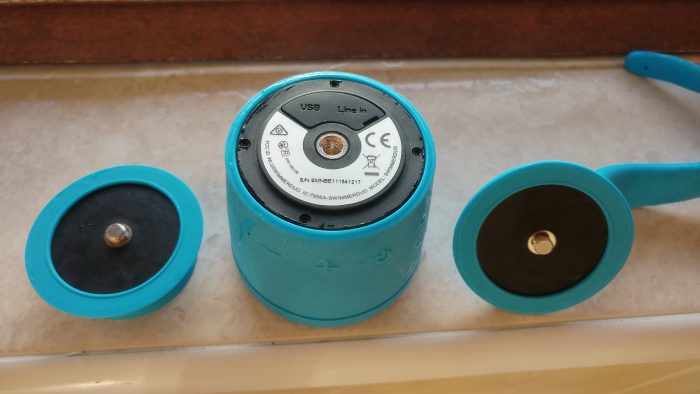 Operation is pretty easy. There's big rubberised buttons on the side. Press and hold the power button to wake it and it'll try to pair immediately. Press both the volume up and down buttons at the same time to play or pause, or tap the appropriate button to adjust the volume. You can also press and hold the up / down buttons to skip forward and back through tracks.
The other button is to connect / link another one of these Polk Boom Swimmer speakers. To do that you'll need to buy another one of these (a tad pricey at £57.86 from Amazon per speaker) and then you press the button for 3 seconds on both to pair them.
The speaker will also let you answer phone calls, although in the two-speaker arrangement don't ask me which speaker acts as the microphone.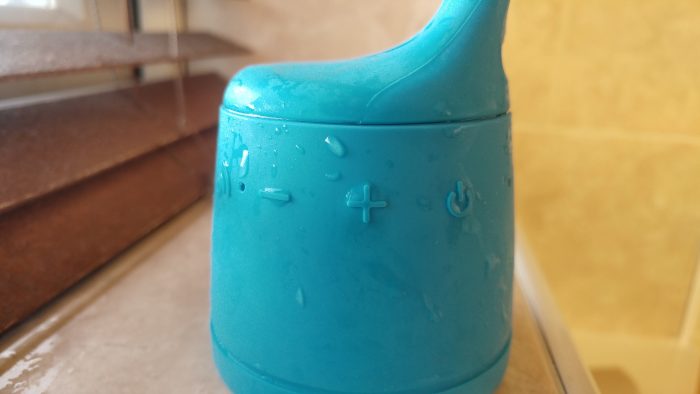 The finishing material on this thing is really nice. It's a tough little cookie and, with the rubber outer shell, it's shock and dirtproof too. The battery will keep things going for up to 8 hours depending on your volume setting and, perhaps something I should've mentioned by now, the mid-range speaker provides ample volume and sufficient "kick". The sound is also somewhat augmented if you attach this to a door, especially (as I found) a kitchen cupboard door. The sound reverberates into the door and makes for a louder and more powerful experience.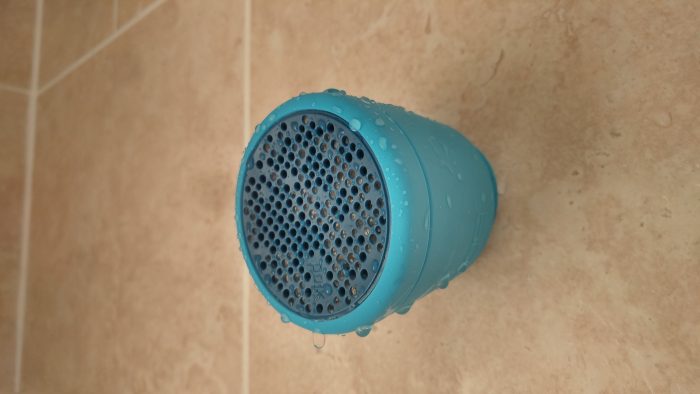 The suction cup is strong, the other attachment works very well and it's a properly solid performer. Ideal for your camping, hiking or biking trip. Likewise, it's also great to stick on the wall in the shower so that you get the breakfast radio show while you're doing your hair.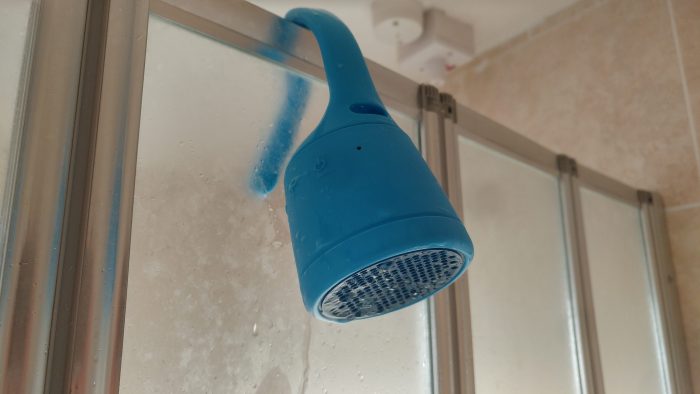 Head to Amazon UK where it's available in four colours. Prices start at £57.86. In the US, you can get it from Amazon for $42.83, which is strangely cheaper.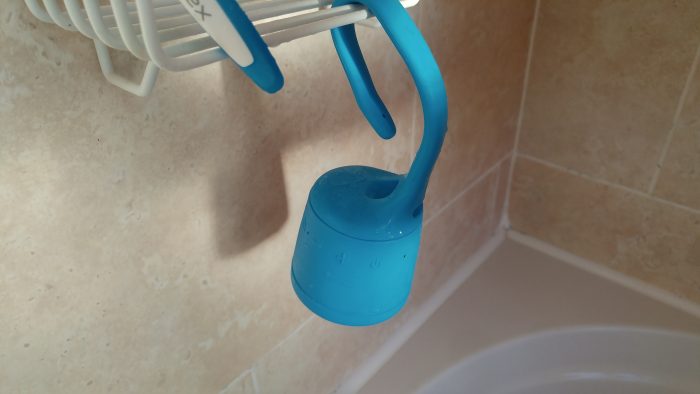 Yes, this is a bit expensive. Yes, considering the size it's not going to give you the entirety of the audio banquet, but it's loud and proud. It looks good, it performs well and it's a plucky performer which can survive modern life. I've even left it in the hands of a teenager for several days and it survived, which is definitely a good thing!
Polk BOOM Swimmer Duo Bluetooth Speaker Review
Sound quality - 85%
Volume - 93%
Build quality and design - 93%
Battery - 86%
Price - 71%
This is rugged, waterproof and is surprisingly loud when you crank it up. Comes complete with a sucker or a cool twisty, malleable hook. Great build quality and good battery. A little pricey perhaps.