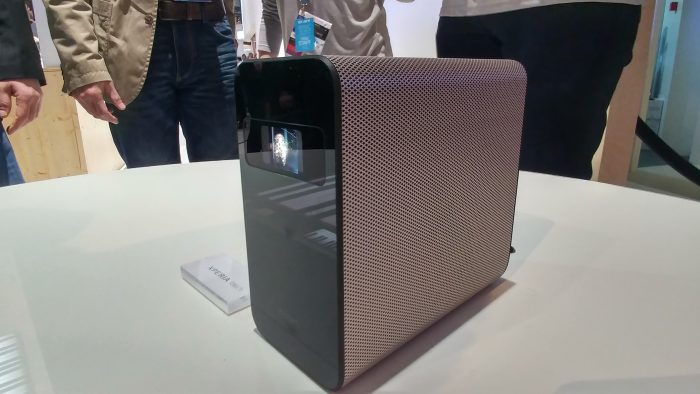 This morning we covered the Sony press conference live. They announced a new Xperia XZ Premium handset which we'll be telling you more about shortly. They also announced a couple of mid-range devices – the XA1 and XA1 Ultra – and some open-ear headphones …… but our attention was drawn to this, the Xperia Touch. It's an Android projector that turns any surface into a touchscreen.
It's not just a projector though, and for that I was kinda glad as it was suffering a tiny bit under the immensely bright show lights. In your home I think the resulting image would be a lot brighter, but you can either have the projector pointing at a wall or a desk. The result is, basically, your Android screen but… super-sized.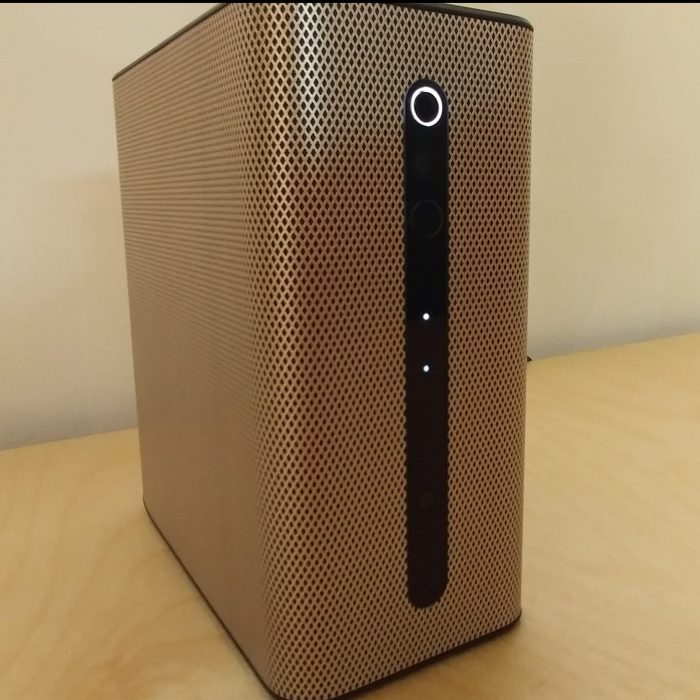 The best bit? You can interact with it. On a table you can move items around, drag icons and enter text or play on a keyboard. Multitouch (10 point) is supported and it's all very fluid. It uses the Sony SXRD projection display technology.
On the wall, you can interact with the Xperia Touch via gestures which you can do from a distance. Check this demo out, courtesy of my new YouTube mate @MarzBarGaming..
On the wall Sony is hoping that it'll be your media centre / digital hub. An interface seems to combine weather, calendar events and a memo board so that you can doodle reminders onto it. There's also Skype, WhatsApp video calls and so on.
You can get full information on the Sony Mobile website. It comes with Android Nougat, 3GB RAM, 32GB storage (plus a microSD slot) and weighs in at 932g. It's 69 x 134 x 143 mm and you'll get about an hour usage if you just have it on battery. GPS, WiFi, Bluetooth 4.2, NFC and a HDMI Type-D connector features. It'll then output a 1366×768 image which ranges in size from about 23-80 inches. A laser diode does the lighting (100 lumens / 4000*1) and there's also a 13 megapixel camera built which works with an IR sensor to detect your fingers. You also get two-way stereo speakers.
It'll be available from "the Spring" and runs any app or game downloaded from the Google Play Store. The price? €1499, which is about £1276.58.