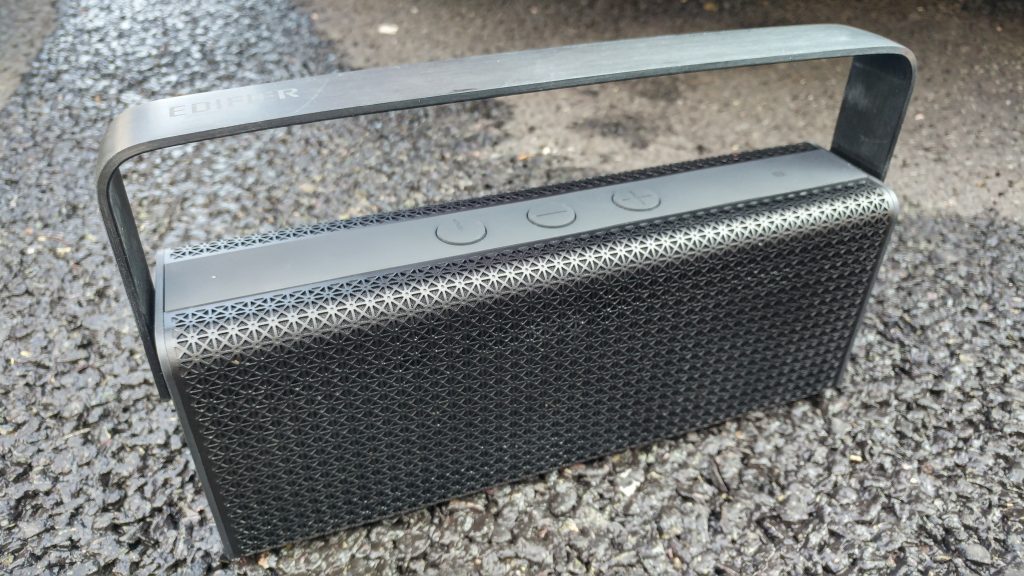 The first thing you notice about this particular Bluetooth speaker is the price. It's £229 on Amazon. That, I have to say, is a massive price-tag for a Bluetooth speaker.
It weighs in at 1.6 kg and measures 29.4 x 6.7 x 17 cm. At 1.6Kg it isn't light but you soon find out that this is due to the metal construction, with a strong metal handle which folds back 90 degrees – you can use it to prop the speaker up if you wish. The sturdiness and build quality is pretty stunning actually.
Charge it for 2.5 hours and you'll notice a strip of LED power lights on the side. These blink until fully charged, then all the lights will go off.

Producing 36 watts of sound, there's some large rubber control buttons up top to control the audio. They sit next to an LED indicator which illuminates red when you're getting audio from the 3.5mm audio port and blue when Bluetooth is active. There's a power button and volume controls in the centre – that power button will turn the device on or select an input source by pressing once. Press and hold to turn it off. Meanwhile, the volume controls also let you move forward and backwards through tracks – just press and hold or tap once to adjust the audio volume. You'll probably also notice the NFC symbol on the right – this shows the location of the NFC receiver, which will work with your phone to start the pairing process.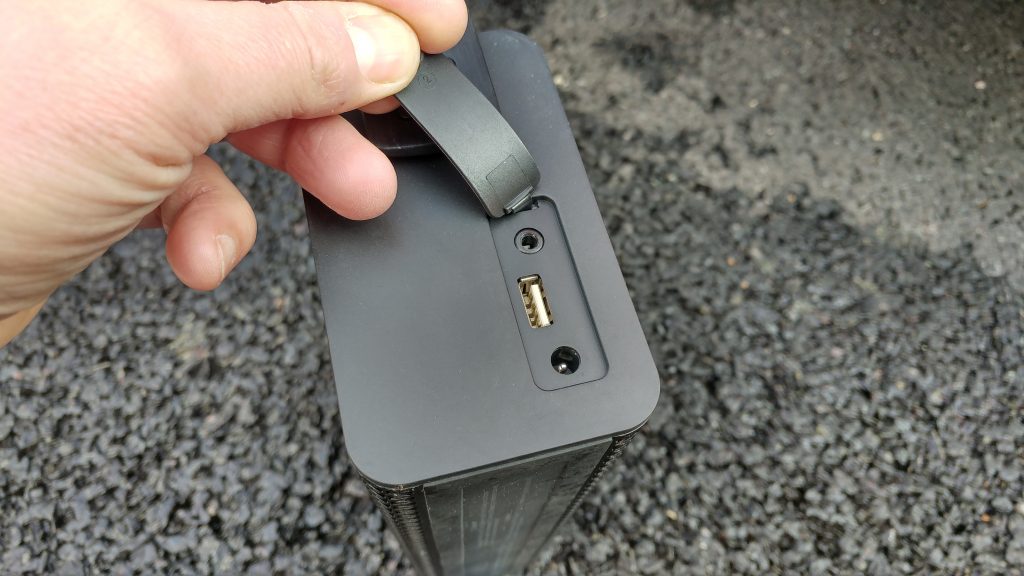 On the right panel, behind a strong rubber flap, there's the 3.5mm line-in, the power in and a USB output too. Yes, the battery inside is strong enough to let you charge your device and power the speaker. All good, but sadly I can't find the exact specs or mAh rating of the internal battery. What Edifier will tell me is that it'll last for up to 8 hours, although you don't get to know how long you've got left as there's no battery meter.
This isn't powered by a microUSB input by the way – instead there's a supplied charger with supplies a healthy 14V at 1.4A.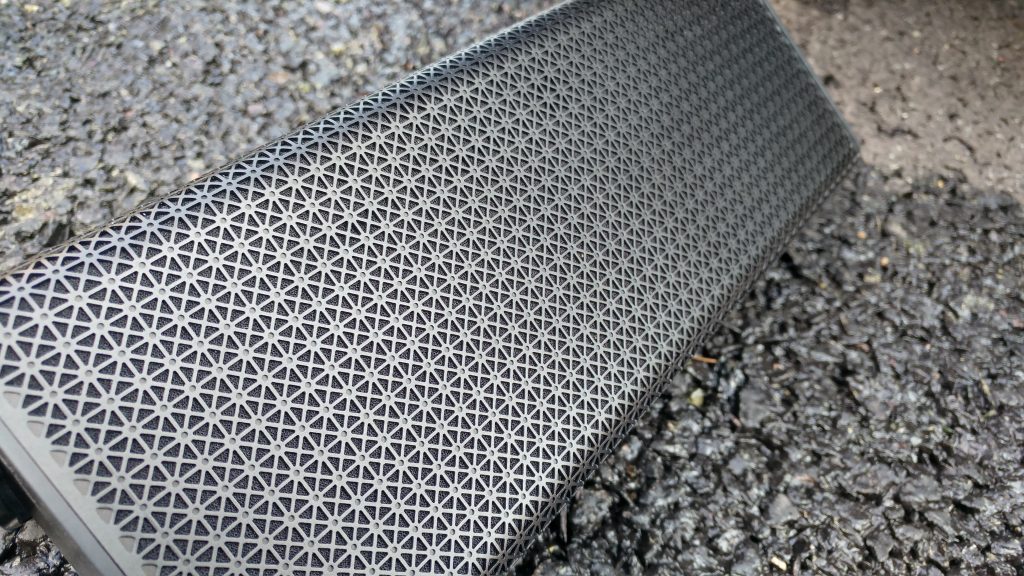 Behind the rather sexy-looking grill there's 36W of audio power. Two 70mm drivers and two 19mm tweeters plus three passive radiators. It's splash proof and dust proof and connects via that supplied 3.5mm cable to over Bluetooth 4.0. It comes with aptX and DSP frequency control to ensure that your tunes sound as good as they can.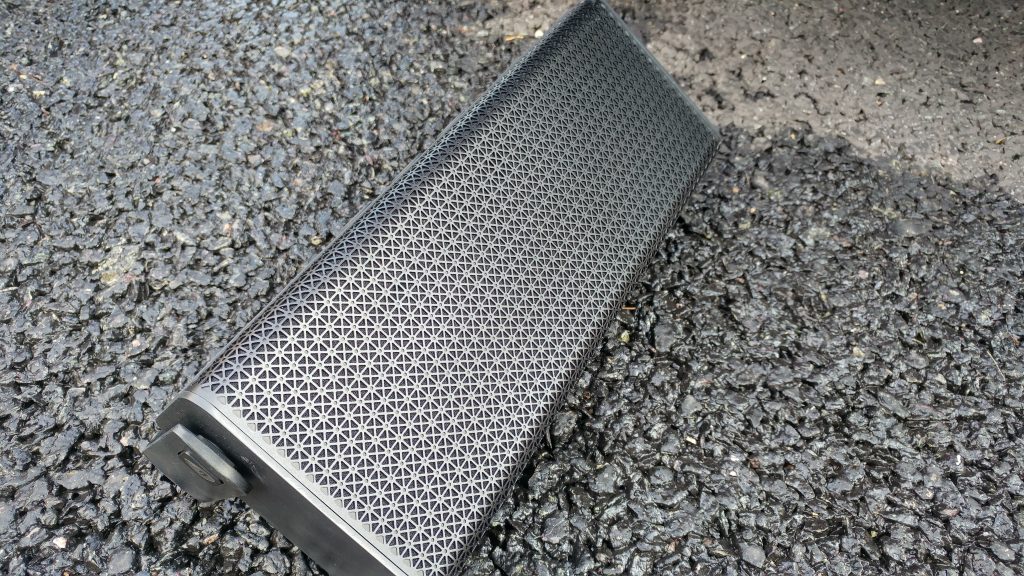 Although not overly heavy, this isn't as portable as most Bluetooth speakers and the cost of it is going to perhaps stop you from moving it around a great deal. The handle / stand does make it easy to carry though.
The grill wraps around the front and back but the sound only comes out the front, and it will take you a couple of seconds to figure out which side is the front. Usually you can tell by closely inspecting the buttons, the LED position or which way the handle tilts (it only tilts back if you've got it facing forwards).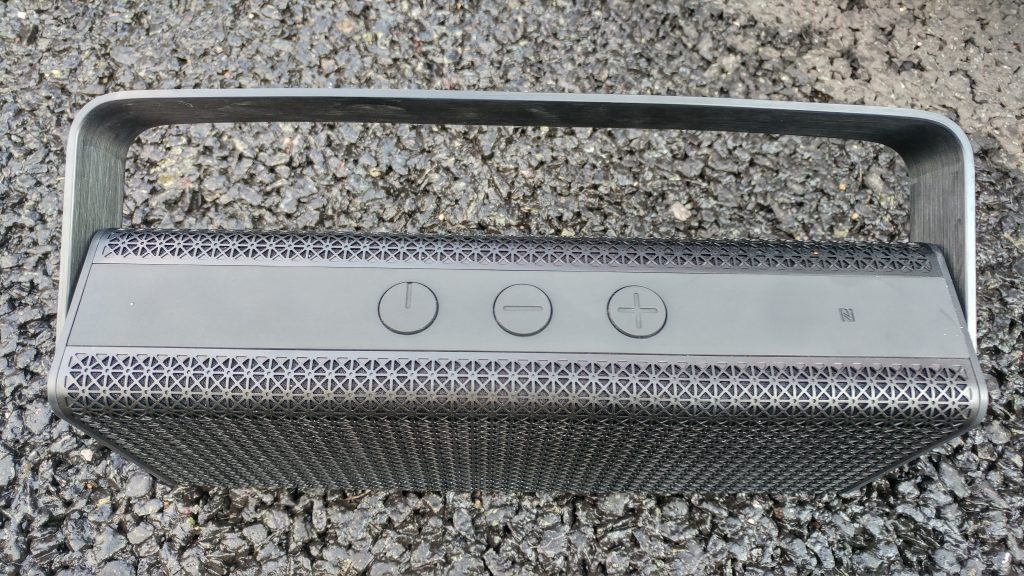 The sound then, and this is definitely where a lot of the price-tag is justified. The build quality and design is spectacular enough, but the sound is really solid. The weight and presence of the speaker is also apparent in the sound quality. A deep bass, balanced mid-tones and the ability to hear every part of the tune without distortion, vibration or warping. The volume, at full whack, is definitely enough for a room and the DSP (Digital Signal Processing) and DRC (Dynamic Range Control) performs very well indeed.
The sound is rich, with a balanced mixture of tones presented smoothly through the various speakers. You can tell that there's different speakers in there for different notes and it functions beautifully. For a speaker of this size it presents the sound clearly and loudly, but won't quite vibrate the fence panels in your garden.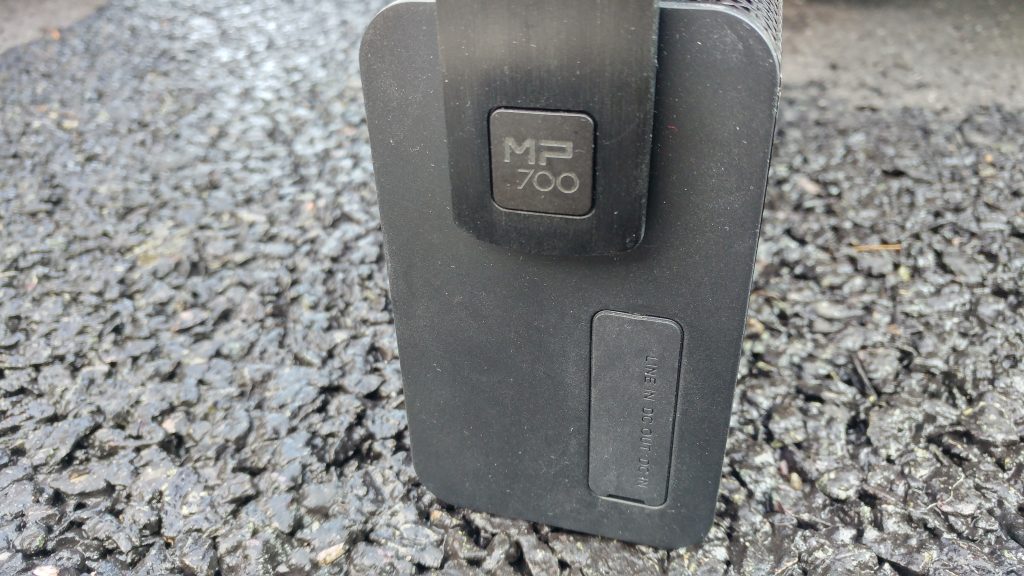 A good all-round speaker which is a definite step-up from the myriad of portable Bluetooth speakers we see here at Coolsmartphone.
The materials used, the design and the sound quality – all fantastic, but the £229 price-tag is a smidge high for me. That said, this is a very different beast to the standard £50 or £60 Bluetooth speakers that you see in the shops and the Edifier MP700 RAVE definitely delivers a big bang for your buck.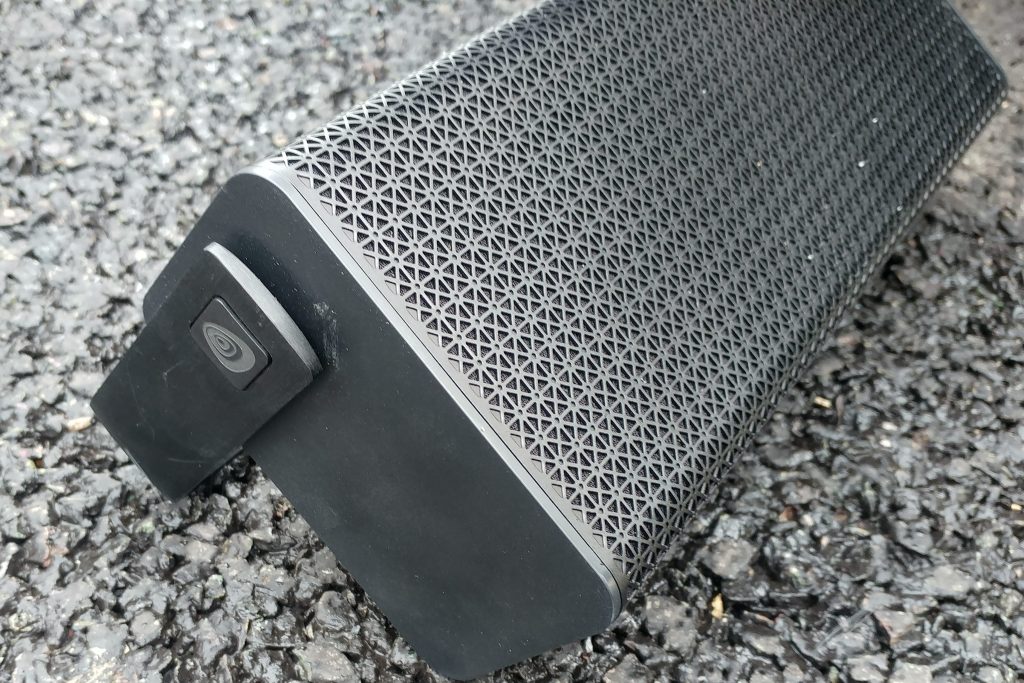 Edifier MP700 RAVE Review
Price - 76%
Design - 91%
Build quality - 95%
Sound quality - 90%
Mercedes-quality construction, clear and hefty bass even at high volume. Room-filling and a definite step-up from the usual portable Bluetooth speakers... just a little pricey.