One of the most frustration issues that mobile bloggers face is the difficulty encountered when trying to record a video of an iOS app in action.
There is no built in app to record the on screen activity of your iPhone or iPad and whilst their have been a few 3rd party work arounds these are generally blocked quickly by Apple on non-jailbroken devices.
Enter then the iPhone Screen Recorder by AceThinker, a solution which promises to Record Anything on your iPhone screen in High Quality.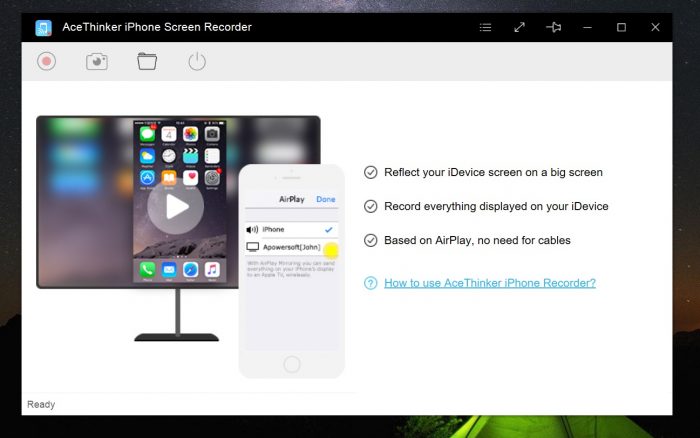 So you can record anything on your iPhone?
Not quite but I'll come back to that in a moment.
The way the app works is quite clever but you do need a PC or MAC to capture the actual video as the fundamental way in which the app works is by turning your PC\MAC into an AirPlay Receiver.
You start the AceThinker Application and your PC\MAC becomes visible in the AirPlay selector on your iPhone's control panel, simply select your PC\MAC and your iPhone screen and audio will be mirrored in real time to a window on your PC or MAC.
The AceThinker Application will then allow you to record the mirrored video on to grab a screen shot at the touch of a button.
Some of you may prefer a solution which runs entirely on your iPhone but until that option becomes available this solution is probably the best option on non-jaibroken iPhones.
To go back to the question in hand, this solution provides a way to record any app which supports AirPlay, although any App which actively blocks AirPlay (for example the SkySports Mobile TV App) which not stream to your PC\MAC. Fortunately these Apps seems to be the small minority.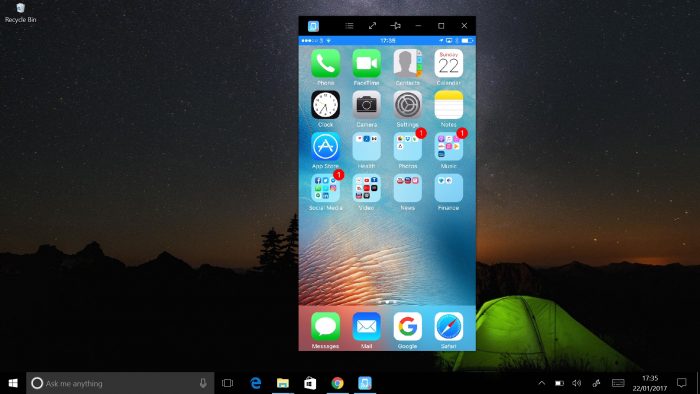 So what can you use the AceThinker iPhone Screen Recorder for?
The obvious starting point, and probable primary feature for most, is that you can you record your iPhone activity as a video allowing you to edit and upload movies to share with followers.
You can also stream your media stored on your iPhone to the larger screen on your laptop, or display your mobile keynote presentations on your laptop. You can also stream your games to Twitch.
Stream Your iPhone Games to Twitch
That's right, using the AceThinker application provides a gateway to being able to stream your game play to Twitch or Youtube by using it in conjunction with the free OBS Studio application.
You can use the AceThinker Application to mirror your iPhone content to your PC and then OBS Studio to stream the contents of the AceThinker application Window, as a solution this works very well.
How Well does Video Capture Work?
This element might be device specification specific so I'm basing my opinion on the performance experienced on my HP Pavilion laptop with Windows 10, an i5 processor and a SSD. The App used as an example in this article is the excellent iOS version of Zen Pinball.
Within the AceThinker Application you can select different video formats, as standard I've set the Display Quality to 1080p, a Video Quality of High and the MP4 format for recording.
There is also a great feature where you can select to record both the iPhone and laptop microphone audio, which is very handy for recording commentary.  I've turned this option off in the following testing.
Testing AceThinker with the iPhone in Landscape Mode.
As you can see in the video below, on my test laptop the quality of recording a Landscape image was mixed, the animation was a little slow and jagged and the sound was often out of sync with the video. Whilst it gives a suggestion of how the game performs (especially without sound) it doesn't reflect  the actually original video.
Testing AceThinker with the iPhone in Portrait Mode.
In Portrait Mode the results were better, the video speed and smoothness of animation was better although the sound was still a little out of sync.
I would be interested to see how well the recording function works on higher specification laptops, although my Pavilion is far from low end, as for streaming and mirroring the image is fine, it's only the recording function which seems to struggle.
In Summary
It's nice to have to have a recording option for iOS apps, and the  iPhone Screen Recorder by AceThinker but provide a viable option.
However the real surprise for me was how well this solution works for streaming game play, for me this is the real strength of this solution.
You can try or purchase  iPhone Screen Recorder by AceThinker from http://acethinker.com/iphone-screen-recorder  for $29.95
iPhone Screen Recorder by AceThinker
Ease of Use - 89%
Video Quality - 70%
Value for Money - 81%
Great for Game Play Streamers