Having a security camera on your house can be a good and bad thing. Sure, you can keep an eye on things, but it's also a sign that you want to keep something protected, and thieves might target your house because it's got cameras hanging off it.
So how do you monitor your home without anyone really knowing?
Well, here we've got something pretty different, and it's been sent to us all the way from America by the inventor himself. It's available from Amazon.com for $279.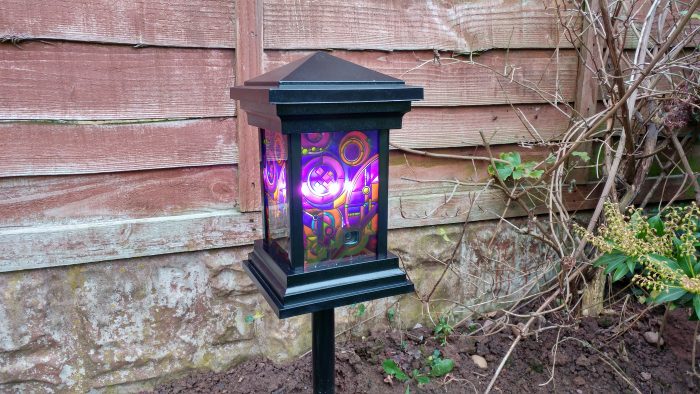 The creator is honest about what the camera doesn't currently have. On his Invent Plus website he details the two minor drawbacks. Firstly, the camera doesn't have infrared (IR) night vision. In my testing it appears to "see" about the same as your eyes would, so if you point this at a street or road bathed in lights, you'll be fine. Likewise if you have it in your garden and have a motion-activated light then you'll have no problems too. Also, in the box, you'll find a 128GB SD card. It's that large because the second minor point is that there's no WiFi access, so you can't control it from your phone or anything like that.
However, there's quite a bit to this, so let's take a look.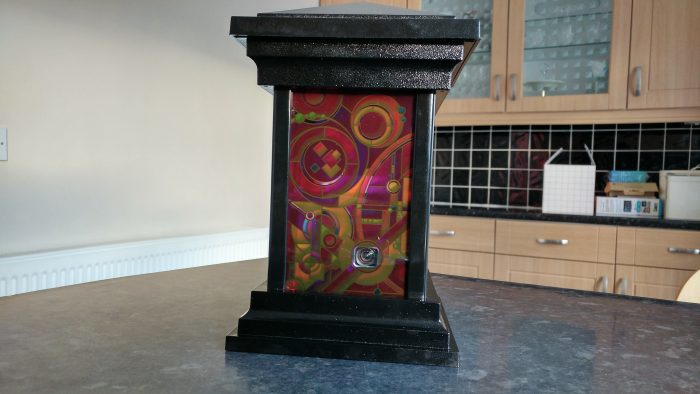 Here in the UK you'll need to decide for yourself as to whether this will look good in your garden at the end of your driveway. It emits a purple light and stands on a ground stake which is about a foot tall alone. It measures 6″ x 6″ x 9.5″. In new money that's 15.24cm x 15.24cm x 15.24cm. With the stake it's 28″, which is 71.12cm.
Build quality? It's very good. It's made from plastic and plexiglass, so there's no chance of glass breakage and the top in particular is solid and strong. Definitely a quality product, and you can already tell when the box arrives – it's a decent and reassuring weight.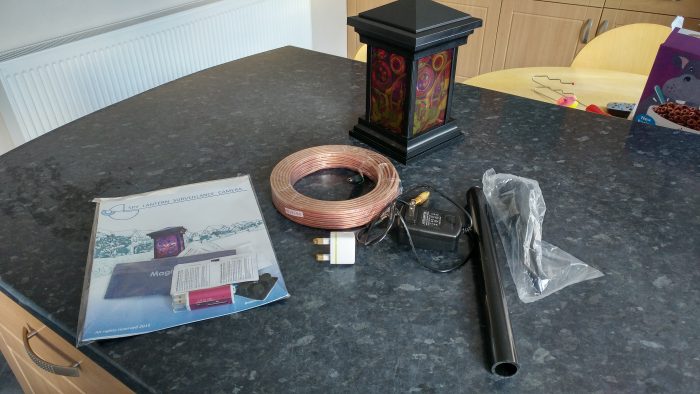 The camera itself is noticeable, but I am – of course – looking for the thing. Passing people would just assume that this is a nice piece of garden furniture and yes, this is a classy looking thing which looks almost wooden. That camera has an auto low-light mode with optical zooming and a 16 megapixel resolution. It's a Canon Powershot camera and the pictures it took during this review were very good.

The light itself is courtesy of 12 LEDs which pull 2.5w with 300 LM total brightness. With the camera it pulls 5w (500mA). The whole lantern is easy to setup and build. Underneath the top part you'll find the power inlet and an SD card slot.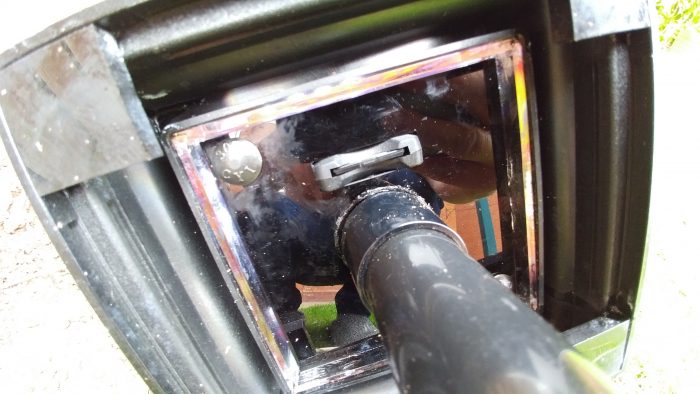 Wait a minute though. How do you get power all the way out to this?
Well, there's a 100 foot cable included in the box for supplying the power. It's nicely rolled up and is two-gauge lightweight cabling which can be tucked under cable clips or around shrubbery and below ground. It's long enough to not only put it at the end of your drive, but at the end of next doors' drive too. This, I guess, is designed more for American homes where driveways are much longer, so here in the UK you've got plenty, believe me.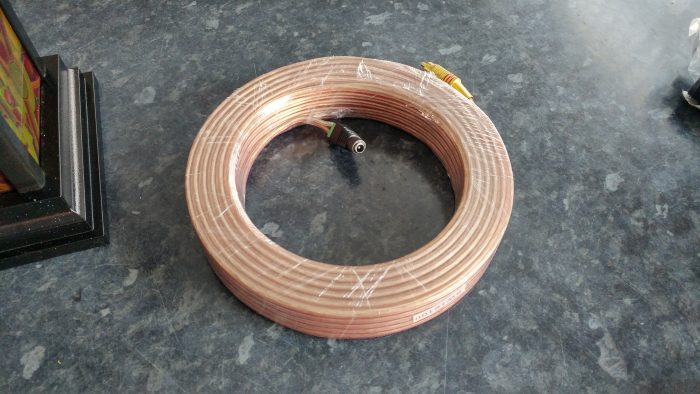 To give you an idea on how all this works together, I placed it in the garden. I did this because there's been a few reports of burglaries recently and the people involved have been hopping over rear fences, so I put it in the garden and threaded the power cable into the stake.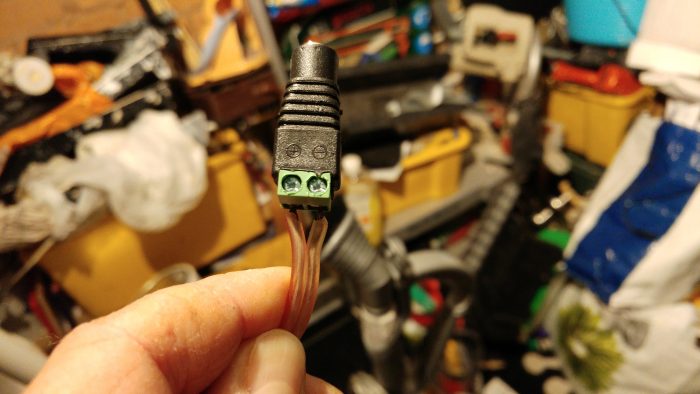 That's simple enough and it screws into the base of the lantern. You then unroll the long length of power cable and get it back to your nearest power socket. Getting it through your wall is easy also because, at the other end of the cable, you can unscrew the cable from the plug. This leaves just two threads of cable to thread through a hole. Then it's just a matter of re-screwing and plugging it into the supplied adaptor.
The lantern can be used in a number of different ways. Out of the box it'll take still images when motion is detected. You can change this easily by editing a file found on the SD card. The instructions will tell you how to do this, but it's relatively simple. Here's a snippet of the file, which is plain text and sits in the root of the SD card …
* function_mode = 0
* function_mode = 1
* function_mode = 2
These modes are to switch between motion detection mode (0), timelapse mode (1) and scheduled shooting mode (2). It basically means that you can have it snap pictures or record looped video constantly between certain times. Ideal if you want to record absolutely everything and then you can watch it back.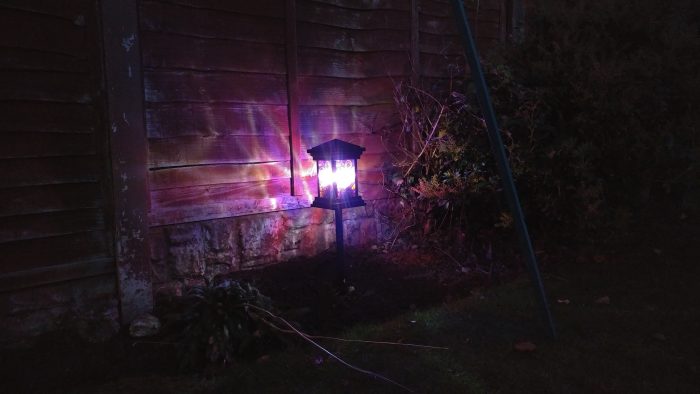 * md_threshold = n
This sets to motion detection sensitivity. The higher the number is, the more sensitive it is.
There's a stack more settings which are a little more advanced, such as setting just how bright "dusk" is and whether to immediately snap a shot or whether to snap a shot a number of seconds after motion is detected. You could perhaps adjust this if you live on a long road and want to detect oncoming cars but only take a shot when they get a bit nearer. You can also dictate how long to take between shots.
The scheduled times can be set and daylight saving can be set too.
The operating modes are ..
* shoot() – Which takes a normal photo.
* video(n) – Takes a video lasting "n" seconds.
* continuous_shoot(n) – Takes a series of pictures in burst mode.
* zoom(n) – Changes zoom camera setting.
The result, and I used default settings out of the box, is lots of photos on the card. You can switch to video if you wish, and then it'll record video and will auto-overwrite when the card becomes full.
Worried about someone damaging your car? Want to know who's going past your house at night? Want to check the registration plate of that suspicious-looking car that has driven past your house? This'll do it.
Here's a selection of images that the camera retrieved based on movement, but you can add the operating modes together, so out of the box if movement was detected it would take a photo, then zoom in by "5" and take another, then take another wide shot, then another zoomed shot. You can perhaps do a zoom incrementally to take a closer image each time.
First, say hello to our cat. She'll feature quite a bit on this..
Here's a shot which was zoomed. There's a bird on top of the fence and this image was taken into direct sunlight..
Here you can see how the camera has zoomed in, then taken a wide shot, then zoomed in again. It's a beautiful shot of my backside, I must admit. Sorry about that. I wasn't really thinking and found this after 🙂
Here's the cat again. She seemed to take a big interest in the camera.
Yes, you get a shot of my bum and you can see the cat but there's a serious side to all this. With the zoom function you can see registration plates and a lot more besides. You can also use it to see if a neighbours cat is coming into your garden or to maybe keep an eye on neighbours and delivery men without them knowing. The LED lights on the camera let out a nicely balanced – if somewhat purple – light.
Here, from the makers site, is a look at the zoom capabilities of the camera…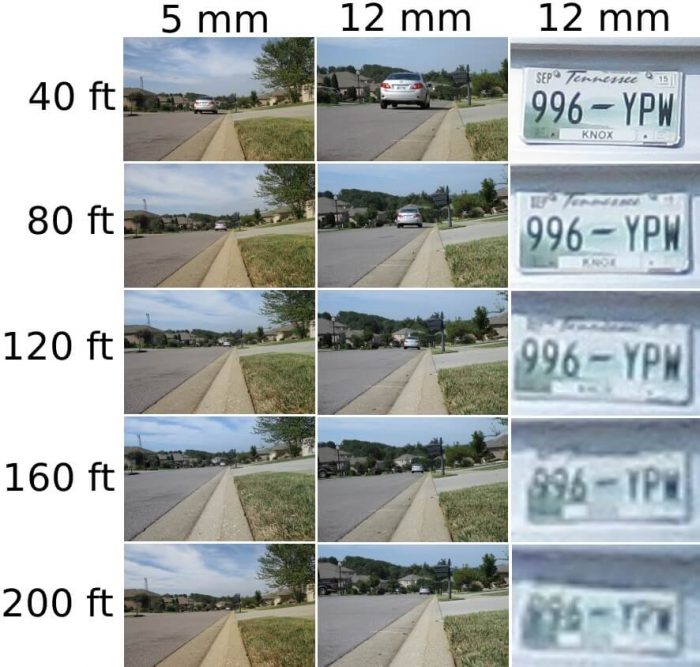 The main advantage of this camera compared to others is the fact that this is a real 16 megapixel optical lens resolution. You can, if you want to upgrade a little, use an Eye-Fi card to get connectivity to the lantern via an SD card with WiFi capabilities.
Overall it's a well made gadget for the security conscious and those who'd just like to see what's happening around their home while they're not looking. There's sadly no light sensor, so those LED lights are on all the time whether you want them to be or not. It's also up to you as to whether this will be in keeping with your local surroundings, and it is quite pricey at $279. Sure, as we mentioned before there's no IR for making this work in complete darkness, but you have to consider that a stack of very noticeable IR lights would be needed to give that functionality.
However, if you do want to keep an eye on your pets, spot some local wildlife or keep an eye on your car or house while you're out – it's definitely worth checking out as it won't let the world know that you're keeping an eye on your home.
Above all, the running theme I got from using this was that someone had taken a great deal of care to create it. The manual was spot on and in the box you get connector jacks, a screwdriver – even a microfibre cloth for keeping the glass clean too. It felt like a labour of love.
Head to Amazon or the Invent Plus website for more information.
Spy Lantern Surveillance Camera Review
Build quality - 91%
Cost - 74%
Image quality / motion sensor - 91%
A solid and well made lantern with a highly configurable hidden camera inside. It could do with a light sensor and night time functionality, but the camera itself is top notch.