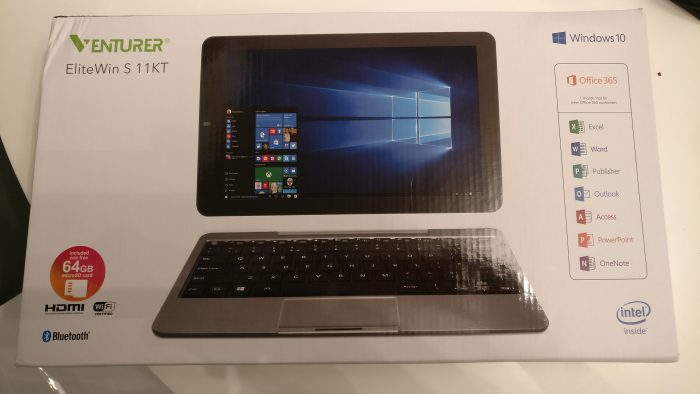 Now before I begin my review, I must confess that I haven't used a windows machine in anger for quite some time. 95% of my work is now done on my Chromebook. I do have a windows media PC, but that's all its used for.
I have been sent through the Venturer EliteWin S 11KT Windows mini-notebook for review? Venturer is a premium audio and video manufacturer, and previously brought us the successful BravoWin and EliteWin 2-in-1 affordable notebooks.
Good Points:
Keyboard good to type on
Good tablet, strong unlocking process
Price
Hybrid use laptop/tablet
Bad Points:
Quite heavy
Chunky build quality
Battery life
Proprietary charger
Device Specs:
Screen: EliteWin S 11KT 1366 x 768 IPS
OS: Windows 10
One month trial for Office 365
Intel® Atom™ Quad Core Processor (Up to 1.83GHz)
Touch Panel: multi-point capacitive touch
2GB RAM
96 GB memory (32 GB Flash memory plus 64GB MicroSD Card free of charge)
Connectivity :Wi-Fi 802.11 b/g/n
Bluetooth: 4.0
Camera: 2 MP Front / 2MP Rear
Connectors: MicroSD, MicroUSB, headphone, mini HDMI, DC Jack
Audio Speaker / Microphone
Operating time: 8 Hours
The EliteWin S 11KT
The EliteWin S 11KT is a hybrid 2-in-1 Mini Notebook, running the latest version of Windows 10. This Mini Notebook has a detachable screen which can act as a standalone Windows tablet. Coming in a matte silver and black colour scheme, the device has dimensions of 306 x 200 x 24.8 mm (W x D x H) and weighs 1378g. On its own, the tablet's dimensions shrink to 306 x 192 x 106 mm with a weight of 780g.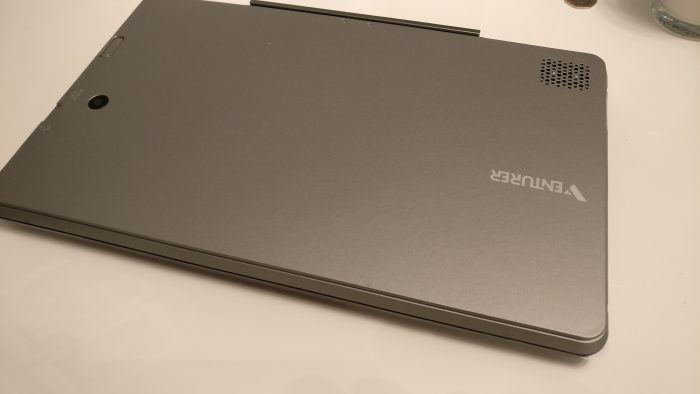 Running along the left-hand side of the screen element are the ports and buttons. These consist of a power on/off button, headphones, HDMI, micro and standard USB. It also includes a microSD card slot and 5V DC power connection, Windows home key and volume adjustment.
A point on the power button: It requires a 5 second depress before it will respond, with a further 34 seconds before you have access to the Windows 10 operating system. This felt like an absolute age compared to the 4-second boot of my Chromebook.
The EliteWin S 11KT is powered by an Intel Z3735F CPU running at 1.33GHz up to 1.83GHz. It's paired 2 GB of RAM with 32 GB of flash storage. The presence of the microSD card slot allows you to increase storage up to 64 GB of internal storage for movies, music, photos, applications and data (the EliteWin S 11KT does come with 64GB microSD card free in the box, which was a welcome surprise).
The keyboard is a standard notebook style keyboard and I did find it quite pleasurable to type on. There is a specific Windows key that opens and closes the Windows Start screen. Below is the trackpad, which was responsive enough. Built into the trackpad are virtual left and right button areas on either side of the unit. The central area can respond to single finger drag and drop action or two finger scrolling in up/down/left/right directions, but the pad didn't click down and I found this very hard to get used to.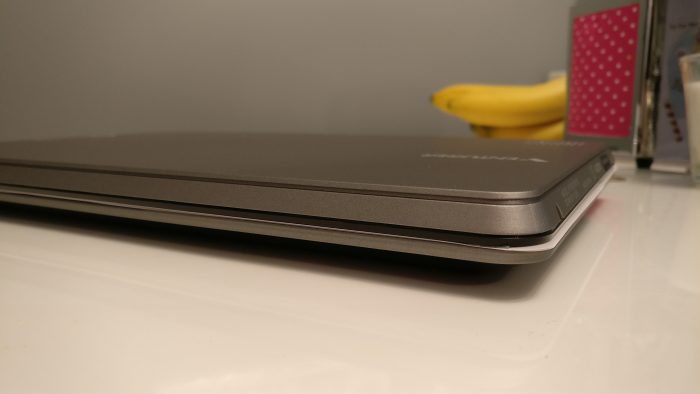 In use:
The EliteWin S 11KT has an 11.6-inch screen with a resolution of 1366 x 768 pixels, which I found clear bright, crisp and sharp to use. Below the screen is the magnetic connector to the keyboard, allowing you to switch between tablet and notebook with ease. I say ease, but the magnetic connection is really strong and positive and it does need a good pull to get the two to separate.
The device speakers were OK for watching a movie or podcast. The EliteWin S 11KT's internal battery is rated at providing up to eight hours of use, but in my tests I found that 5.5 to 6 hours was nearer the mark.
I did add a little video review, but my GoPro does give a bit of a "fisheye" view:
Conclusion:
It did feel better using the EliteWin S 11KT as a tablet rather than a notebook. I suppose that viewing it as a tablet you can attach a keyboard to, rather than a notebook that turns into a tablet may be a better way to view it. It's priced at £249.99 on Amazon and the Venturer EliteWin S 11KT comes with a one-month free trial of Microsoft Office 365. All said, I just don't think it was enough to pull me from my beloved Chromebook.
Venturer EliteWin S11 KT
Buld Quality - 80%
Speed - 90%
Battery Life - 85%
Hybrid Design - 95%
Screen Quality - 85%
Keyboard - 88%