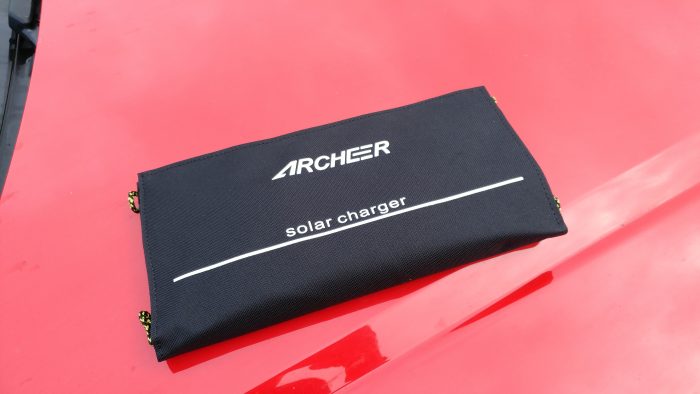 Doing a review of a solar charging system at this time of year isn't perhaps my wisest decision, especially not here in the UK on a cold and wet November day. It's going to be dark by 4PM, but I've got a solar charging device from Archeer.
This is available for $59.98 from Amazon US or £49.99 from Amazon UK. Yes, that sounds like a lot of money, but this isn't just a normal one-panel solar charger.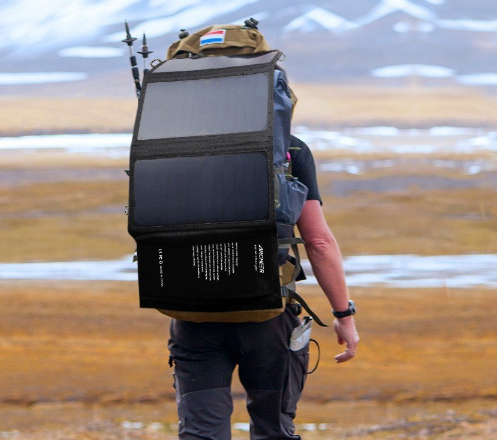 It arrives and is folded up in a nice rugged nylon canvas. There's four braided rope loops so that you can attach this to your backpack. Great if you're hiking, out camping or cycling.
Now, let me set your expectations. Firstly, there's two USB outputs here so you're going to get your hopes up as I did. Indeed, in direct sunlight I was quite frankly amazed. I did a test with a completely flat phone, leaving it in my car plugged into this at 9AM. By the time I'd returned (at 5PM) it was fully charged. With direct sunlight you're laughing. Up to 2.4 Amps per port? Up to 22-25% transformation efficiency? I don't know what all that means if I'm honest, but I know that my phone was fully charged by the sun.
However, and as the message inside the device will testify, you're not going to get such a speedy and regular charge if the sun isn't out. That message clearly states ..
We've done all we can to enable your gadgets to tap into the sun's unlimited (and free) power, but we can't control the weather.
Expect less output when it's overcast, dark or anything in between.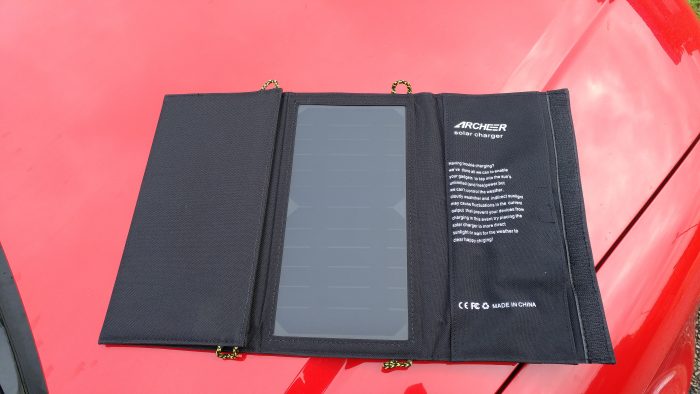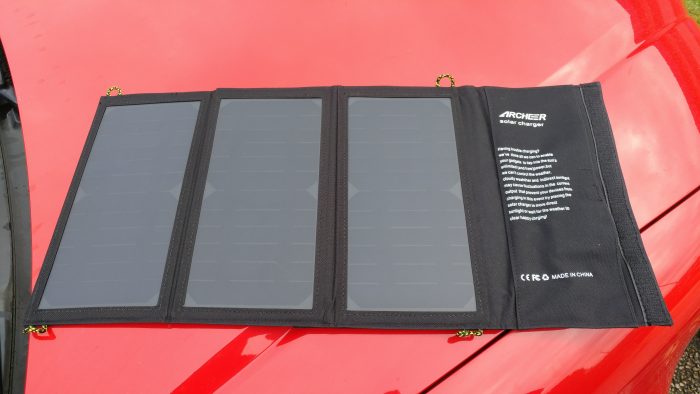 When it's completely unfolded you get three large solar panels – each is around 12 inches (30.48 cm) high and 6 inches (15.24 cm) across. It weighs in at 567 grams and, on that first panel (with the writing on) you'll find a neat flap for storing your cables. You'll also find the two USB outputs, and a nice LED which lights up when some sunlight is being collected. Note the Velcro, which keeps the whole thing folded together when you're carrying it around and keeps the cable or cables tucked away in this flap..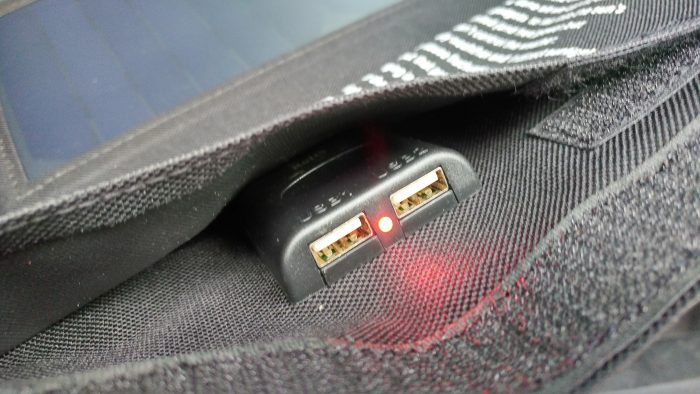 The solar panels themselves are completely sealed and are both water and mould resistant, so you don't need to worry if you strap it to the top of your tent to charge your gadgets.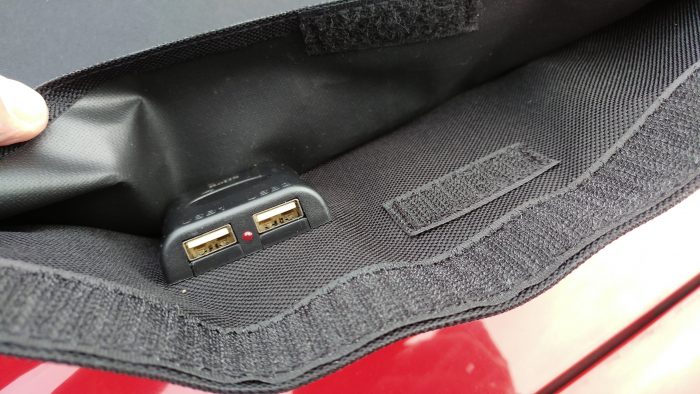 I ended up using this in quite a strange / innovative (delete whatever you think is applicable) way. On a recent camping trip, instead of directly charging my phone with this, I plugged the solar charger into a portable charger. Leaving the solar panel strapped to my tent during the day meant that I could charge up that portable charger, and then I had the power overnight when I was asleep and wanted to charge my phone. Yes, I could've put the solar charger on my back-pack, but I didn't always have that on my back so this was another way of using it.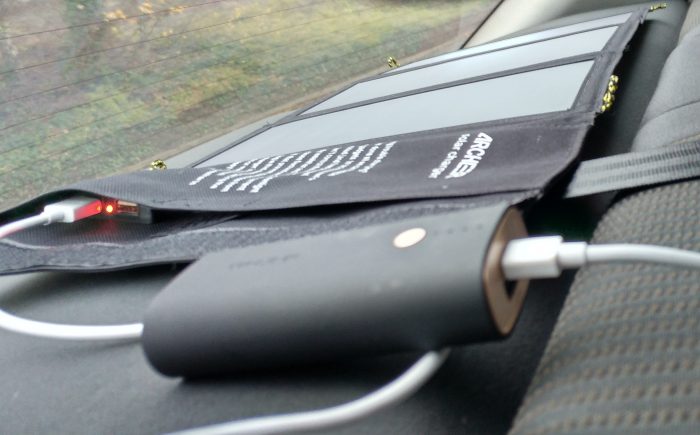 I've also got in the habit of putting the solar charger on the parcel shelf of my car. Back there it's completely out of the way and in the best place for "seeing" the sunlight. It sits there fairly permanently, charging a couple of portable batteries (or "portable chargers / portable power banks", whatever you want to call them). Then I know, if there's kids in the car with gadgets going flat, that the power is always there and I don't have to worry about my car battery going flat with all the geeky stuff plugged into it.
The Archeer 21-Watt 2-Port Solar Charger is big when unfolded and is perhaps the best solar charger we've been sent. Others only have one small solar charger and struggle to provide enough charge for even a Bluetooth headset. Here, when the sun came out, we were able to charge batteries, smartphones, iPads and Bluetooth speakers very well and very quickly.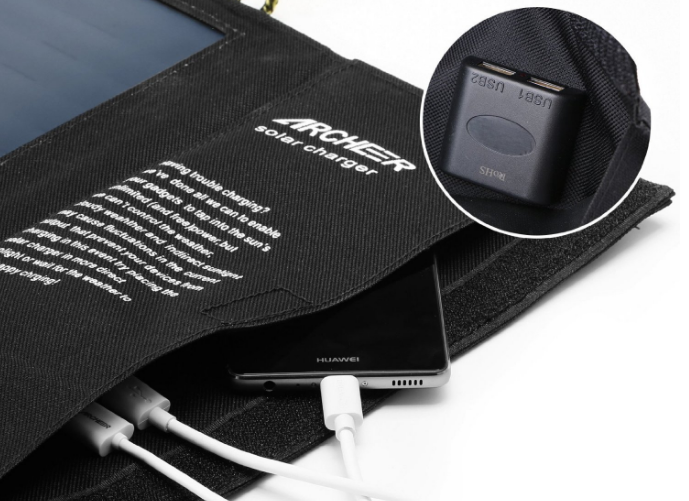 Yes, you've got to mention the sun. You have to mention it again and again. Without the sun this really won't work. You know that, I know that. Don't expect magic on a wet Wednesday afternoon in November, because it won't work too well and you'd be better getting a portable charger / battery. However, if you're out camping in some nice weather this can out-last those portable batteries and can even top them up for you.

Available for $59.98 from Amazon US and £49.99 from Amazon UK, there's a 40 day money back guarantee plus 18 months' warranty. The only thing I would comment on is the price, which is a little high compared to getting two or three portable chargers instead.
Archeer Solar Charging Panel Review
Price - 64%
Design / build - 88%
Output - 85%
A well-made and rugged solar charging solution for campers, hikers, cyclists and even the back of your car. A little pricey, but very well done.