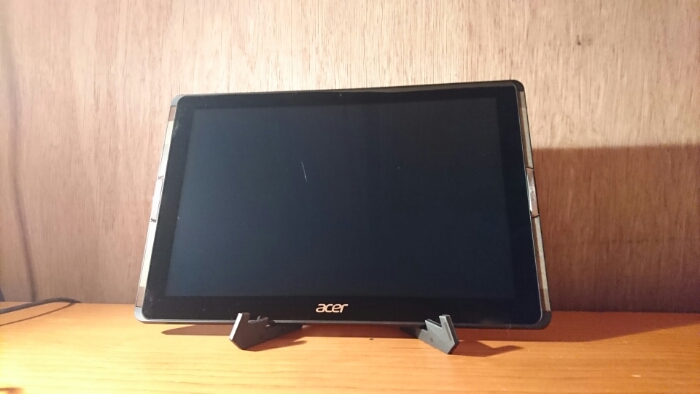 It has been a few weeks now since the latest Acer tablet arrived on my desk at Coolsmartphone towers. In that time I have been using it as my main day-to-day device for media consumption. I have not really been using it for very much in the way of work as I have my Chromebook to fulfil that role.
I also don't have a Bluetooth keyboard at the moment, and Android tablets in general are a bit hit and miss when there's no keyboard. Obvious exceptions to this are the excellent Xperia Z4 Tablet that I was using a year ago and the Google Pixel C (which I am still to get hands on with). Going into this review I had one big question about this device. Is it worth the asking price of £179 as a multimedia platform?
Before we get into the nitty-gritty of answering this question, we will need to have a look at the hardware and the software to see if they are a good fit for the devices multimedia push. Before you go any further I would suggest you take a look at my unboxing article which can be found here.
Design and Hardware
Acer has taken a different approach to the design of the Iconia Tab10 and, although it is not groundbreaking, it is certainly a bit different. This is appreciated in the segment as normally Android tablets are relatively unassuming slabs of glass and plastic.
That being said, the main body of this device is exactly that – plastic. However, the plastic used is a soft touch material that feels nice in the hand.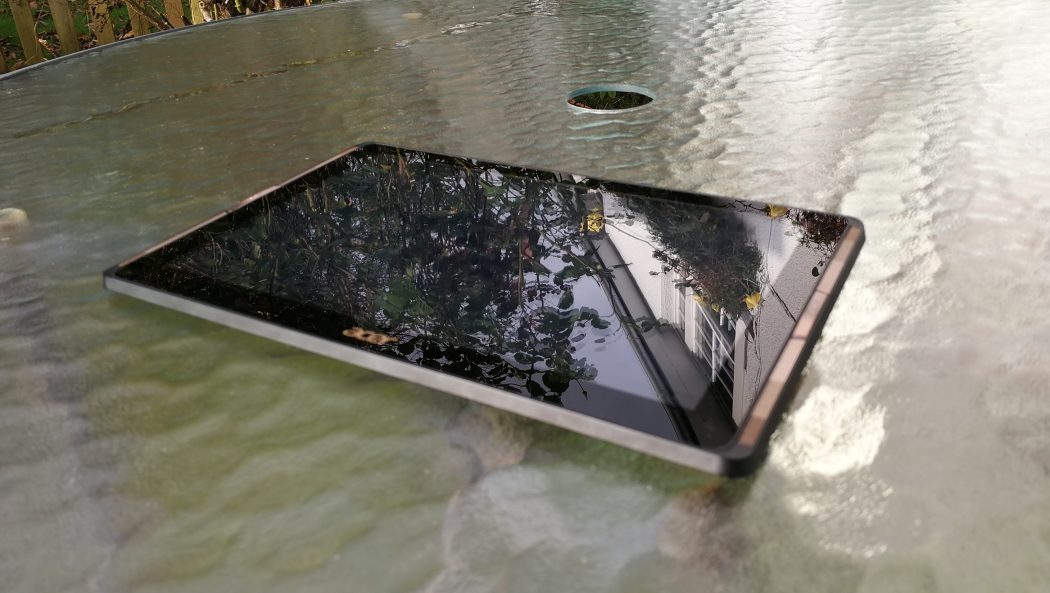 Up front, we will of course find the 10.1″ screen with a 1080p resolution. Although we have seen a trend to head towards 3:2 aspect ratios on screens (with some of the more high-end devices) the widescreen aspect ratio used here feels right. This device is intended to be used in landscape first and foremost after all.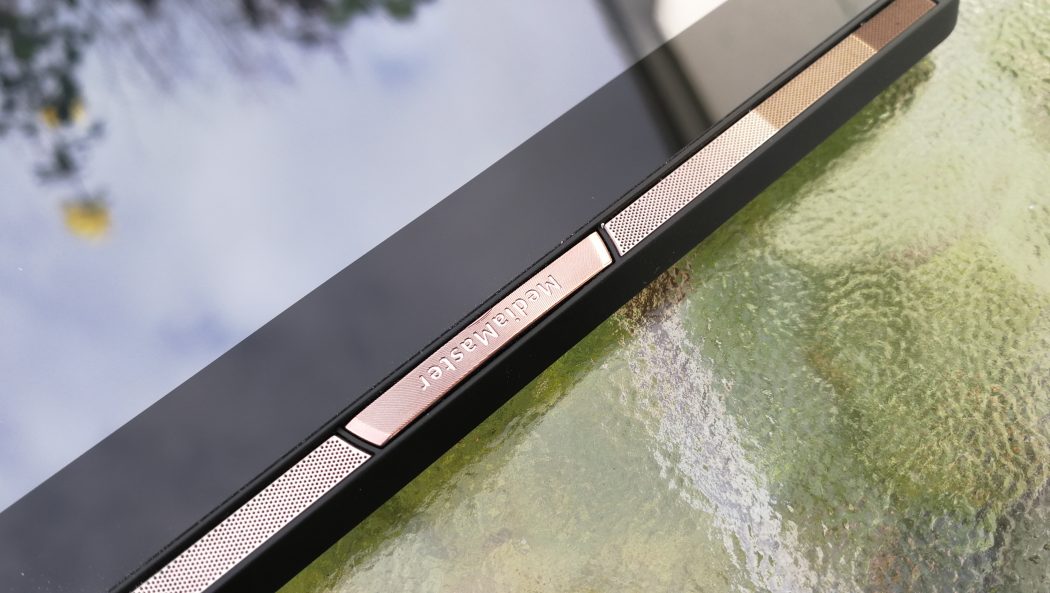 Flanking both sides of the screen we can find the quad speaker arrangement that separates this tablet from nearly every other tablet on the market. The only other tablet we have seen adopting this layout are the iPad Pros. Unlike the iPad's though the Iconia's speakers are forward facing to give much better audio experiences.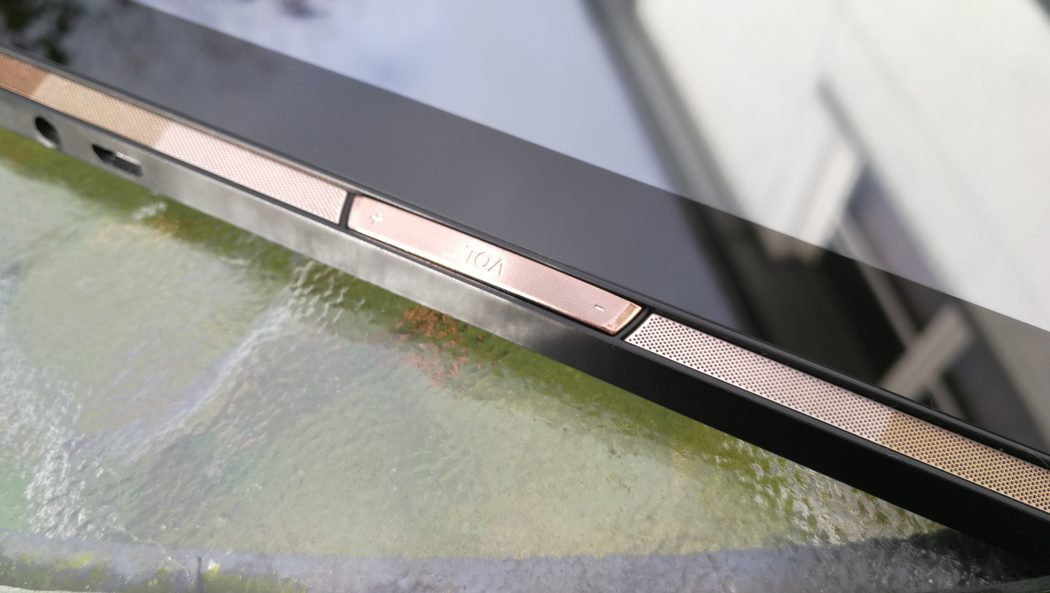 Nestled in between the speakers we find the volume controls on the left-hand side and on the right we find a "MediaMaster" button. This button will change the audio profile for the tablet to the most suitable mode which matches your output. It will also change the screen's RGB ratios. These changes are very subtle and, if I am honest, I tended not fiddle too much with this feature. Something that I felt was lacking was the ability to program your own preference into this button. It would have been a nice touch as not everyone will be 100% happy with the preconfigured ones.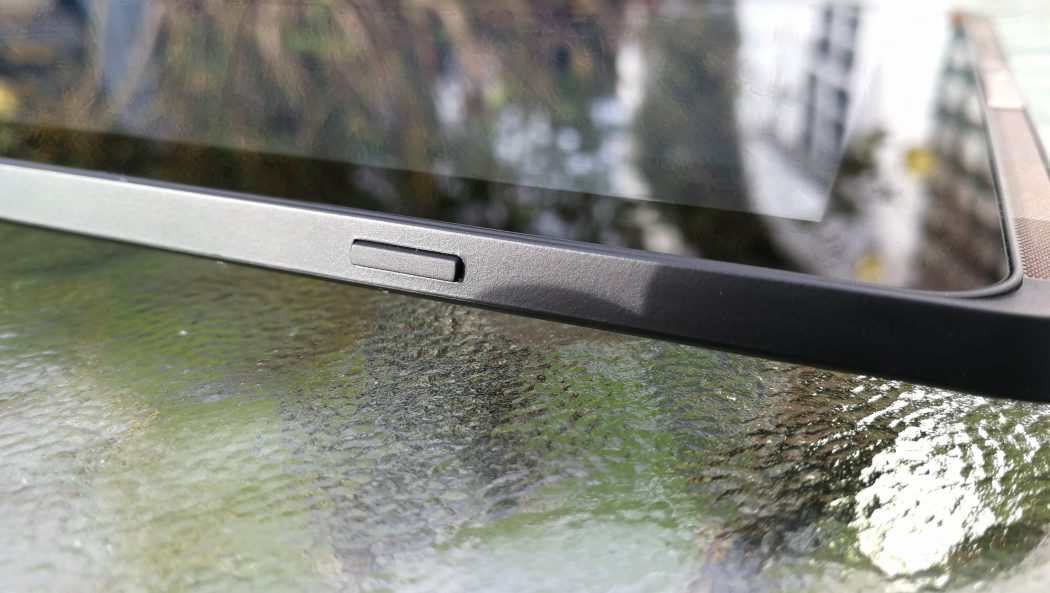 On the top edge of the device, we find the single button which is the sleep wake button and further along is a flap for your Micro SD card.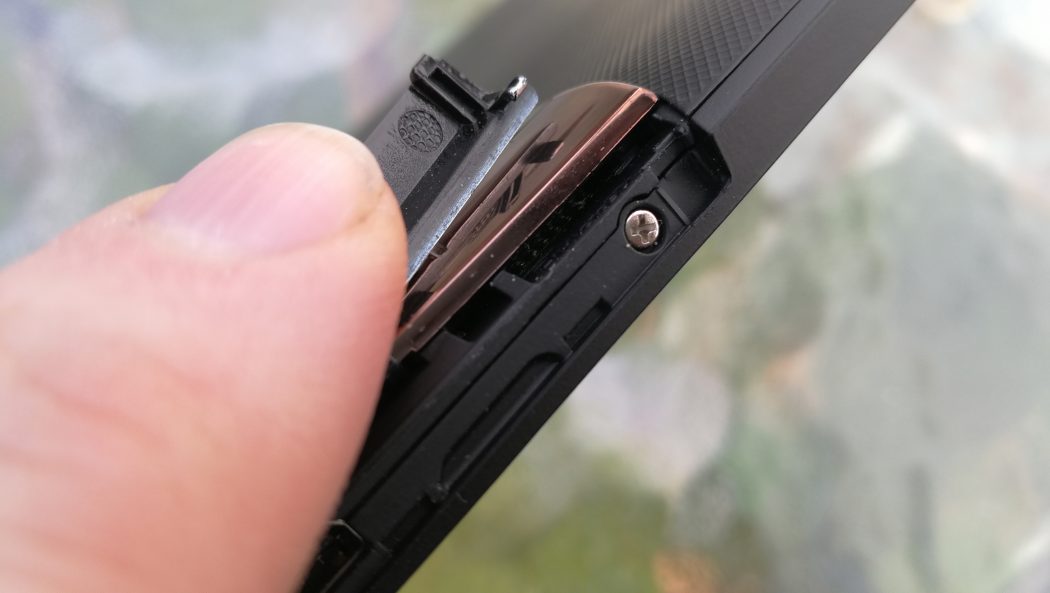 I tested the device with a Class 10 64GB card that was read with no issue. Next to this is the Micro HDMI port, which whilst not the most common format is nice to see. It makes it easy to share the screen for media and work purposes.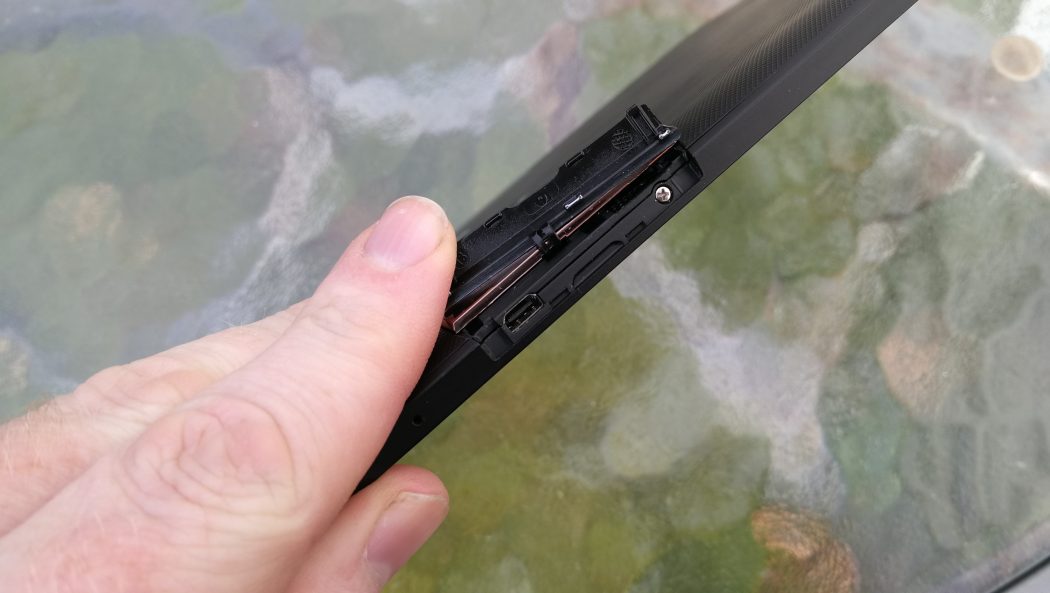 Again this worked flawlessly in my testing. If I had one grievance it would be that this is not a commonly used port and it would be nice if the cable was bundled into the box.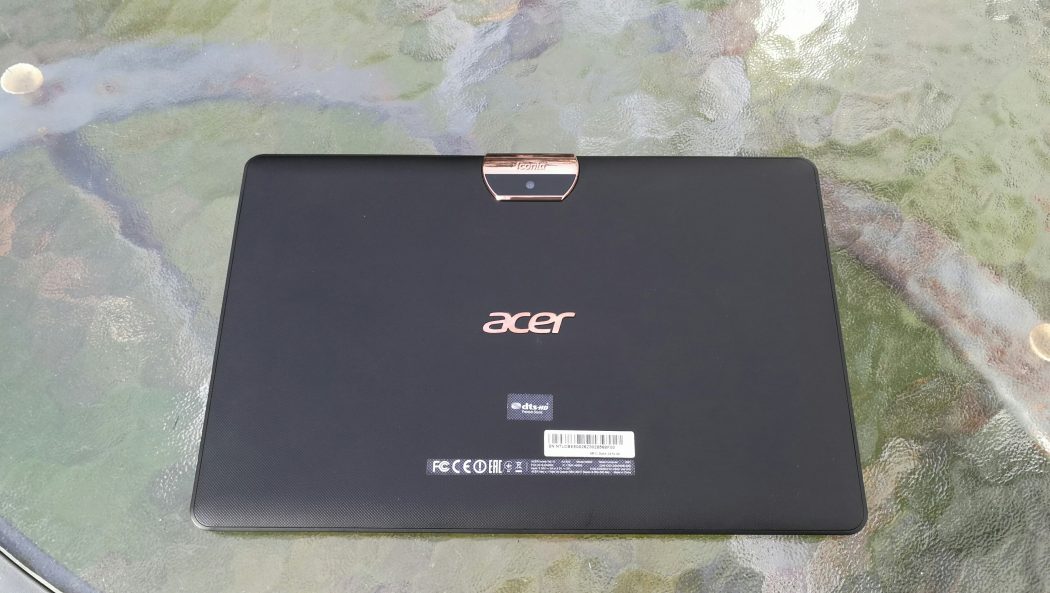 Around the back, we find the standard regulatory information near the bottom of the device along with a DTS Audio logo. As I mentioned above this does not seem to be customisable, which is a shame as it would have really cemented this tablet as a multimedia powerhouse.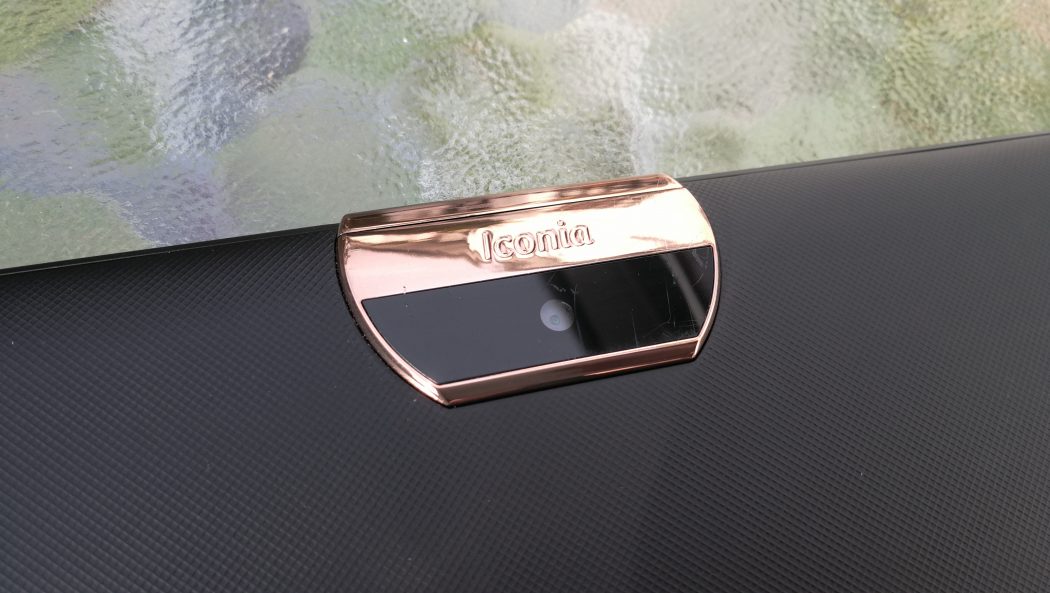 Above this, we can find the 5MP camera module which is surrounded by the flap that covered the microSD slot. This surround is composed of a soft but shiny gold plastic. As it is raised above the rest of the back panel the whole device rests on it, meaning that it is very easy for it to become scuffed. This is, unfortunately, the case of this review unit. Fortunately though, the camera lens is hidden behind a layer of plastic so the lens should be free from scratches. The rest of the plastic will scratch easily though.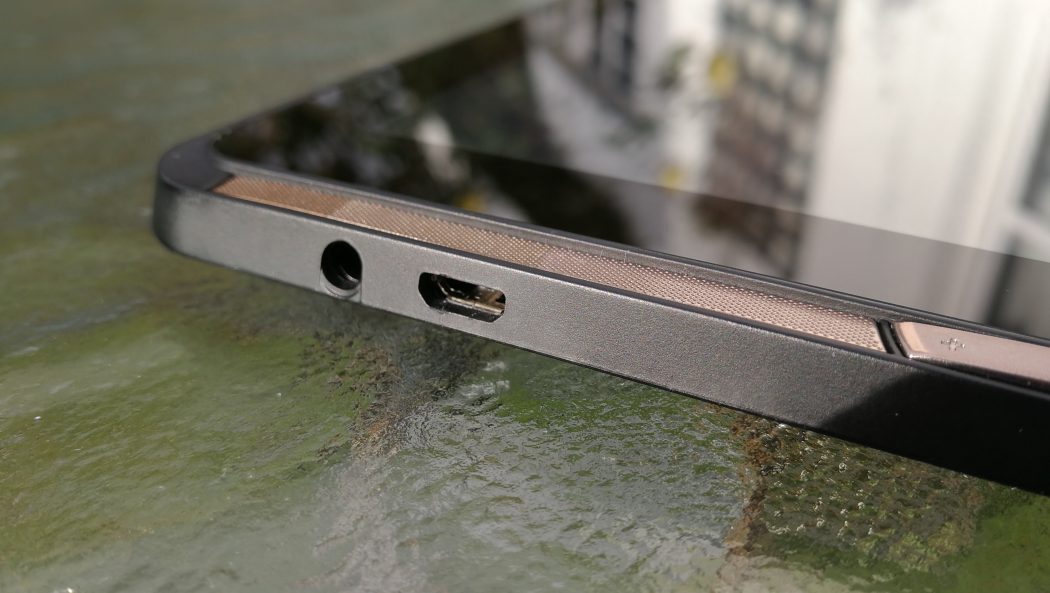 The only other things of note are the charging port which is sadly still a MicroUSB style, and the 3,5mm headphone jack.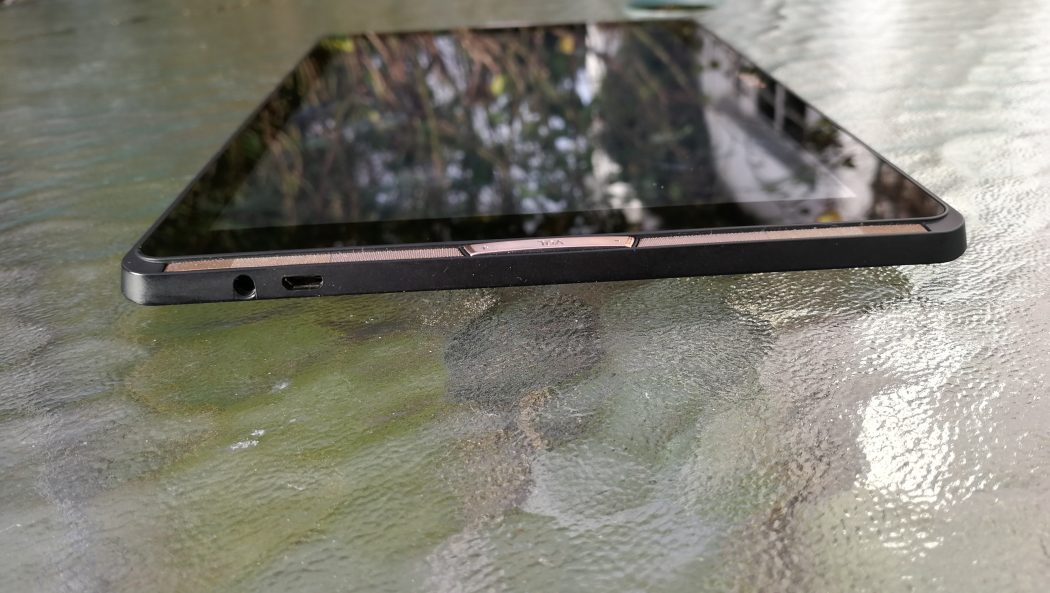 The edges of the device are slightly bevelled into the front of the unit from the back. This does lean towards a more comfortable feel when holding the tablet. However, if you are planning on using it for an extended period of time then Acer have thoughtfully included a small stand in the box that will make it easier to prop up on a seat back tablet etc.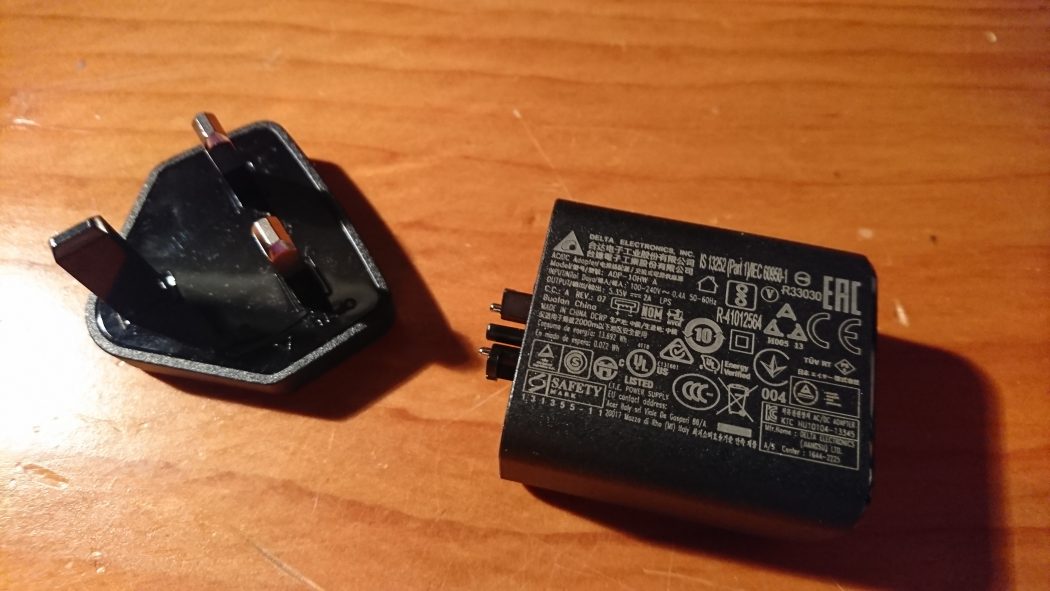 The last thing worth mentioning here is the bundled power cable which has multiple plug heads for use across the continent. Again this is the nice touch as it is one more thing that the user would not need to buy. The power supply outputs at 2.1 amps and 5 V which, although not Qualcomm fast charging, is adequate for an overnight charge. This is how I would recommend that you charge the tablet as it does take a long time to juice it up. 
As is always the case with battery life on tablets, it is difficult to measure the actual performance in the real world. However, whilst I was using the tablet on a trip away it did allow for two full-length movies to be played without too much of a problem.
So that is the outside all done… what about the internals?
Well, under the hood we have got a processor from MediaTek which runs at 1.4GHZ. It is quad-core and seems to be plenty powerful for all the normal tasks that would be asked of a midrange tablet. It is supported by 2GB of RAM and 32GB of memory. Out of the box, memory usage is kept quite low, although there is a lot of apps that have space holders on the screen when first connected to Wi-Fi. I will cover this later when we look at software. As you would expect there are loads of other sensors and bits and pieces thrown into the mix as well.
Let's have a look at the specs ..
10.1-inch screen
Resolution 1920 x 1200 pixels
IPS technology
Multi-touch screen
LED backlit display
Fingerprint resistant coating
1.5GHz MediaTek mt8163a quad-core processor
2GB RAM
32 GB internal storage
Android 6.0 operating system
2 MP webcam
5MP rear camera
Wi-Fi,  Bluetooth
3.5mm stereo headphone jack
microSD memory card slot
Micro HDMI
Micro USB
Four front-facing speakers with DTS-HD premium sound
Up to 8 hours battery life (depending on usage)
9mm thin
Size H16.8, W25.9cm
Weight 529g
Not a bad spec, but remember that we are looking at a mid-range device here with a price point of £180. Due to this, some corners have been cut and I would have really liked to have seen a version with LTE built in. This would let me use the device more effectively on the road. That being said, if Google themselves deem it acceptable for their own hero device to not have it, then we can hardly expect other manufacturers to build it in.
Performance
I have already mentioned above that this is a tablet built to fit into a certain budget, so with that, I was not expecting great things when it came to performance. I was not disappointed though. In fact, if anything, I was a bit surprised. The tablet performed pretty well on benchmarking. For the purposes of this test I put it head to head against the Xperia Z3 Tablet Compact as that was the only other tablet I had to hand. I also put it against an Acer R11 Chromebook which was running Android Apps. This made for an interesting comparison as you can buy one of these for very similar money. I am also using this machine as my main computing device so it seemed relevant to test.
Benchmarking
| | Sunspider 1.0.2 | Quadrant | Antutu | Ice Storm Unlimited |
| --- | --- | --- | --- | --- |
| Xperia Z3 Tablet Compact |  1230.4 |  24617 |  62565 |  18215 |
| Acer Iconia Tab10 | 1262.9 | 15716 | 40520 | 6958 |
| Chromebook R11 (Android Apps) |  671 | 9043 | 59491 | 16195 |
Some of you may be asking why I was impressed with this tablet based on these figures above. Well, bear in mind that the two other devices are both of higher specs. More importantly they're a much higher price point. Also, another reason is that benchmarks don't really tell the full story of performance. In real world usage, I didn't actually notice that much of a difference between the tablets in speed terms. I know that if I were to run this test against the like of the Google Pixel C then it would blow away the tablet but it also cost around 4x more, so I would expect it too.
Overall I am happy with the tablet as it delivers for the price point.
Software
Historically Acer have been pretty good with the software that they load onto their devices. Yes, there is normally a bit of bloat but 9 times out of 10 you can delete most of it. This is true of the Iconia as well. Here is a shot of what comes installed out of the box. Woaha! 🙂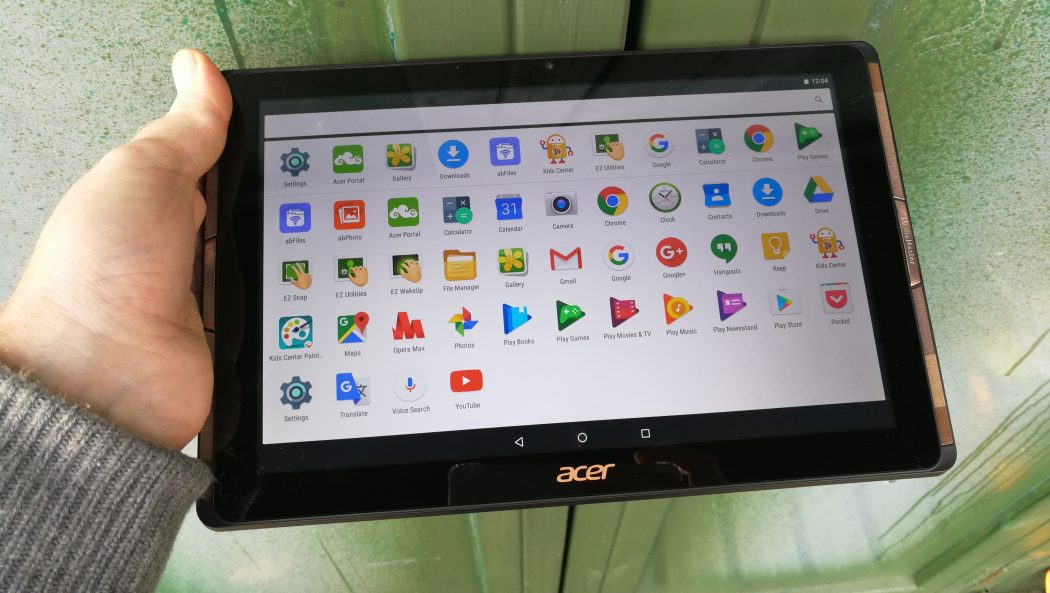 As to usage of memory, you will have a vast 24 GB to play with after first boot and app updates.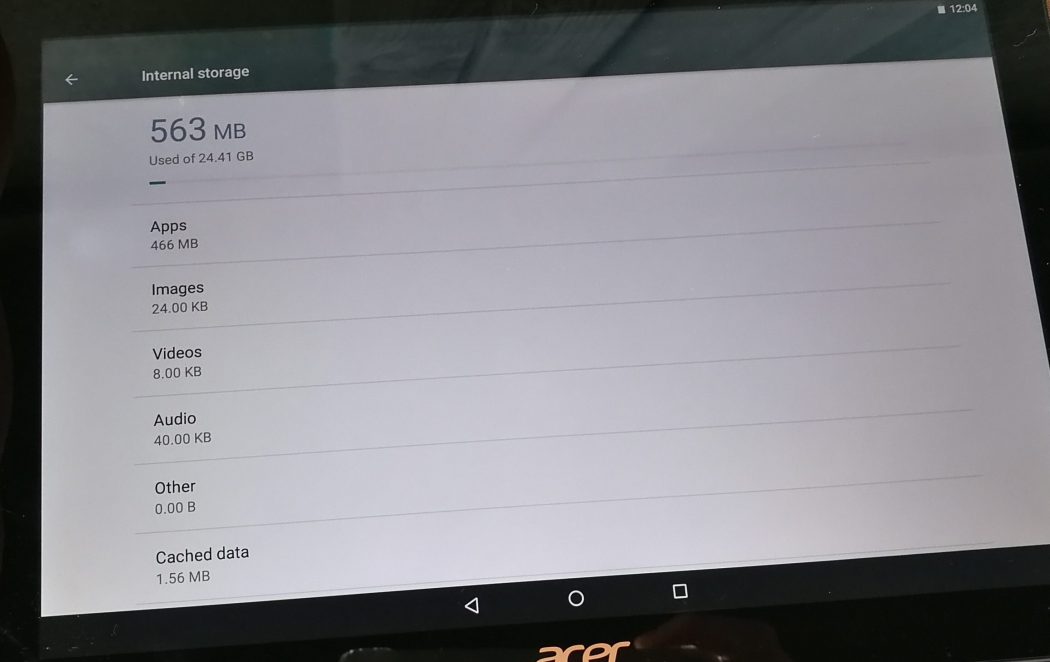 You do also get some space holders on the home screen which are prompts to allow you to install some suggested apps. These can be dismissed if they are not needed.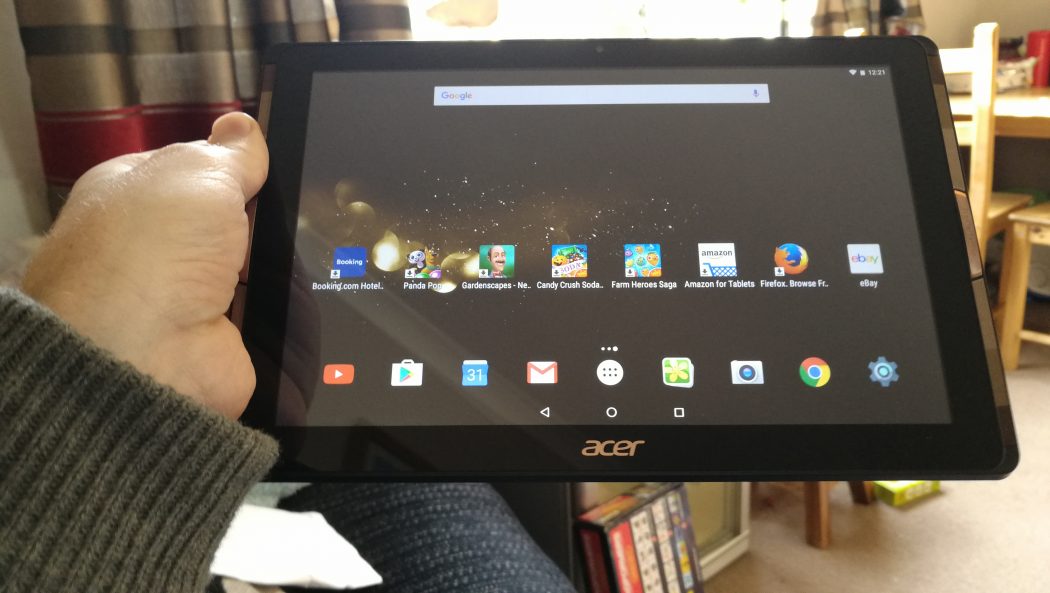 Off to the side of the main home screen, you have a section called "Left Page". This will aggregate social media and news articles for you if you want them. I did not use this as I prefer to use the native apps for this purpose. You can also add additional content to this page if you wish to do so such as RSS feeds and bookmarks. Again this was not something I was ever going to use, so dismissed it.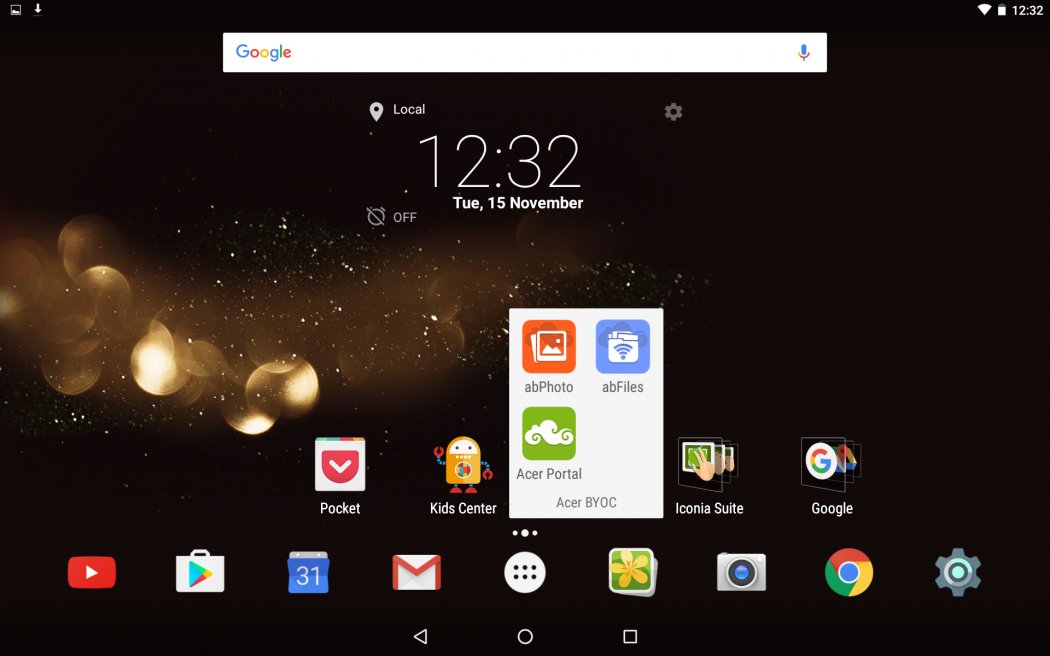 Also present is the Acer BYOC (Bring your own Cloud) service which contains abPhoto, abFiles and Acer Portal. This is a useful service that can be used on multiple Android devices but for me is supplementary as I use Google Cloud for all my content.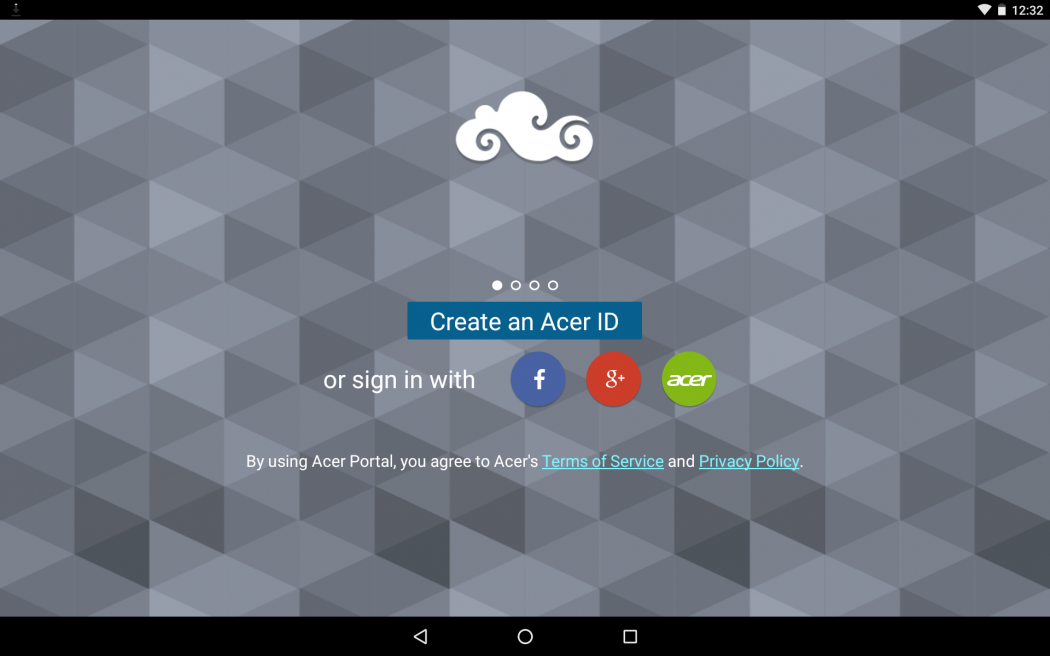 It is a nice feature though and would be useful for a new user to get setup with, had they not already started to use Google's own services.
Next to this is the Iconia suite which will allow you to customise the device in a few areas. It contains EZ Snap, EZ Wakeup and EZ Utilities.
EZ Snap is, as the name suggests, an app that will allow you to easily take screenshots by using a 3 finger gesture. It will also allow you to save web articles to Pocket (which is pre-installed) to allow you to read them later.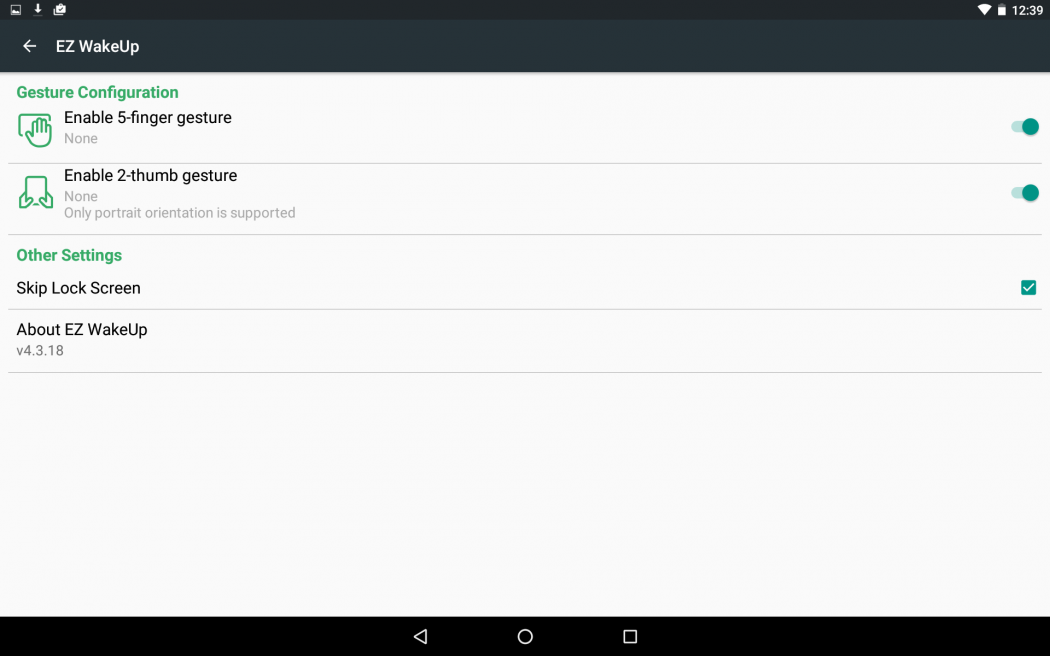 EZ Wakeup is a way of setting the tablet to wake up by a five finger tap or two thumbs tap if you are in portrait. It is quite useful, and you can set which app the tablet will wake up in. This can be handy if you are using the device for playing music or videos. I did use this feature when I had the tablet hooked up to my HD TV via the handy MicroHDMI port.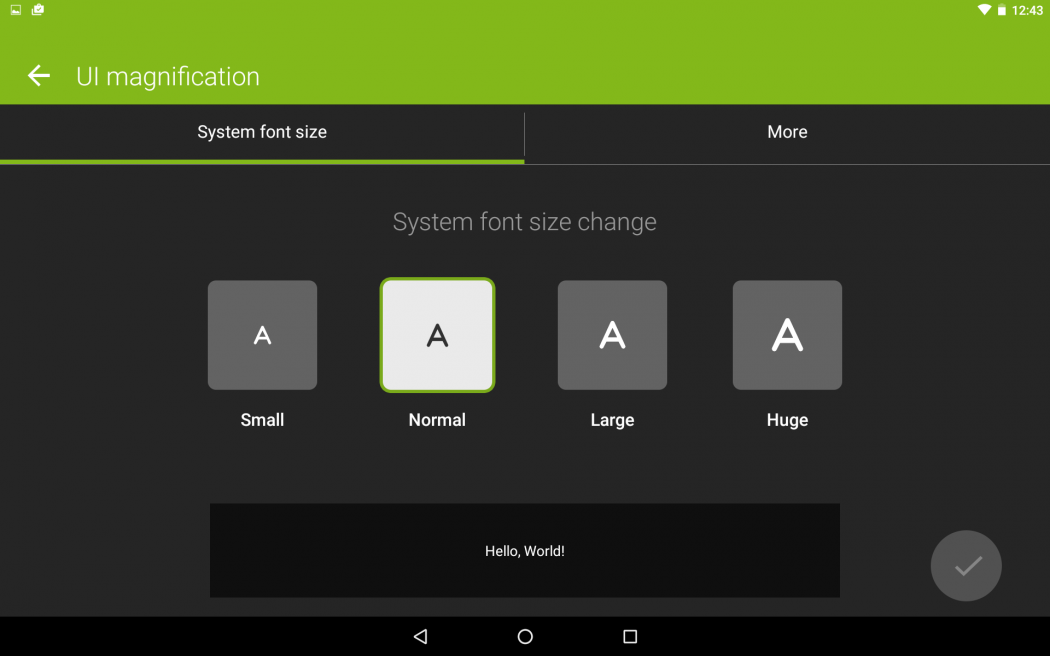 EZ Utilities is a service that will allow you to use various tools to help setup and personalise the device to your own preference. It also has a built in memory cleaner which will allow you to optimise your storage with a few simple presses. In here you can also find a UI magnification tool (see above) for those who are not gifted with perfect eyesight. I did not find this was needed as the panel is great with text scaling out of the box.
It is nice to see that Acer has put these features in as they will be helpful to the novice user.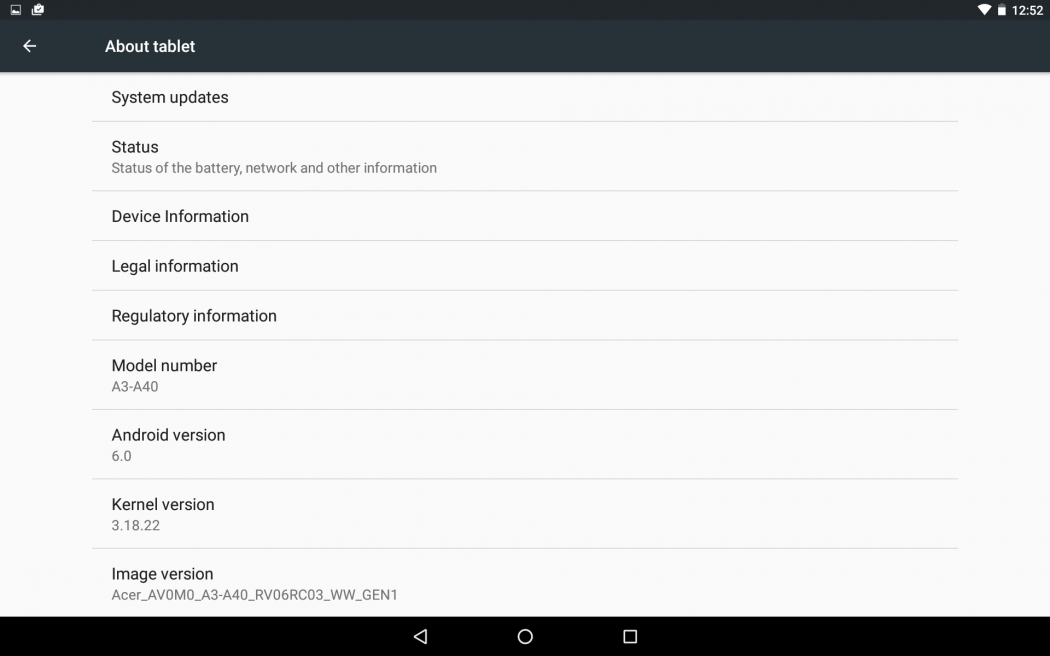 As for the rest of the device, it runs Android 6.0 and it is a very clean looking UI as Acer have not messed with Android at all really (beyond the apps mentioned above that is). The App drawer behaves exactly as you would expect, as do widgets on the home screen.
Cameras
Normally in a review of a phone I would go into a large amount of detail about the camera performance on the device. Today we are looking at a tablet though, and as such the camera is going to be an afterthought, with very little focus on the quality etc. All I really have to say is that the cameras are … okay. They will be great for things that cameras are typically used for on tablets such as Skype or Hangouts. Not for beautifully scenic photos. Up front, we have a 2mp unit and on the back, we find a 5MP unit. We will quickly look at the front facing unit first.
As you would expect from any selfie camera these days you do have inbuilt "Face Beauty" mode which attempts to make your subject look a little nicer by blurring out any blemishes on your face. It also has gesture capture that will take a picture if you hold your fingers up in the "Churchill-esque V" symbol. Both of these are nice touches and give the front facing unit a bit more practicality. I have taken a few shots below to allow you to see the effects of face beauty for yourself.
The rear camera brings a few more settings to the party alongside the above features. Of primary interest to me is the HDR mode which will give a little bit more exposure to your picture as can be seen in these two images below.
Of course, you do have all the other bits and pieces that are normal on a smart device camera. Panorama mode, the ability to adjust exposure, white balance adjustment and colour effects. These are then complimented with some preset scenes, allowing you take photos in various conditions with relative ease. If I am completely honest though this looks like a near direct port of what we have seen on Acer phones,  which makes sense. However, do yourself a favour if you are planning on taking a picture and use your phone instead. It will give a better result. That and you won't be "that" guy/girl.
Summary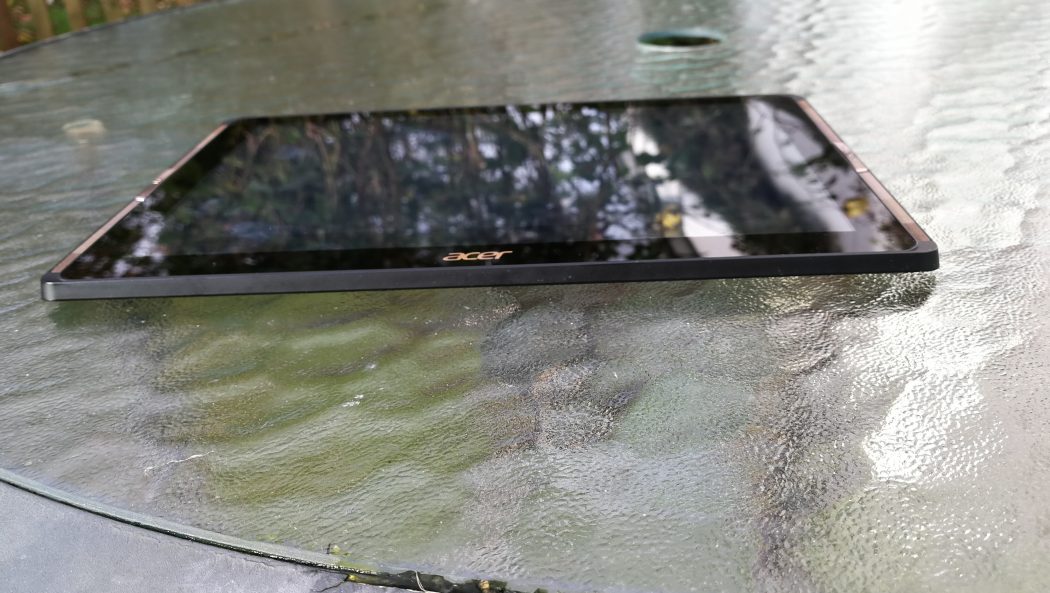 At the beginning of this review, I asked if the Acer Iconia Tab10 was worth its asking price to be a multimedia tool. If that is what you are buying this tablet for then yes it certainly is. The screen is nice and clear and the colours pop well. The sound is very good due to the four front-facing speakers and the DTS audio gives it some real "oompf". Add in the fact that this has a very handy Kids Mode built in and this could very well be a great tablet for the upcoming holidays as a family tablet. 
What it is not is a gaming powerhouse or a workhorse. if you are looking for an Android tablet that can do either of these things then you will need to ..
A) Look elsewhere
B) Increase your budget quite a bit.
I think for the price this tablet is hard to beat and if anyone in my family was needing one I would happily recommend it. Just don't push it too hard as the tablet will then let you down.
Acer Iconia Tab10 - Review
Design - 80%
Hardware - 75%
Software - 83%
Value for money - 91%
A great tablet for multimedia use which capable of light productivity