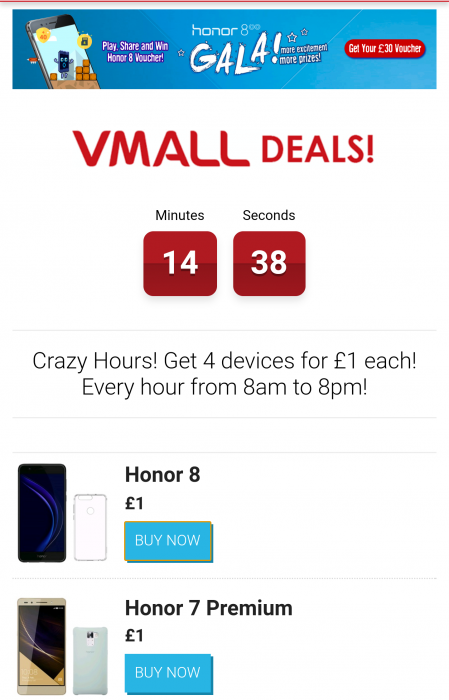 Honor appear to have re-branded Armistice Day as vMall "Singles Day" today and they're doing "Crazy Hours" where, from 8AM and on the hour after that, you can purchase 1 Honor 8, 1 Honor 7 Premium, 1 Honor 7 and 1 Honor Band Z1 for just £1.
Their Crazy Hours promotion is valid only in Germany, United Kingdom, Spain, France, Portugal, Italy, Switzerland, Belgium and the Netherlands. Here's how it works. First, you need to head to their deals page, then – if you're the first person to click "Buy Now" and complete payment within 15 minutes – you'll get that phone for just £1. Good huh?
If you're not fast enough (i.e. me), then you'll instead get a pop up saying that you've pretty much failed, but let's face it – their phones are pretty cheap anyway – even at full price.
Head over to the vMall deals page to have a go. Quickly now.
Update – Ahhh… This is proving to be a bit too popular and their site is crashing every hour. Doah…