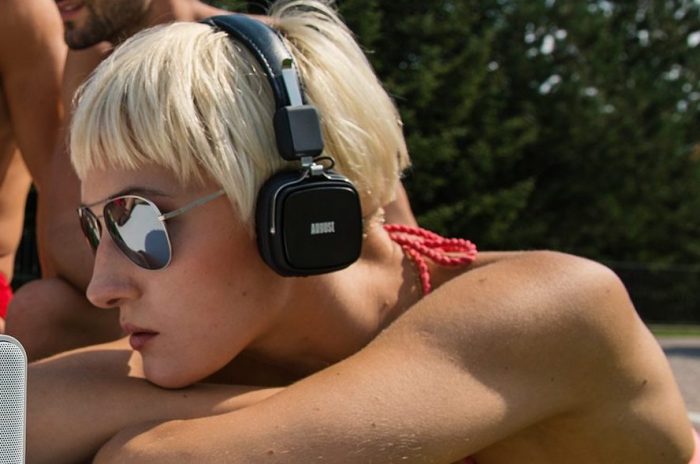 I'm going to completely give away the whole upshot of this review in the first paragraph for you now. Sure, you can always skip along to the bottom of the most reviews, but I'm going to serve it up on a platter right here in paragraph one.
OK. Maybe paragraph two. These are utterly bloody brilliant. Whoomp. Deep bass, stylish construction, a cool and comfortable feel and a brilliantly retro design which looks brilliant. Buy these. Buy these now. Don't bother reading any more. They're £32.45 from August International. No, I've never heard of them either, but trust me, they're bloody fantastic. That's all you need to know.
OK then, bye bye now.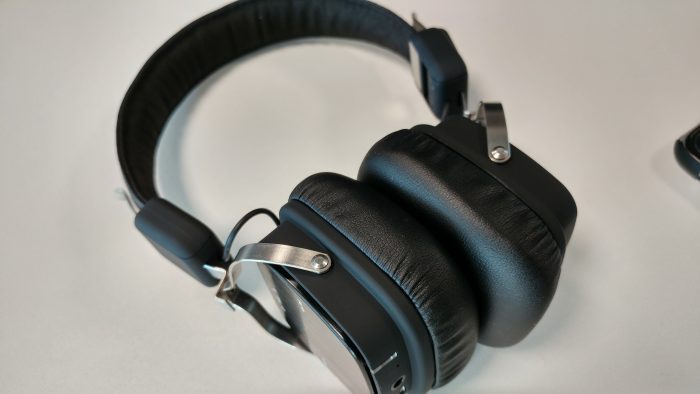 What? You want more. Well, they arrive in a fairly unassuming box but, believe me, I've reviewed a lot of stuff. I've had kit arrive in some beautifully constructed packaging with silk cushioning and soft moulded inlays. The works. Trouble is, it doesn't make the actual kit any better. It just sells you an idea that it's high quality gadgetry. It might be. It might not be.
This is a white box which just tells you that it's a set of classically-designed headphones which operate on either Bluetooth or, if you battery has gone flat, via a 3.5mm audio cable. There's an integrated microphone for calls and a very nice adjustable headband which has an industrial and yet functional design to it. Inside the box are the headphones themselves (which aren't as big as you'd think – they're not "huge", which is great. You also get a 3.5mm-to-3.5mm audio cable and a microUSB-to-USB cable for charging.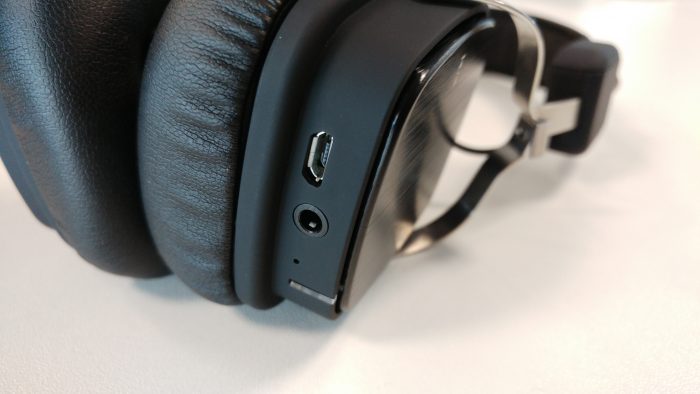 An instruction booklet is included and it's properly detailed. There's 11 pages of text in there telling you how everything works – plus a UK phone number if you need any help. This isn't just some random "thing" from China. I've actually got someone from the UK I can talk to if I need anything. Lordy me.

Depending on which way round you wear these, the controls will either be on your left or right ear. Each "can" is backed with a matt black metal plate but the one without the logo on can be pressed in and will tilt towards the button you're pressing. You can skip tracks forwards and back by tapping once or, if you press and hold, you can adjust the volume up and down. I found that the volume controls didn't adjust my smartphone volume, rather it adjusted the headphone volume itself and you could also have an additional volume control on your smartphone. With the volume turned up to max on my phone and the volume turned up to max on these headphones, things got loud, very loud – but there was no hint of distortion or rattle.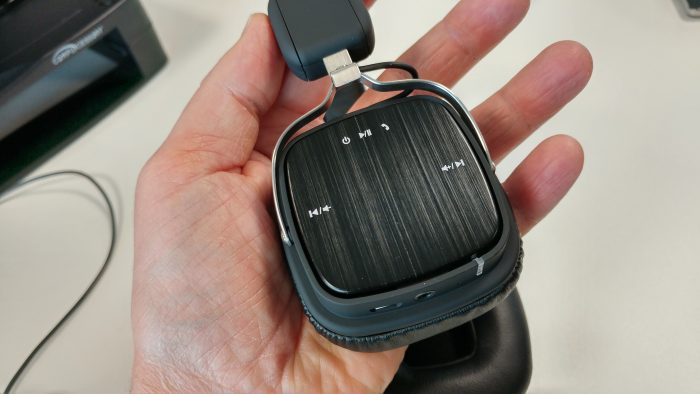 You can grab incoming calls by tapping the top power / play / call button (all of these are easy to locate). Press and hold this to turn the power on or off. Press and hold it for longer to pair with a new device. It's Bluetooth 3.0 + EDR and you'll get around a 10 metre range. All the mobile phones we tested worked perfectly with these.
At the bottom, an LED tells you if you're pairing, if you're paired, if you're charging or if you're low on juice. You charge via the microUSB port on the side but, from what I've seen, and depending on your volume, you'll get around 14-16 hours of listening pleasure on these, which is …just… fantastic.

The headphones themselves fold in when not in use, and the way that the headphones tilt, twist, fold and connect together is just beautiful. I had to do a video just to show you…
At times you could say that I'm a little too positive about some of the things I review. Perhaps, with some items, I'm searching for the good rather than criticising the bad. However, these are real high quality headphones.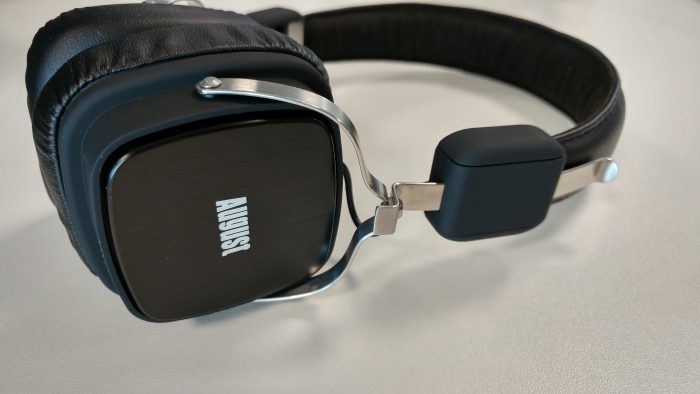 For the tech-heads I could tell you about the quick 2-hour charge time (don't forget, that'll keep you going for 16 hours). I could tell you about the two 40mm speakers, the 20Hz~20kHz frequency range, the 1KHz 110+/-5 dB sensitivity and the on-board 400mAh 3.7V battery which I honestly couldn't feel was in there at all. I could tell you about all that, but instead I'll just tell you that these weigh in at 165g and pack a real mammoth punch into your ear drums. They're comfortable to wear and measure in at 190x160x65mm but deliver a proper, meaty, low-down audio shunt along with the higher-end and mid-range notes you'd expect – all nicely separated and cleanly delivered.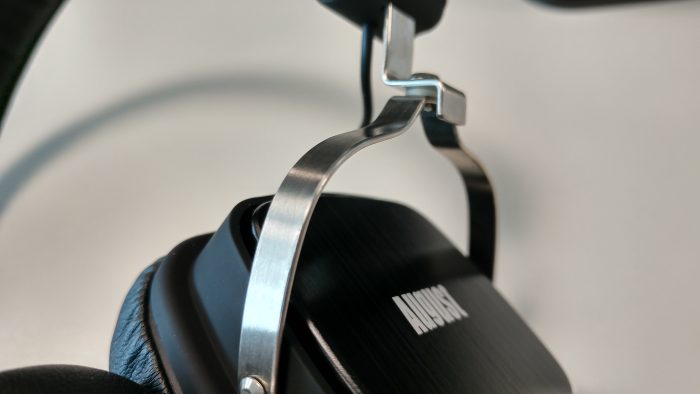 After you've listened, it'll fold up nicely and hides away nicely in your bag. Love these. Absolutely love these. Get these. Get them now.
Buy – Retro Bluetooth Headphones – EP634 (August International)
August Retro EP634 Bluetooth Headphones Review
Design - 100%
Audio quality - 100%
Build - 100%
Battery life - 100%
Can't fault them. Pure, roaring, powerful bass and crystal-clear notes delivered in a clear and distinct notes. These fold away nicely, they're well designed, well made and go for hours.