Three have had mobile broadband available for a long time now, and with each device upgrade comes more enhanced connectivity options with quicker speeds and more flexibility.
On visiting the official Three site you'll find USB Dongles, Tablets, MiFi and more recently RoadFi – a MiFi plugged into the car.
What you won't find however is a home router-style box which supports more users and acts as a home broadband connection replacement.
The good news is this product does in fact exist… and is on sale…..and I have been using one for the past two weeks as a home broadband option. Instead of connecting to a wired service such as ADSL or Fibre, this connects to the Three 4G data service and fires out WiFi and Ethernet into your home or office.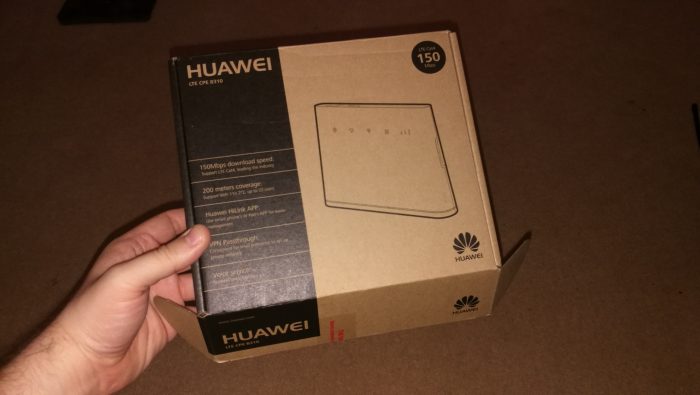 The router is a Huawei B310 and has no Three network branding, it also comes unlocked should your needs change or you want to take it abroad with you.
This handy router supports up to CAT4 LTE so speeds of 150Mbps. You can also have 32 users on the device at the same time and – best of all – the signal travels around 200 meters, this means you can get online in the house no problems.
There are quite a few plans available. A 40GB option costs £20 a month either on a 12 month agreement where the router is free, or on a rolling 1 month contract with an upfront cost of £59.99.
The Hardware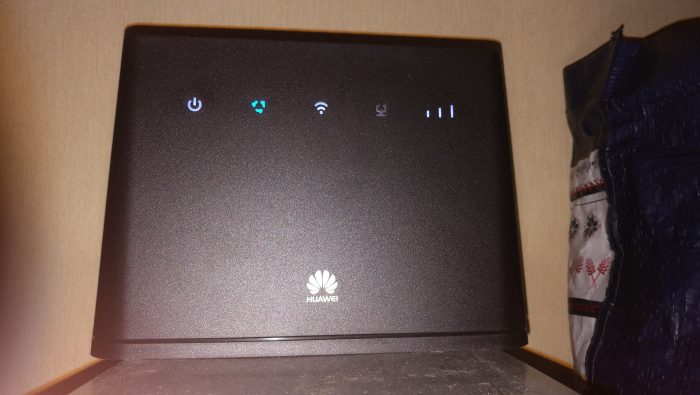 Looking at the front of the router you have a basic display of lights up top with a Huawei logo at the bottom.
These lights are in the following order.
Power – Displays that the router is plugged in and is receiving power from the mains
Network – Cyan means connected to a 4G network, Green is Ethernet and Red means a SIM issue
WiFi – This symbol means you are sending a WiFi signal out to connect too
Ethernet – This lights up when you are making a wired connection
Signal – This shoes the signal strength out of 3 bars maximum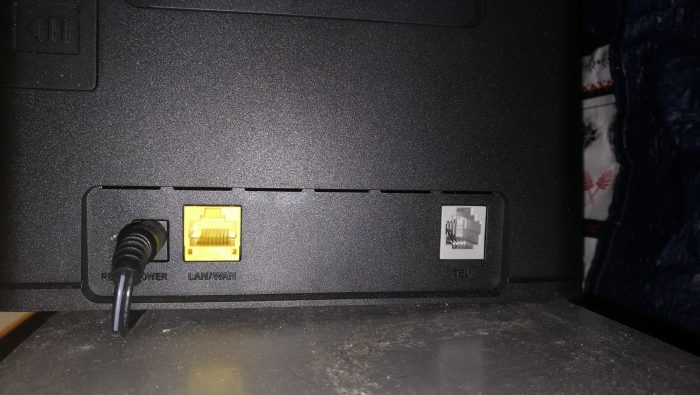 Over on the back, at the bottom is the power socket, the LAN/Ethernet socket and one for plugging in a telephone if you wanted for landline calls (at time of writing I am unsure if this is supported).
On the left in the middle is the cover you slide off to place the normal sized SIM card to connect to the network.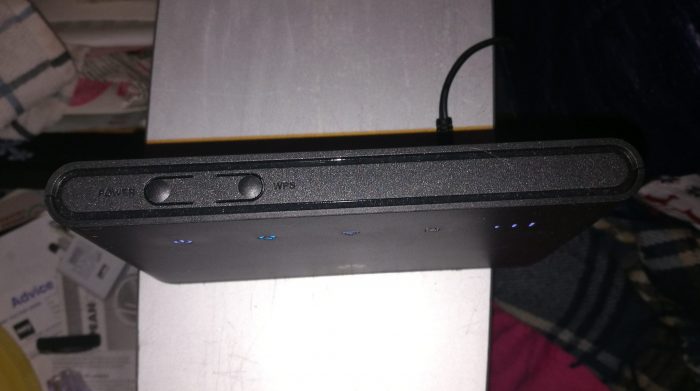 At the top you have just two buttons, one is the power to turn on and off and the other is for WPS for easy pairing to devices which support this.
The Software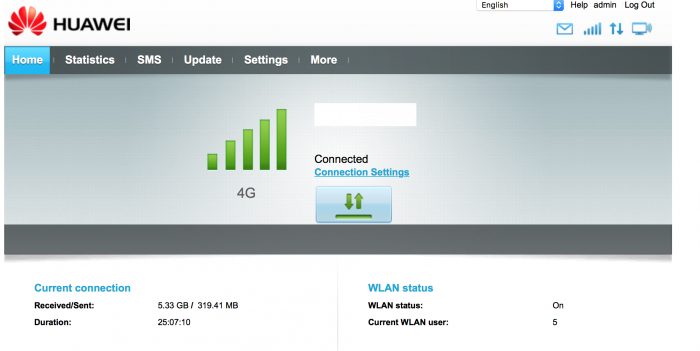 This is the main control panel you can access in any web browser using the address 192.168.8.1. Here you can see the network and speed you're connected to too. It displays the signal strength as well as current data use, which is very important should you be sharing this with others or using with large files.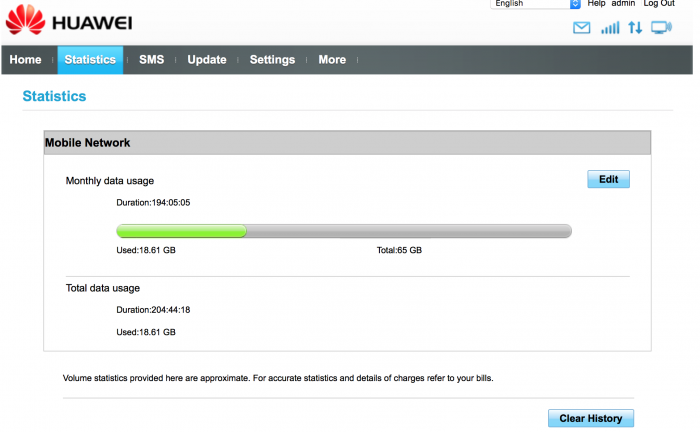 The 'Statistics' page lets you set a data limit based on your allowances, you can also visually see via a bar chart how much data you have used. Again, this is really important especially if – like me – you plan on using a games console such as an Xbox One.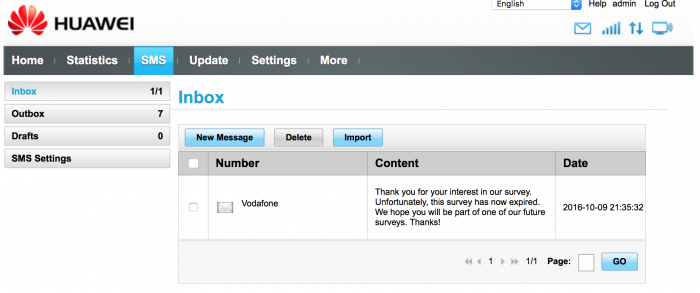 This page is for sending and receiving text messages (SMS) should you put a SIM card in that gives you a texting allowance. Whilst you can send and receive on a data SIM, remember you will pay per message sent.


Next is the Update page which is really simple, it connects to the Huawei servers and checks if your device has any updates.


Settings is where you get a whole heap of different areas to play with, from locking the device to just using 4G or 3G, doing a network search, restarting the device and changing the network name.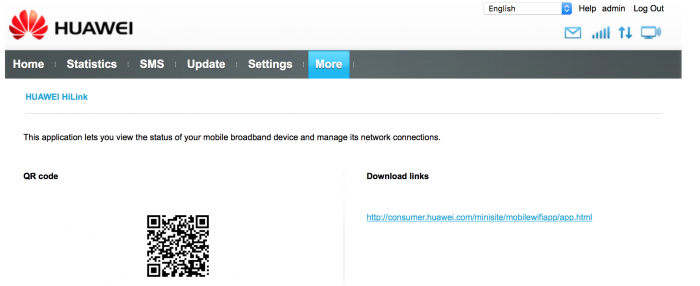 Finally you get the More page which just links you to the handy free application of iOS or Android called Huawei HiLink.
This app lets you manage your router as well as check how much data has been used, who is connected and a lot more. It is effectively a prettier version of the browser interface seen in these screenshots.
Overall thoughts
In my two weeks with the router I was very impressed, sure I've used many MiFI devices before, but having something like this in the home was perfect for me.
Where I rent right now I have a shared TalkTalk connection and get speeds of around 4-5Mbps and it is always cutting out on me. This is very annoying when playing an online game or downloading a large file.
Since plugging in the router with the Three SIM I was easily getting speeds of 20Mbps – and that's with just a few bars of signal.
I was able to use the Three inTouch mobile app to keep up to date on a mobile phone. This WiFi calling app means none of the poor connection alerts I had on the TalkTalk broadband connection. When it came to online gaming this was perfect for online use, although I would avoid demo downloads as these can be around 20GB at a time.
The setup was so easy – plug in the SIM and power and away you go.
If anyone is wanting to use mobile WiFi as a home broadband replacement, I highly recommend checking out this B310 from Three. You will however need to go in store to get it as right now it is not available online.
Huawei B310 Router
Design - 95%
Price - 90%
Value - 90%
Reliability - 95%
A great way to get online in a rush, anywhere.