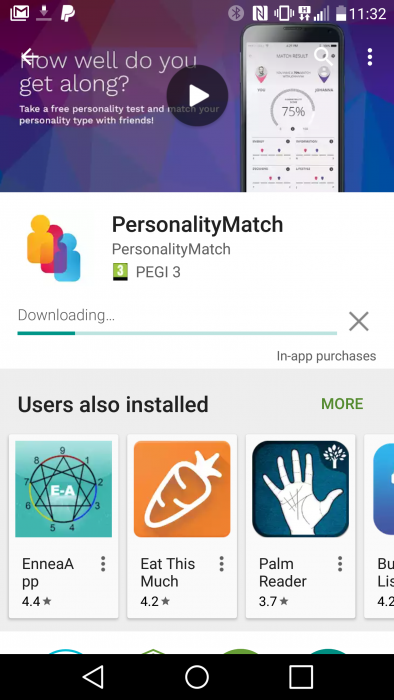 At school I played a game to see how well me and my friends "matched" each other. It was a bit like the origami paper game where you'd create a folding "fortune teller" device which had a concealed message. You'd ask each other questions and then, based on the answer, you'd be able to find out how well your personalities matched up.
Now, fast forward to the ages of smartphones and we have a much more technical and modern slant on this. Available for Android and iPhone, there's a sophisticated algorithm deciphering results which you can then share and compare with friends, relatives or your partner.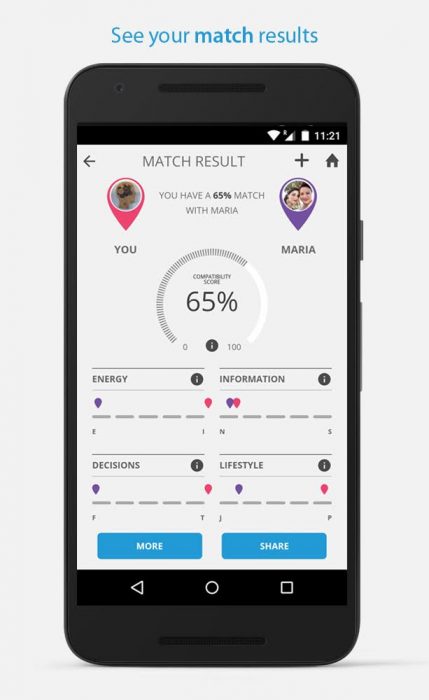 The personality test is completely free and takes just 30 seconds, but even if you don't do it yourself you can learn quite a bit from the results that your friends generate.
The friendly and simple GUI gives you an instant overview of personality strengths and weaknesses. You can also, like that schoolyard game, see your compatibility thanks to a percentage view.
If nothing else, it's a bit of a conversation starter, and a great way to find those common frustrations and weaknesses that we may have to deal with from time to time. Likewise, the personalised relationship advice can help to smooth the sometimes rocky road between you a and your partner. These hints and tips are based on the classic psychological tests by Katharine Cook Briggs, Isabel Briggs Myers and the theories of the psychologist Carl Jung. Even if you don't know exactly who they are, it's great to see feedback based on proper psychological theories.
The app is also a good helper if you're looking for career advice, at it'll help identify areas that you may need to develop and work on. It'll also help you find the best and worst careers for your personality type, so you might well find that a complete career change is on the cards! 😉
Get the app for free from either Google Play or the App Store and give it a spin today. I did it with my wife and honestly thought that the results weren't right until she pointed out that the app actually WAS correct and I was in denial 🙂