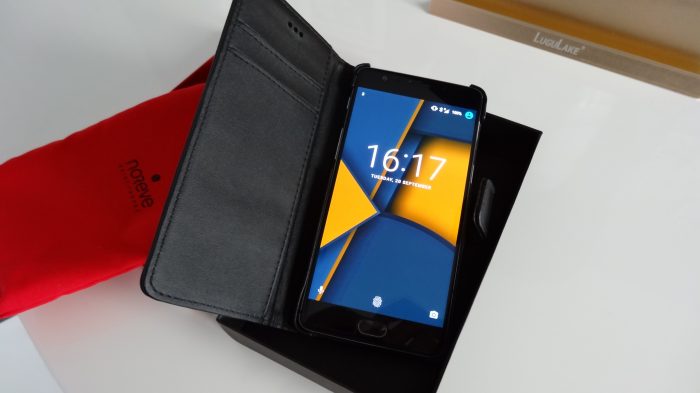 I'll come right out and say it, I have a problem! My problem is phone cases; no matter which device I'm using I always end up purchasing a multitude of cases, in the various styles, slip, rugged, flip, TPU and so on. It just seems that putting my device in a different case makes me feel like I have a new phone. So I jumped at the chance to review the premium Noreve Saint-Tropez case for my OnePlus 3.
Good Points:
Made from premium real leather
Top build quality, feels fantastic in the hand
Offers good device protection
NFC (Android Pay) still works through the case
Bad Points:
Price
Adds some bulk to the device
Does not utilise screen on/off functions of the device
In Use:
Upon opening the delivery packaging the first thing that hit me was how it oozed quality. The initial box looked liked it contained a piece of jewellery rather that a case for a phone. Inside the box is a red velvet draw string bag with the Noreve logo on the front – oh and that smell you get when you open something containing real leather.
Onto the case itself. The inside is lined with soft leather, again embossed with the Noreve logo. On one side are cutouts to hold credit cards, and a further slot to hold cash. This case could very easily double as your wallet.
The case does add quite a bit of bulk to the phone, especially when compared to the flip case supplied by OnePlus themselves (yep bought one of those as well). Despite this added bulk, NFC works fine and I was able to use Android Pay with no issues. This case does feel absolutely fantastic in the hand. Although not billed as a rugged case, I would imagine the Noreve Saint-Tropez case would offer some drop protection.
Conclusion:
The Noreve Saint-Tropez case is available from Noreve, along with cases for numerous other devices and tablets. It is currently priced at €50, or £42 which is a high price point, but this is a top, premium quality, real leather case. I did pass my device to a friend who was initially shocked when I revealed the price, but after a few seconds of holding the case, his reply was "yeah it actually feels like a £45 case."  So if you're after a special gift for a loved one (or yourself of course), head over to Noreve and check out the range.
Noreve Premium Leather Case