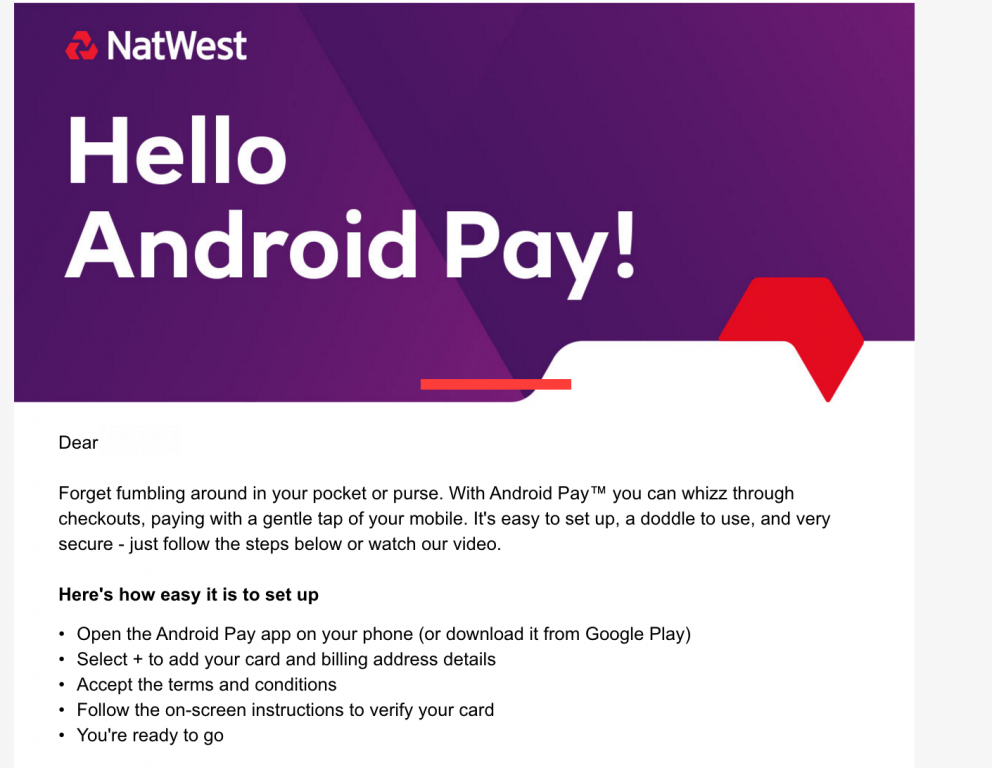 Well, they took their time, but it's happened – Android Pay now works for NatWest customers. We heard reports from a couple of our readers that they received an email from NatWest to announce that Android users can finally use Google Pay at tills and checkouts across the UK. The Android Pay app itself has been downloadable in the UK for some time, but the roll-out of banks supporting the solution itself has been unsurprisingly slow. Until now. Look, NatWest has even created a helpful video to help their customers understand the wonder of tap to pay… Because obviously they haven't rolled out the exact same thing to their credit and debit cards, and likely Apple iPhone users. No, wait. That's the exact thing they've already done. Silly me.
https://www.youtube.com/watch?v=mRfldiCmlCU&feature=youtu.be
Well, wait now more.
The bank also delivered a helpful set of instructions on how the whole thing works. Enjoy.
Forget fumbling around in your pocket or purse. With Android Pay™ you can whizz through checkouts, paying with a gentle tap of your mobile. It's easy to set up, a doddle to use, and very secure – just follow the steps below or watch our video.


Here's how easy it is to set up
• Open the Android Pay app on your phone (or download it from Google Play)
• Select + to add your card and billing address details
• Accept the terms and conditions
• Follow the on-screen instructions to verify your card
• You're ready to go
Here's how it works
In store
• Wake up your Android™ phone
• Hold it over the contactless terminal
• Hear the beep? That's it. Done.
In app
• Just select 'Android Pay' at the checkout


Safety first
In providing this service Android Pay does not share your card details with the merchant. You might be prompted to enter your device screen unlock for some transactions.