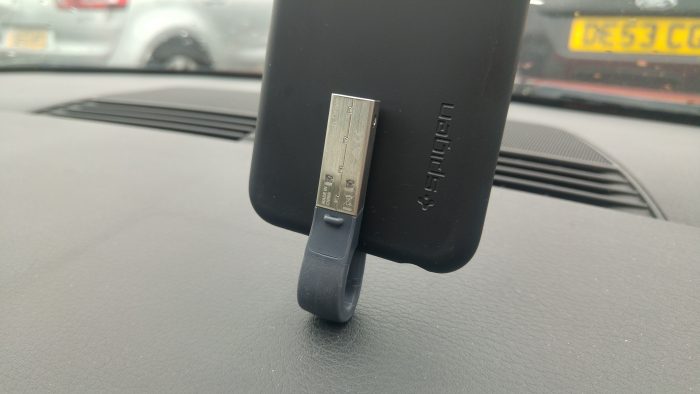 Your iPhone can connect to the iCloud to backup, but what if you want to backup your photos yourself? What if you want to put files ont your own personal USB stick? Or you want to quickly transfer them?
Well, heres the SanDisk iXpand Flash Drive – and it does a lot more than just back up your stuff. You can free space, encrypt files and watch videos on the move. Indeed, I used this with an iPad on a recent flight and it worked flawlessly.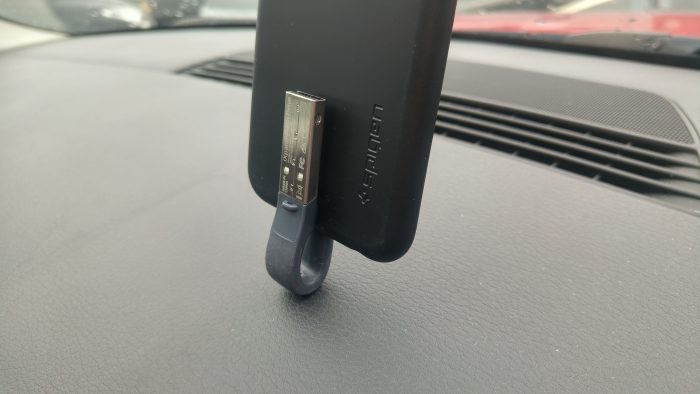 First though, let's take a look at the thing. It's an "interesting" shape, with a curved plug going into your Lightning connector. It's good to be shaped this way however, as it means that the USB plug tucks neatly behind your iPhone or iPad. Plug it into your iPhone and it'll prompt for an app to be downloaded – the SanDisk iXpand Sync app. This works with the Flash Drive to let you transfer, video and listen to media files including pictures, music and videos. There's no "cloud" needed and no WiFi connection – ideal if you're on a plane like me and you just want to temporarily move files or watch a video directly from the drive. This means you're playing from (effectively) a USB stick.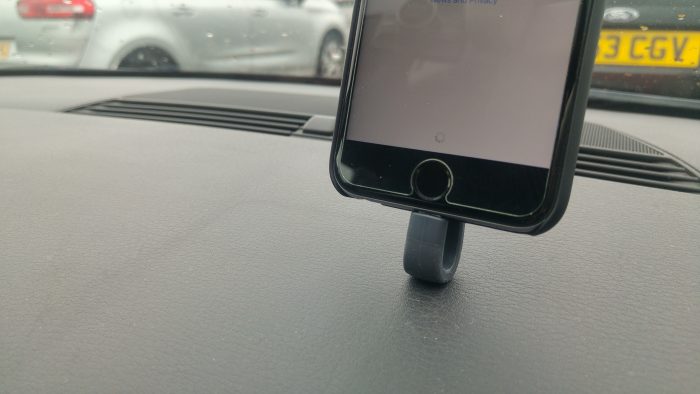 Once the app is downloaded you can choose to automatically sync photos and videos from your camera roll.
The USB 3.0 transfer is rapid, and the app is also very intuitive and friendly. It actually played videos better than other apps. It handled WMV, AVI, MKV, MP4 and MOV files, although it didn't like AC3-encoded audio. Let's be honest here, it'll play some of those "video files that fell off the internet" without problems. No buffering, no sync errors and you can play / pause and skip through a video file with ease via the inbuilt video player. Same with music files, which are separated into songs, albums, artists, genres and playlists.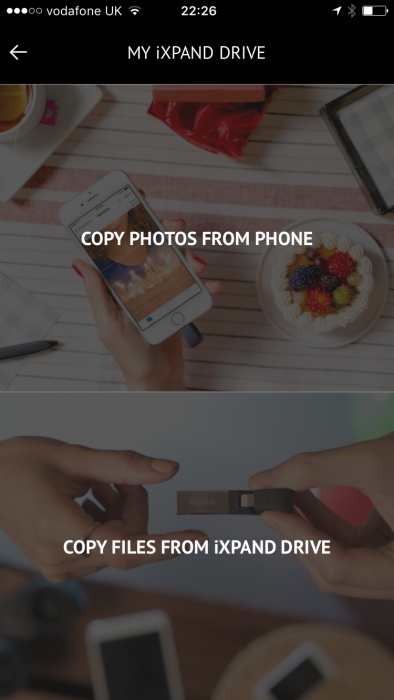 If you have files which the inbuilt file browser can't open natively, you can at least choose to open / share them in other apps, which is proper helpful.
There's a number of different sizes – we've got the 32GB version here. You can choose between a 16GB, 64GB and 128GB model, but if they get full you can always off-load your backed-up media onto a NAS drive or a computer of some sort. Simples – just plug the USB end in and it'll pop up as mass storage.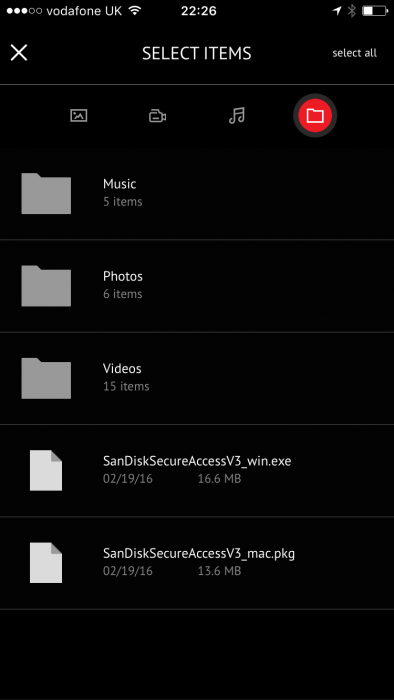 The app itself is very easy to use, honestly I really don't need to cover it in much detail as you've basically got everything you need to know in the video – you can view files, copy files and move files. There's a few settings should you want to rename your drive etc but other than that it's remarkably straightforward and you can accomplish tasks like deleting, selecting multiple files and more. It'll show you pictures, keep you informed and let you backup and restore in a snap. You can choose a manual / granular level backup or an automatic backup when the device is plugged in.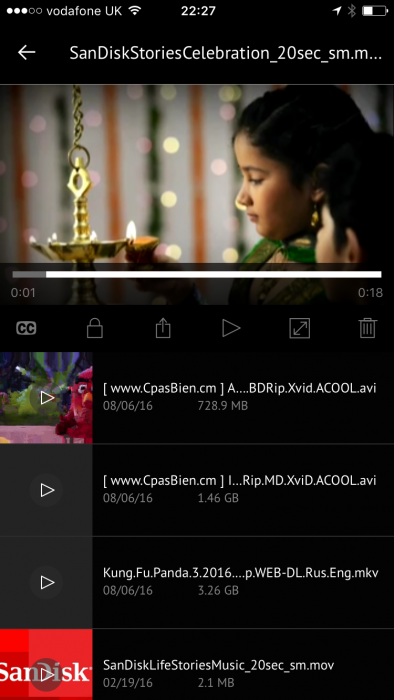 I liked the little additions, like firmware updates that flowed down without issue to the drive. I also liked the ability to fire up your camera app from directly inside the app and have resulting images and videos stored directly inside the iXpand Drive. Handy, handy.
It was simple to get going to and, after the initial prompt and the installation of the app, there was just a notification on the lock screen to deal with when you inserted to drive – presumably due to iOS requirements.
The device itself is sculpted brilliantly, tucking it's neck around the back of your phone or iPad neatly and reducing any annoyance by making it less noticeable. As for functionality, it's just like OTG / USB pen in terms of functionality.
If I'm to really pick flies, I'd have to point out the tiny warning that pops up on the lock screen when you insert the device, but it wasn't a massive pain point and the benefits definitely out-weighed that. At the end of the day, although streaming from the cloud and backing up to the cloud is great, data usage and coverage isn't always something we can rely on. Here you can have a pen drive with all your images, your work files, your family videos, a TV show or some music for a special event or journey – easily and readily accessible without any logins, web portals or data connections. Reliable, easy to understand and a great way to easily regain space on your iPhone or iPad.
Have a look at the Sandisk website to get more information. You can get a 16GB, 32GB, 64GB or 128GB unit. The 16GB version is £36.97 on Amazon, the 32GB one is £39.99, the 64GB is £59.99 and the 128GB unit is £89.99.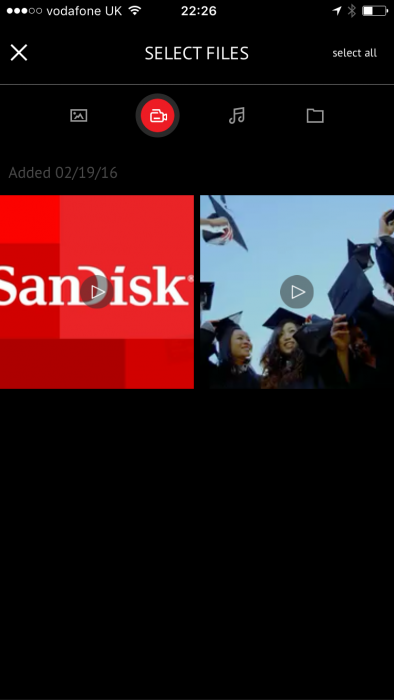 SanDisk iXpand Flash Drive for iPhone and iPad Review
Overall - 92%
Tremendously easy to use. A quick way to backup your iPhone files, plus a great way to quickly add media to your iPhone or iPad.