Every now and again we get a real surprise to review. It's no secret that I normally enjoy KitSound equipment, but having never used a sound bar or Sound Base before. I didn't know what to expect from the KitSound Unity SoundBase. however, the following sentence seems to apply…
Sometimes tech is so good it improves your life. Sometimes tech is a luxury. Sometimes tech is such luxury you are convinced it improves your life!
GreyingGeekJohn 2016.
It would seem that soundbars – or soundbases – fit into this category. You don't need them, you really don't, but after you listen to a good one it's really difficult to go back to not using one. Enter the Unity SoundBase from the good people at KitSound.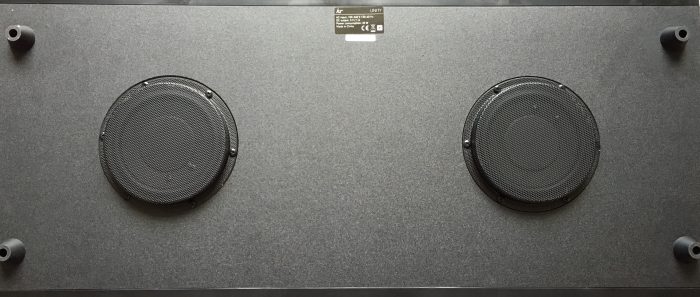 What is a soundbase anyway?
Most modern low to mid-range TVs offer a great picture, and most will offer good but not standout sound. So what do you do if you want to pep up the sound quality of your TV and you don't want to pay a lot of money for a surround sound system?
Soundbars and soundbases sit in front of your TV, and provide an enhanced, normally more base heavy, but very different sound. You'll often notice that the sound is so different from a sound bar that you'll need to lower or mute the volume on your normal TV speakers in order to get the best effect. Such audio experience may vary depending on the model of soundbar you purchase, but you don't always have to purchase high-end ones, as there are under $200 soundbar models (listed & reviewed here) that can bring a crisp and clear sound to your TV.
Generally, the first time you activate your soundbar, you'll be blown away by the difference in quality. This was certainly my experience with the KitSound Unity SoundBases.
Connecting the KitSound Unity SoundBase
The are three ways that you can connect to the Kitsound Unity SoundBase. There is Bluetooth for mobile music devices, optical for connection to a TV or set-top box, (don't forget to remove the plastic covers from your optical cable – a common mistake) and auxiliary for most other devices, and the appropriate cables are provided by KitSound. There is also a USB port for charging mobile devices, which is handy.


Appearance – does it look nice?
Looks are important. Most people expect Soundbases to fit in with their existing audio visual set up, and enhance the overall look of the setup.
The KitSound Unity SoundBase, with its stylish black and silver finish looks the part, and the tempered glass top on the unit gives a nice shine whilst being able to support up to 50kg. This is enough for most TVs to be able to be positioned on top, should you not have a spare shelf on your set up.
With measurements of 34.5 x 73.3 x 7.8 cm, this is a big beast. It has to be to accommodate the speakers under the unit, so you'll need to make sure you have the room to be able to fit the unit. Also bear in mind that the unit weighs in at 7 kg, so make sure that your stand can take the weight.
Forget the appearance – does it sound nice?
The SoundBase offers 100 watts of sound output, and looking at the underneath of the unit will provide a view of the potential oomph that the KitSound Unity SoundBase has to offer.
You're able to independently control the bass and treble on the output. There are also two sound settings, Movie and Music, for you to be able to choose from. Music mode provides a very direct, pure sound, whilst Movie mode makes the sound wider adding echo and pushing the ambient sounds forward.
Don't assume that the selected mode will give you the best mode for the sound you are listening to, it's 100% down to personal preference. I find that some dialogue heavy films sound better in Music mode, whilst live orchestral music sounds wonderful in Movie mode.
I have no point of reference for SoundBases or Soundbars, but I have to say that the KitSound Unity SoundBase produces a very powerful and enjoyable sound. It's one that I heartily recommend and a great addition to your living room.
Costing £150, this should not be an impulse buy and you should probably find a live sample to ensure that it meets your taste; its an accessory for those who really enjoy their audio.
Kitsound Unity Soundbase
Sound Quality - 85%
Style - 79%
Value - 83%
A great addition to your home setup