Hot on the tails of Cygnett are X-Doria, but this time, they are concentrating on the protective element of the iPhone 7 series, which according to another article about the Jet-Black series – this case will be a life saver! (Not literally!)
Defense Gear is a full body, no bulk case for iPhone 7 or iPhone 7 Plus. It uses four materials infused together for military grade drop protection, including a scientifically proven DropShield™ edge lining that hardens on impact. Defense Gear combines DropShield™ technology with hard polycarbonate, TPU and anodised aluminium. The case is engineered with enhanced corners and a 0.1-inch thick frame that provides dual layer protection and shields with all angles of your device. The Defense Gear case can withstand drops from up to 6'6". Available colours include Space Gray, Silver, Gold, and Rose Gold. It is currently available for £24.99 on XDoriaLife.com for iPhone 7 or XDoriaLife.com for iPhone 7 Plus.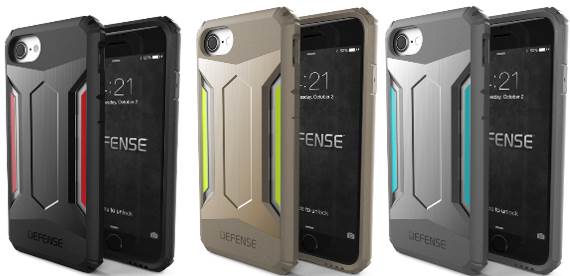 X-Doria's Defense Lux for iPhone 7 or iPhone 7 Plus brings together refined luxury and durability to create the ultimate protective case. Defense Lux features a simple snap-on construction, engineered with a soft inner rubber layer, impact resistant polycarbonate backing, and machined with an aluminium outer frame. The aluminium outer frame protects the perimeter of the iPhone, while inside the soft rubber wraps around the phone and protects it from up to 6'6" drops on concrete. This actually exceeds the military drop test standard – MIL-STD-810G. Available for £29.99 on XDoriaLife.com for iPhone 7 or XDoriaLife.com for iPhone 7 Plus.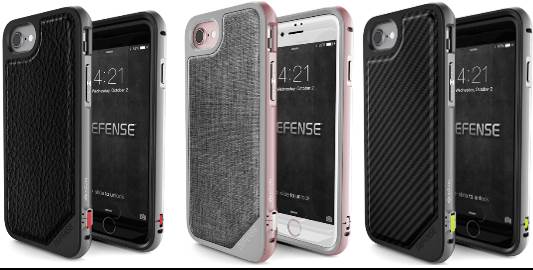 The Revel series of quirky cool snap on cases for the iPhone 7 are designed with a raised bezel edge to protect the screen from surface scratches and a wraparound reinforced rubber bumper that extends across the top and bottom edges to ensure the phone is protected edge-to-edge. Revel also protects the volume and lock buttons with a grip rubber bumper. There are twelve different images to select from including Pug, Panda, Husky, Fox, Bear, Lion, Blue Future and Chrome Web. The Revel series is available for £19.99 on XDoriaLife.com for iPhone 7.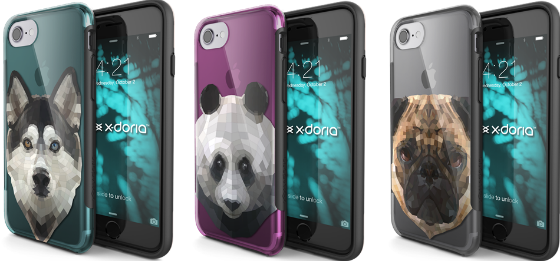 For more information on X-Doria's iPhone 7 and iPhone 7 Plus case collection, please visit XdoriaLife.com.