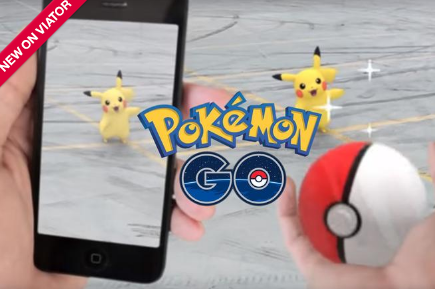 Personally I thought that the buzz surrounding this have would've died down, but it shows no signs of abating. People at the park, in the queue at the local bus stop, walking to work and even at the pub. Yes the pub, they're all doing it.
Now, amongst the myriad of emails we're getting from companies scrambling to connect their products with the game, we have a company called Viator offering bloomin' Pokémon GO tours.
The augmented reality game becomes even more.. err.. augmented with tours which include WiFi. Looking through their offerings, they've got a Berlin Pokémon Go hunting tour by car which involves a local driver picking you up and showing you all the "little-known corners of Berlin where rarer Pokémon dwell". Or, should you wish, you can look out the window instead and admire the city. Y'know – all those three dimensional objects.
The price? A snip at just £140.94 per person. They also do similar tours of Paris (which is cheaper at £43.16 per person) and a walking tour of Split where you can choose to completely ignore the 1700 year old historic city and stare at your body screen instead.
The company have other tours in Memphis (which is on a Safari Bus.. geddit? Hunt? Safari?) and Madrid.