The time has come for me to review the most powerful phone that I have ever used: the LeEco Le Max 2! Whoa there, hold on.
Whoa there, hold on.
'Whoa there, hold on' – did I just say that? Well yes, I did, but the real question is: does the phone justify the hype created by specs? Let's dive into the review and see. However, before we dive in, I do need to add this PSA. This phone is currently only available as a grey import through vendors like Gearbest etc.
Design and Hardware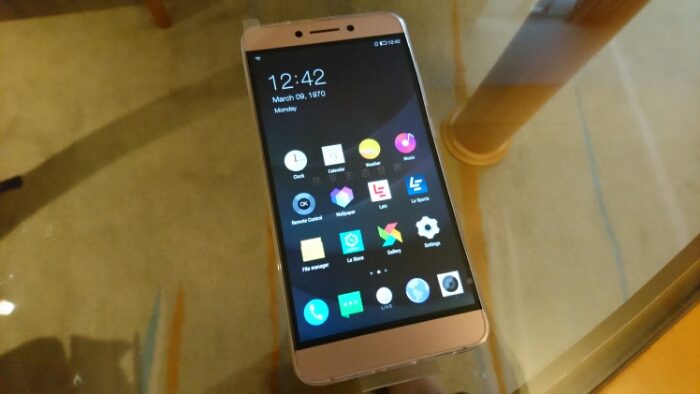 I have been using the phone for just over a month now, and in that time I have managed to form a fairly accurate opinion of how I feel about it. However, before we get into the weeds, let's have a look at the unboxing video as a reminder.
The phone has a really nice feel with the touch of the metal, which has a slightly roughened texture, giving it a bit more grip than you may initially expect. Although the phone is the same size as the iPhone 6s Plus, I really didn't find it uncomfortable to hold. In all honesty, it felt odd going back to the Xperia X that is now my daily driver, as it is only a 5″ screen instead of the LeMax 2's 5.7″ beauty.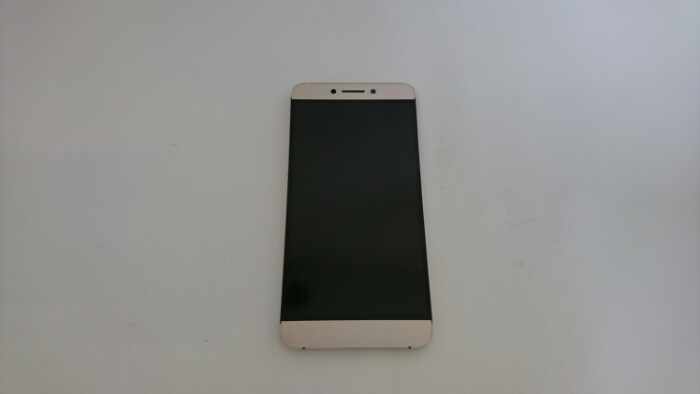 Onto that screen. It is a glorious 2K resolution with a PPI of 515 and is a TFT type screen. The screen does have very wide viewing angles and is very clear in most lighting conditions. The only time it was hard to view was when I was in direct bright sunlight. This was easily rectified by ramping up the brightness to the max, though.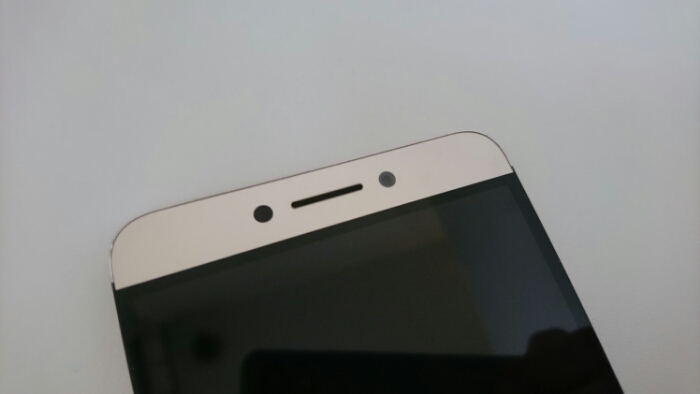 Above the screen, we find that there is an 8MP shooter with an aperture of/2.2, and that also records at 720p, and has autofocus. Next to that is the earpiece which is the only forward firing speaker. Besides that, we find the ambient light sensor. In the speaker grill is an embedded LED for notifications. This can be controlled from within the settings. I found it most useful when charging the device as different colours are used to signify different charging states.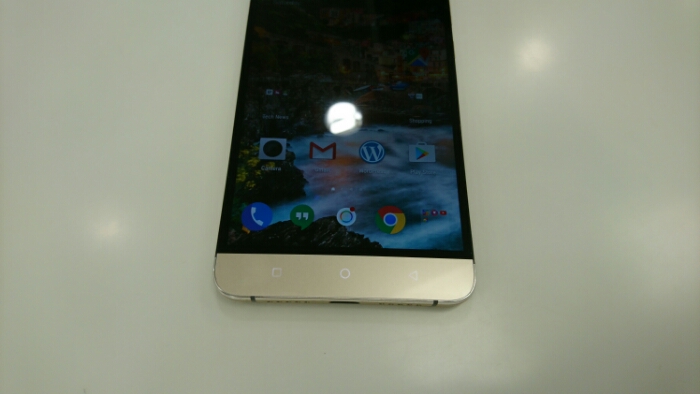 Underneath the screen is where you will find the capacitive control buttons for Back, Home and Multitasking. These are arranged with the back button being left most and the multifunction on the right. It has to be said that the length of illumination on these buttons could and in my opinion does need to be longer, as it is all too easy to miss them. Fortunately, the touch area is quite large. The order of these buttons can be changed to be the other way around through settings if you are left-handed, are coming from a Samsung device, or prefer that the back button is on the far left like it is on my Xperia X. Regrettably, when you do this the icons don't change and this can be confusing in the long run. The back button being where it works for the larger device anyway so after a bit of adjustment it felt natural.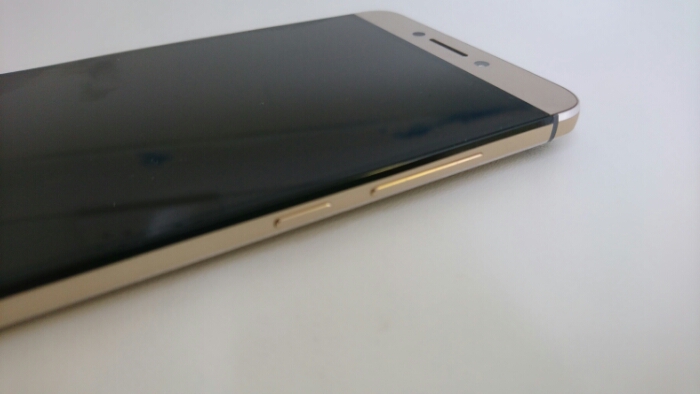 On the right-hand side is where you will find the volume rocker and the power and sleep/wake button. They are well-positioned and are prominent with a good action. The only negative is that they don't have any texture on them, which would make it easier to find, say when the phone is in your pocket.

On the left-hand side, you will find the dual-sim slot that will take the dual nano sims. This is ejected by a pin like most unibody devices these days.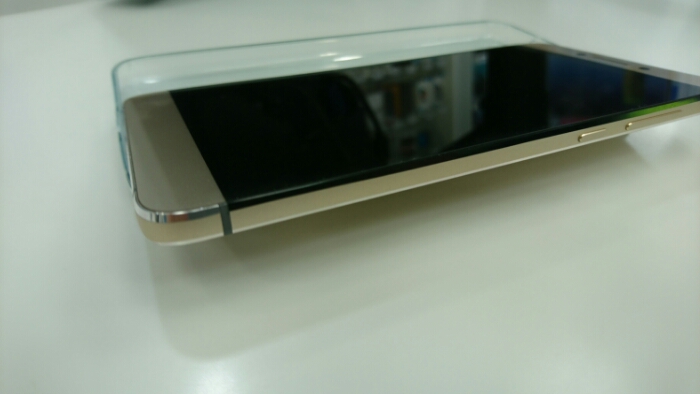 The edges of the device have a very nice chamfering as the edge melds into the back of the device, and this is actually something that is visible on the phone. It shows just how much detail has been put into the design, and thought has gone into the machining of the body. I really like the impression of the screen being edge-to-edge that is achieved by having the glass going all the way to the edge of the phone. When viewing the phone in profile, it breaks up the gold colour quite nicely.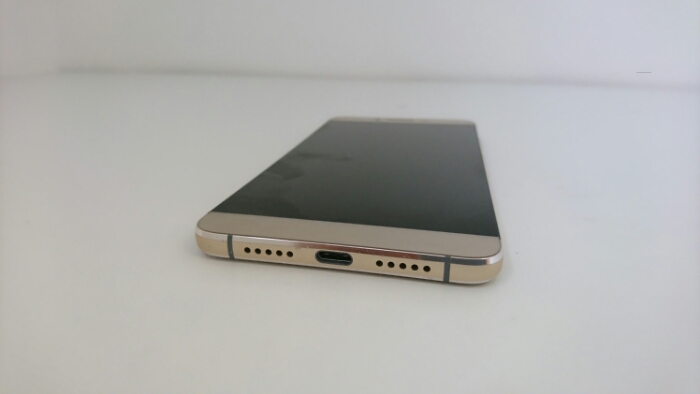 Onto the bottom of the phone, where we find a USB Type-C charging port and what looks to be two speaker grills. Sadly, only one is a speaker with the other being where the microphone resides. That being said, this is one of the loudest phones I have used so they obviously got something right and there must be a sizeable speaker unit in this section. Sadly the USB is only Type-C 2.0, and not the much higher performing 3.1 that we found on the Lumia 950XL. This means that data throughput will not be as fast and display out is not possible. It does however, still support Quick charge 3.0 so not all is lost. It will take a charge to bring you up to 50% in 3o minutes.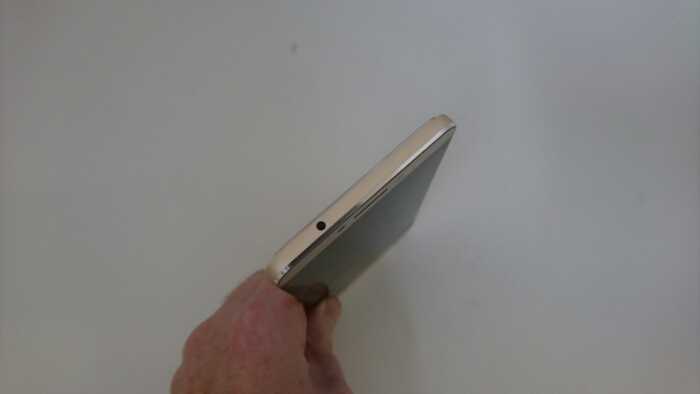 Moving up to the top, it is pretty barren here with the absence of any 3.5mm headset jack and only an IR blaster in its stead. Yes, you did read that correctly – there is no headset port on this phone. LeEco has gone down the same road as Moto with the eradication of this jack and is using the USB Type-C as the audio output. Whilst I am not actually a huge fan of this, the purported improvement of quality that you will hear over headphones will make it worthwhile. I will go into this in more detail later in this review, though.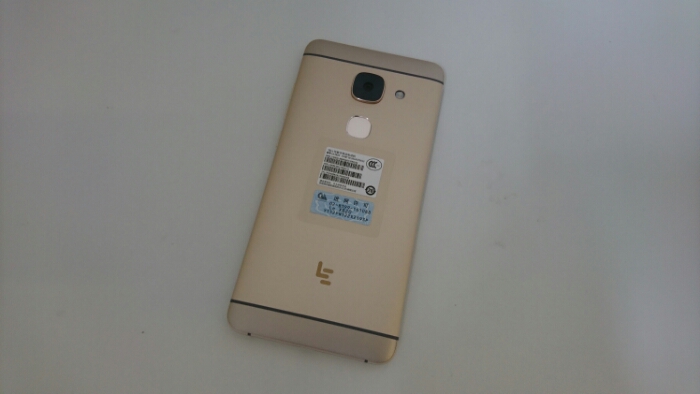 Last but by now means least, the back of the phone where we have some very interesting features; the camera and the fingerprint sensor.
First up the camera. This is a 21MP camera with the sensor being made by Sony. It is capable of 4k video and also 720p at 120fps for slow-motion. The sensor has an f/2.0 aperture and it also features OIS. These contribute to reasonably good photos, but I will go into more detail about that later on.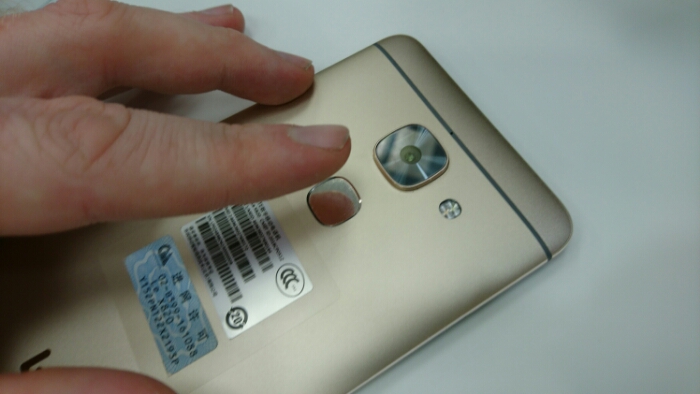 The other big feature on the back is the fingerprint reader. 'So what?' you may ask, 'a rear-mounted fingerprint reader – we have been seeing these for ages'. Well, that is true but this one is a bit different in how it works. 
To explain how this works we need to look at how a regular fingerprint reader on a phone works. Essentially the most commonly used fingerprint sensor these days is the capacitive type which works in a very similar way to how your touch screen works. It detects the natural ridges and valleys of your fingerprint as these will give off a very small difference in capacitance and therefore allows your fingerprint to be mapped and saved. The big problem with this technology is that like your touch screen, it is completely useless if you have a layer of moisture on your finger, i.e. sweat.
It is because of this that Qualcomm have been working on a better way, and that way is Qualcomm Snapdragon Sense – which is essentially an ultrasonic fingerprint reader. It sounds cool and is easiest to explain by watching this video below.
https://youtu.be/FtKKZyYbZtw
If you wish to find out more about the different technologies used in fingerprint readers, then I would recommend reading this brilliant article by our friends at Android Authority. That about sums it up for the design of the casing, but we have missed a big section of what makes this phone tick: The guts of this beast.
First but by now means least is the processor, which is a Snapdragon 820 and means that we are looking at the top of the current range. Now one of the features of the 820 chipset is that it will support a large amount of RAM, so LeEco went all in by putting a massive 6 GB on board. Combine that with the awesome Adreno 530 and you have a real powerhouse capable of some serious computing power. Along with this, we also have a massive 128 GB of EMMC storage which is non-expandable but with that much you cannae really grumble too much.
With all this massive amount of power, you would be forgiven to think that that you may have to carry around a small fusion reactor to keep it going. Thankfully that is not the case as the onboard battery is a whopper at 3100mah, not massive but certainly enough to make it through the average day.
On the communications side of things, we have a full array in the form of Wi-Fi 802.11 a/b/g/n/ac, with dual-band support, the very latest in Bluetooth in the form of v4.2 with A2DP support and Low Energy Support for wearables. The usual WiFi Direct and personal hotspot capabilities are also onboard, as is the full range of GPS sensors in the form of GPS with A-GPS, GLONASS and BDS (which is the Chinese version of GPS).
Just before we close of this section, let's bring up the specs sheet:
5.7″ QHD screen
Qualcomm Snapdragon 820 chipset
Ultrasonic fingerprint scanner
3,100mAh battery
Quick Charge 3.0 support
21MP rear camera with PDAF and OIS
8MP front facing camera
64 GB of onboard storage (up to 128 GB)
A whopping 6 GB of RAM (yes, 6 GB)
Thanks to the Qualcomm chipset, this model supports tri-band carrier aggregation, thus allowing download speeds of up to 375 Mbps on supported networks
All in all, it is fair to say that this is a well-specced phone that comes in a very nice chassis. The metal unibody construction oozes quality and the weight of 183 grammes give a nice reassuring heft to the phone. All of this is pointless though if it can't deliver on the software front. Well, the good news is on the whole it can.
Software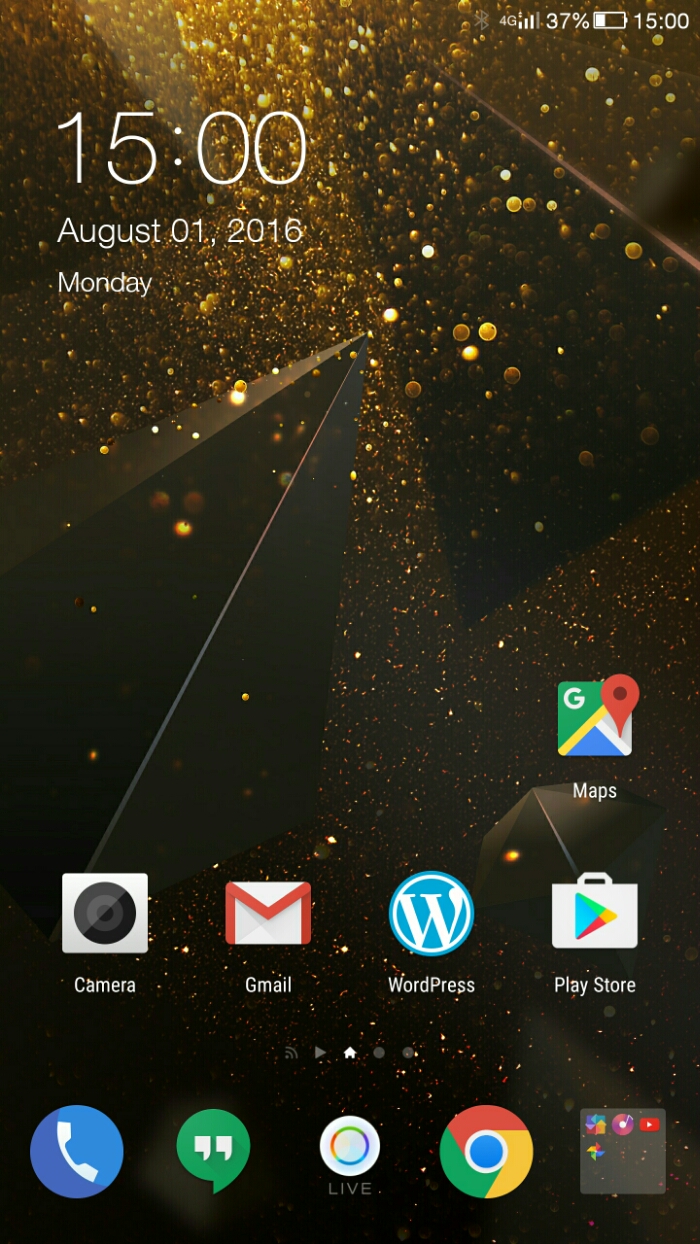 The phone is, of course, running the most up-to-date version of Android (at least of the mainstream versions) in the form of Marshmallow. Like most phones from the far-east though, it does have some rather heavy skinning in the form of EUI with is currently sitting at version number 5.8016s. This is a very busy skin and it has a lot of LeEco specific customizations. The first being the most obvious in that it does not have the facility for an app-drawer.
As a Nexus UI purist, I am not a huge fan of this UI, but it does bring some rather interesting features along with the core AOSP experience. It does have the facility for having widgets on the home screen along with quick launch actions.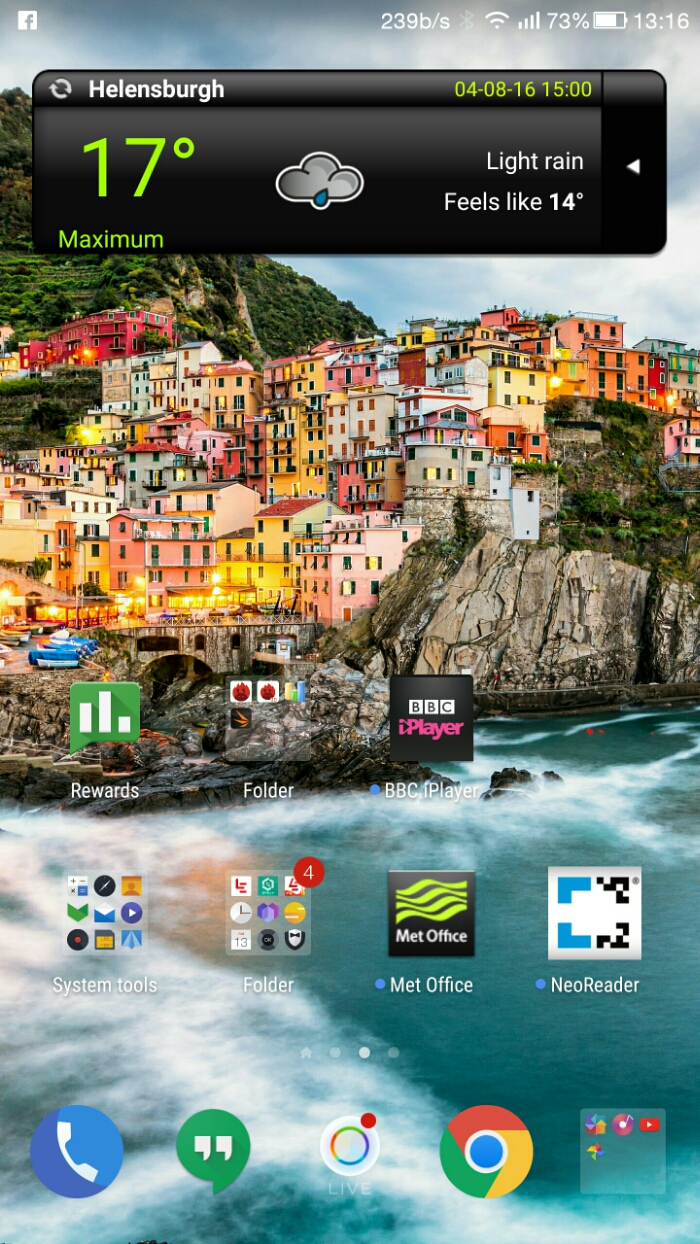 One thing that I did find very jarring is that the use of the notification shade is very different. Instead of the usual option for dragging down from the top, which brings up the now familiar quick launch settings toggles, all that appears here are some of the notifications which you have enabled (more on that later) and a management option.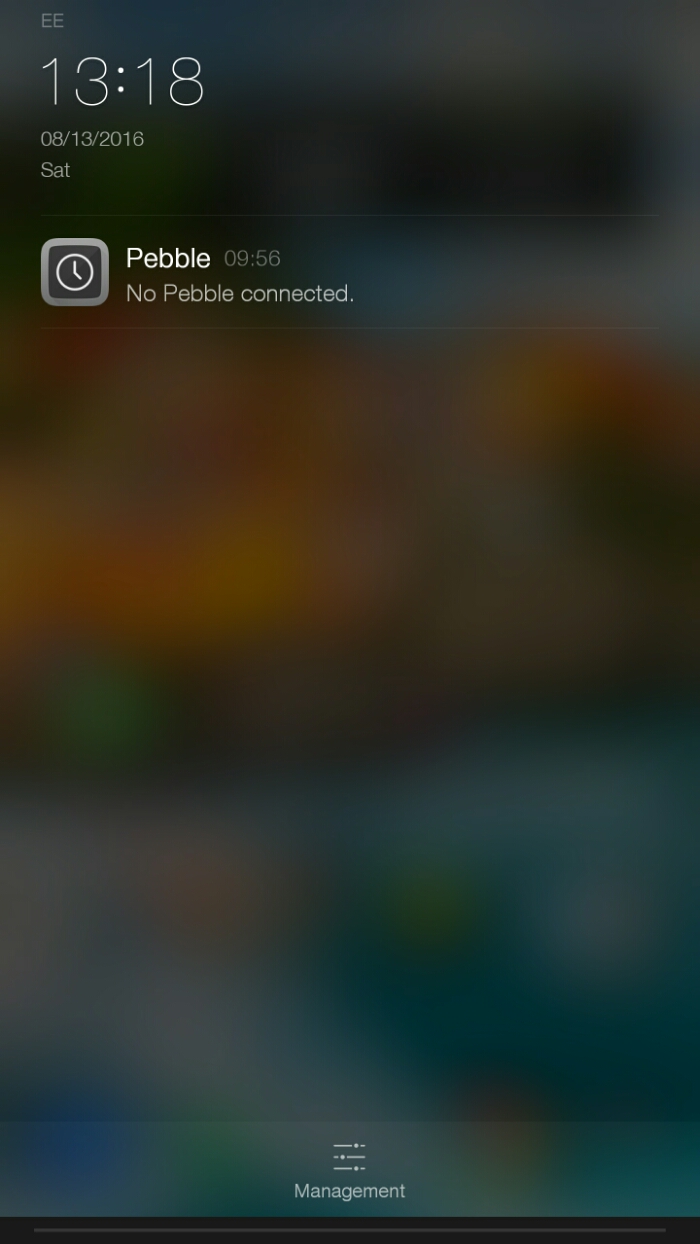 To get to the quick launch for settings you need to hit the multitask button. This is turn will show you the quick launch buttons and the most recently used apps. I constantly found myself pulling down the "shade" from the top to get to quick settings like you would do on most of the Android phone we are familiar with, only to find that there is nothing there. I mentioned that you will see a few notifications when you drag down, but this is only the case for the ones that you have allowed to be seen. Whilst this can be quite a good way to limit things, I just found it annoying as I was missing events that were happening on the phone more often than not. I would have liked to have seen the phone enable all notifications by default, and then the user can opt out of the ones they didn't want. You can indeed go in and enable all of these if you want, but it is just an annoyance that need not be there in my eyes.
The quick settings area is now fond under the multitasking button, which also as you would expect features the multitasking carousel of open apps. Under the carousel, we find a readout of the memory that has been used and by pressing this you can close all apps bar the one you are working on. We also have handy media playback controls here, along with a brightness slider control.

The biggest difference – beyond the notification shade – is the lack of the app drawer. This button has been replaced by LeEco's live stream button which, when pressed ,will take you into an app that will allow you to pick from up to nine streams from LeEco's Live TV; a service which is fantastic if you are able to speak Chinese!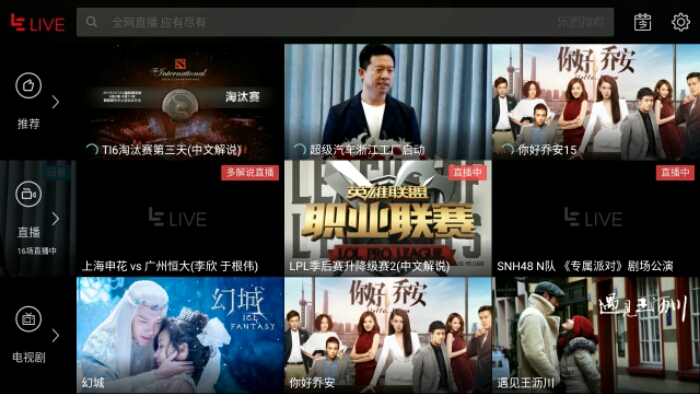 Being that I don't, this is just a waste of space for me. It's true this is a Chinese phone that has been designed for that market, but if LeEco wants to play in the international market then a rethink is needed; either that, or the ability to switch live streaming to your local Internet TV provider. It will be interesting to see what happens with this once they start to bring more phones to the western market. All that being said, the live stream menu and feature works very well, allowing you to pick from one of up to three live streaming channels and just dive right in. It is, of course, possible to delve in deeper to each channel, but being that I got lost in the sea of menus, I didn't venture much further down that rabbit hole.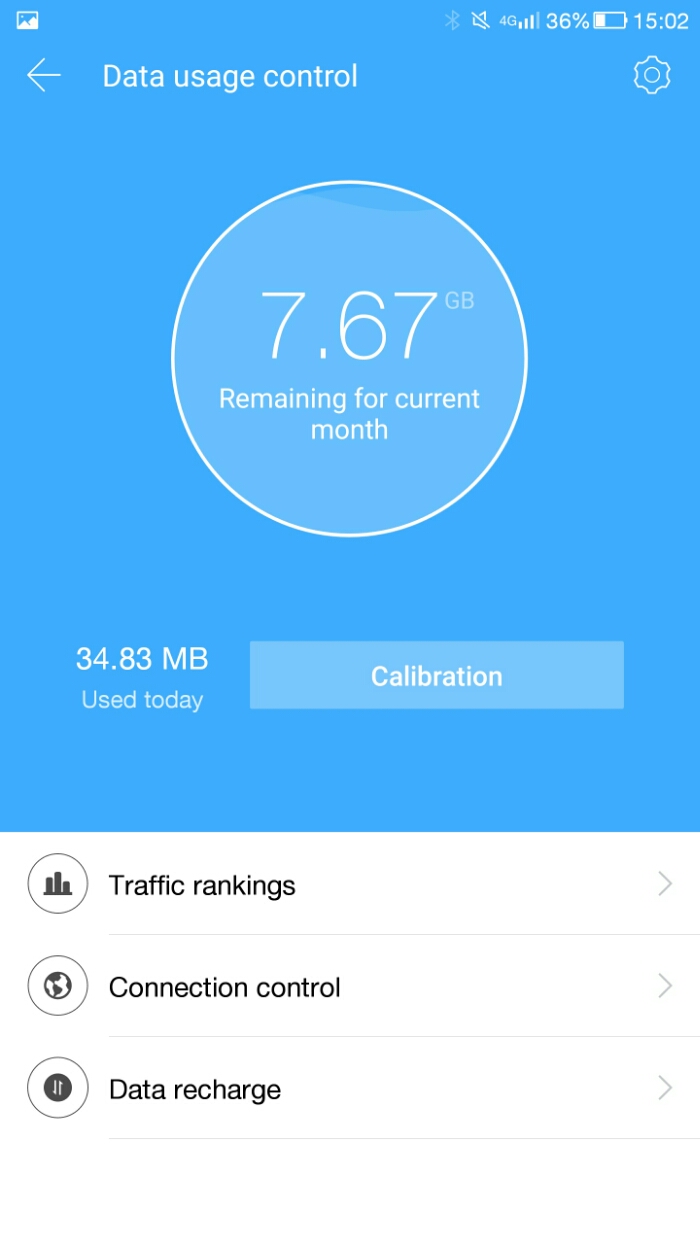 There are other notable LeEco apps. Take the very capable phone manager, which allows the user to control a lot of aspects of the phone. In here you can clear junk files, access the power saving menu, and the LeEco App store. It is very similar in functionality to the likes of S360 which we have seen become quite common in the UK. I normally sneer at these apps as I don't think they are necessary, but if my insight into how the general public are using their devices is anything to go by, then these apps are here to stay on Android at least.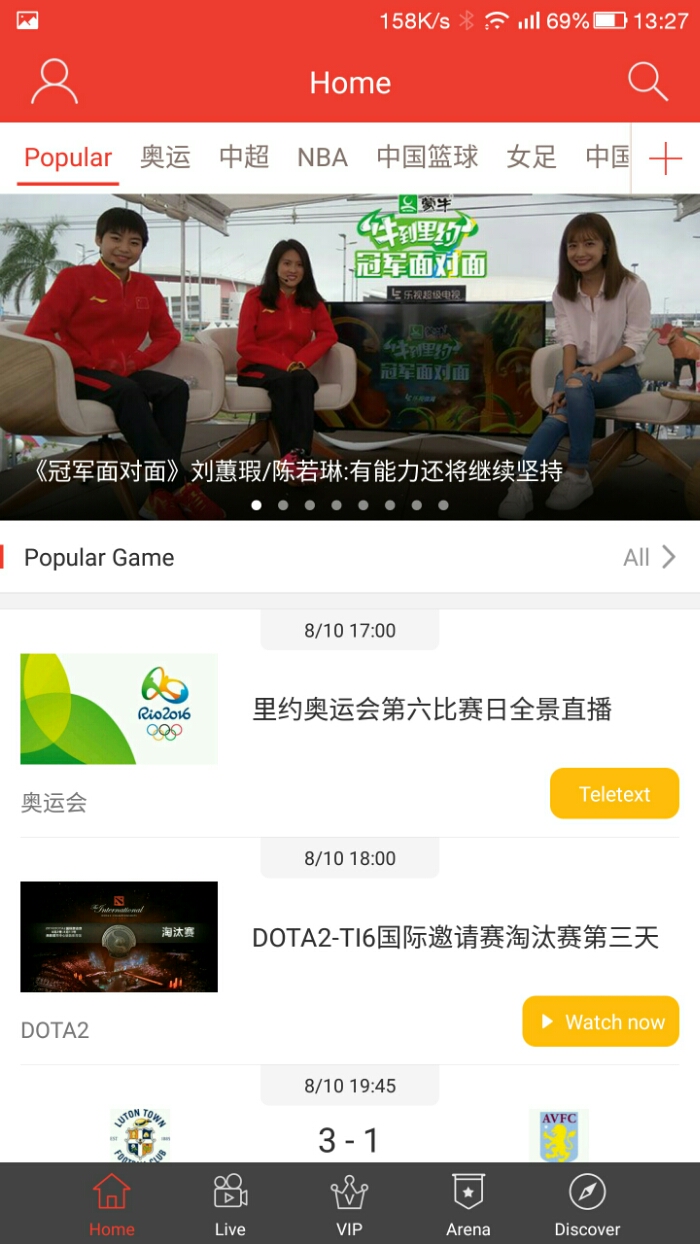 There is also a LeSports app which provides a lot of sporting related info and I assume can be customised to suit the needs of the user. At the time of writing this review, there was a big focus on the Olympics in Rio, which is entirely understandable. Whilst I was testing this I did get an app update that added English to the menu system so at least steps are being made to make it more international. You can also get notifications on the MLB from the USA, and oddly the English Premier League!

Of course, there are also all the default PIM apps that you would expect, and these are like we are all used to seeing on other manufacturer's handset in terms of duplicating the functionality that Android builds in. In normal day-to-day usage, I have to confess to using the Google Now launcher as I was much more comfortable with this UI than I was on the EUI launcher. It didn't make the notifications pane any easier to deal with but it just felt more comfortable. I think that LeEco has some very good ideas of what can be done at a software level. I will be very interested in what they are going to do with the UI experience when they reach out to the western markets, as some big changes will need to be made. We are expecting to see a U.S. focused version of EUI roll out later this year, with the possibility of a worldwide version arriving in early 2017.
With all that is going on with the software, it is sometimes very easy to forget that this is a true powerhouse of a phone, so let's have a look at what it can do in the performance stakes.
Performance
This phone has got some truly awesome power under its sleek skin. In order to see how it sits amongst the very powerful competition it is facing in the UK, I have pitched the phone against some of the more recent phones that we have used on the site.
The phones we are using are the Samsung S7 Edge, OnePlus 3, Sony Xperia X and Sony Xperia Z5.
I do expect to see some very interesting results in the benchmarks for these phones as they are all quite different, and they also represent a massive difference in costs.
| | Sunspider 1.0.2 | Quadrant | Antutu | Ice Storm Unlimited |
| --- | --- | --- | --- | --- |
| Xperia X | 779.7 | 32269 | 77450 | 18297 |
| Xperia Z5 | 653 | 27508 | 54792 | 26474 |
| Samsung S7 Edge |  669.2 |  43039 |  132154 |  29635 |
| OnePlus3 |  699.2 |  24187 |  140288 |  29912 |
| Le Max2 |  610.9 |  30961 |  142247 | 29729 |
The results of these tests, although they are not always totally accurate reflections of the devices grunt, do give quite a clear picture of what to expect for the Le Max 2. It is one of the faster devices on test, with only the S7 Edge keeping up. The OnePlus is a close third, with the Xperia X and Z5 exchanging performance blows to gain the upper hand on the lower scores. None of this should be really surprising as the top three phones all use comparable chips, and the last 2 are using either the previous gen chips or in the case of the X a different family chip not aimed at the highest performance. What was interesting to see is that the S7  Edge was the fastest in Quadrant of all the phones. This must be down to the fact that it is the only phone not running on a Qualcomm chip. I have not seen a Quadrant score that high before, so I am not sure about how to perceive this one really.
Whilst the benchmarks do appease the inner geek in us all, they don't really mean much in terms of real world usage. What they do show is that the newer higher spec phones are punching in with some high numbers. This is to be expected for phones that in some case have more power than my laptop! In actuality, the fluidity of the UI and switching between apps is really how you're going to perceive the phone in day-to-day usage. On this front, I can happily report the phone is excellent. I have not yet found anything that causes it to trip up. I don't expect to find anything that would cause this either, as even with my heavy multitasking I always seemed to have at least 2.5 GB of RAM free from the 6 GB. The biggest hitter upon the memory usage does indeed seem to be the LeEco Live TV app.
Onto the camera now.
Camera
The phone features a Sony camera sensor rated at 21mp on the rear, the front sensor is unknown but is rated at 8mp. In addition to the sensors, there are loads of other gubbins in here which give a well-rounded camera experience such Optical image stabilisation, Phase Detection Auto Focus etc. I have found that the cameras themselves do produce reasonable results to my very untrained eyes. I was quite impressed by the quality of shots in low light. The phone is continuing to get updates and with every update, the camera feels as if it is getting better.
I have taken a few shots that are shown below in various lighting levels to try and give you an impression of the phone's camera output.
We can see that in low light and without any specific mode enabled, that the results are quite grainy at best. Yet all this changes once you enable night mode. The camera is then setup to capture so much more light, and it uses the full aperture of the lens to its full effectiveness, thus allowing much more light into the sensor and producing a much more vivid image. In normal well-lit conditions, the full auto mode works very well and is comparable with the Xperia X in most cases. The Le Max 2 is only really lacking when movement is concerned, possibly due to the X's very clever Predictive Hybrid Autofocus feature.
I particularly liked the slow motion mode, as this allows for some really clever results as can be seen in this small video of a Go Kart outing the other day.

The front-facing camera does a great job of capturing selfies and has a relatively wide angle of view allowing for a much wider image.
Audio and Media
The phone's audio output when on calls was largely crystal clear, and it was very easy to hear the other party on calls both over the earpiece and on speaker phone. Something that came as a genuine surprise was the loudness of media playback. Although the phone does only have one speaker output, it is easily one of the loudest devices I have had the pleasure of using. In fact, it is so loud that I have taken to using this as my main device for video playback from YouTube etc, whilst on the go. It has actually replaced my Xperia Z3 Compact tablet in that role even though this does have forward facing speakers! I have not had the chance to test the lossless audio which is provided over the Type-C headset, as I haven't got a compatible headset. That was a shame as it did sound very good in my brief play at MWC Shanghai last month. In essence, if you need a phone that delivers loud and clear audio across all aspects of use, then this one is very much recommended and credit is to be given to LeEco for this.
Conclusion
I have been very impressed with the Le Max 2 on the whole, though there have also been some minor annoyances mainly due to the custom software added by LeEco to integrate it's ecosystem vision. I hope that this will be adjusted before the potential release of the phone to the Western markets. I have it on good authority that this will be happening soon. It is just really a case of either watching this space for when that will actually happen, or going a bit more rogue and getting one from the mentioned vendors in the intro. The biggest challenge that the Le Max 2 faces is in fact, another Chinese superphone, The OnePlus3. OnePlus is bringing some very similar specs to the party at a price that is very comparable. OnePlus does have a slight leg up in the western market in the phone arena.That being said, the LeEco philosophy of having the phone be part of a wider ecosystem could be used to their advantage as a method of breaking into the west. I for one hope this will happen as this is a great phone that works well, and comes in at a very reasonable cost. Well done LeEco, now can we please have a full international version of the phone and the supporting ecosystem in 2017?
That being said, the LeEco philosophy of having the phone be part of a wider ecosystem could be used to their advantage as a method of breaking into the west. I for one hope this will happen as this is a great phone that works well, and comes in at a very reasonable cost. Well done LeEco, now can we please have a full international version of the phone and the supporting ecosystem in 2017?