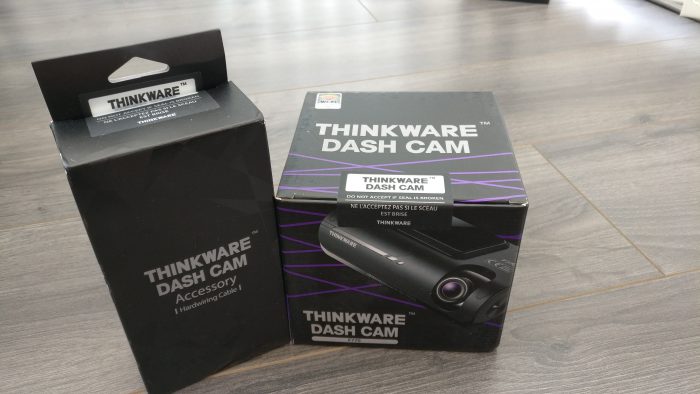 A few weeks ago I was filling my car at the local petrol station and noticed that if you purchased a certain amount of fuel you could buy a dash cam for £20, which I promptly did. However, this camera can only be described as awful. It was made from Kinder Egg plastic with a menu and setup that was next to impossible to understand. Well, you pays your money and you takes your chance. The footage isn't bad, but I couldn't really see this standing the test of time.
Shorty after this, I was contacted by "Say it Loud' asking me if I wanted to review one the best dash cam's currently on the market. It was a no brainier really, so they kindly arranged for me to receive the camera and for a company called Chameleon to professionally fit it to my vehicle, which was jolly nice. So here's my review.
Good Points:
This is a feature-packed device ( see main body of the review )
140 degree field of view.
Camera is unobtrusive on the windscreen.
Camera footage can be viewed/downloaded to smartphone via the Thinkware app
Can be DIY fitted or professional install
Easily removed.
Ability to add a rear camera.
Bad Points:
Large SD card required as it's full HD recording (I couldn't find a way to reduce resolution).
Parking modes especially motion detection is a little sensitive.
Third app required to view the footage on the smartphone (MX player for Android devices).
What's In the Box:
You get the camera itself, a self-adhesive mounting plate (a side note – this is really sticky and once it's on …it's on). You also get a 16GB microSD card with full-size SD card adaptor, a power lead with cigarette port charger, a handy key ring microSD card/USB reader and some instructions. As my camera was being professionally fitted I also received the camera hard wiring kit.
Device Features:
Full 1080p HD recording.
Live view via connected smartphone.
WiFi hotspot. (Smartphone can contact to the camera and change settings and download footage to the smartphone).
Impact detection (if impact is detected footage is retained)
Dual Save facility, retained footage either impact detection or vehicle occupants retained footage is saved to the SD card and t0 camera's internal memory, to prevent loss.
Vehicles speed embedded in the video.
GPS connection.
Vehicle location embedded in the video and can be viewed on mapping software (PC/Mac software required free download from Thinkware.
Parking mode, records if the vehicle is bumped while parked up, maximum of 48 hrs after being parked.
Motion detection, records  motion in the camera's  "view" while parked up, maximum of 48 hrs after being parked.
Speed camera warnings (camera database download free from Thinkware).
Lane departure warning (triggered after 30mph)
Vehicle battery monitoring, (stops parking recording if vehicles battery voltage drops below a predetermined level.
In Use:
My camera had been professionally fitted but, as mentioned before, this can be done yourself – it's simply plug and play. You can also hard-wire it – this is more of hidden permanent fixing. The first thing I noticed was the camera had a really small profile and was quite unobtrusive on the windscreen, which is a good thing as thieves are now targeting vehicles to actually steel the camera units.
Here's a video showing the fitted camera and the dash cam video viewer on the PC..
Here's some actual footage from the camera…
And the settings and smartphone app..
The F770 Dash Cam is currently available from Thinkware for £199, which is at the mid to top end of dash cam prices, but for this you get a camera that has more features in it than you can shake a stick at. The camera is unobtrusive on the windscreen and can be easily removed, the parking/sentry features and the ability to easily add a rear facing camera are touches that make it stand out from the crowd.
Now some insurance companies are starting offer discounts if your vehicle is fitted with a camera, and when you reel off what the F770 can do I would imagine your discount (if available) would be at the top of the scale. This is especially so when compared to the £20 discount units. If the footage and associated data from the camera you in the event of a accident, well it's paid for itself.
If you're interested in purchasing a dash cam definitely give Thinkware a look over.
Thinkware F770 Dash Cam
Design - 95%
Ease Of Use - 90%
Features - 100%
Fitting - 90%
Footage Quality - 98%
Expandability - 95%
Price - 90%