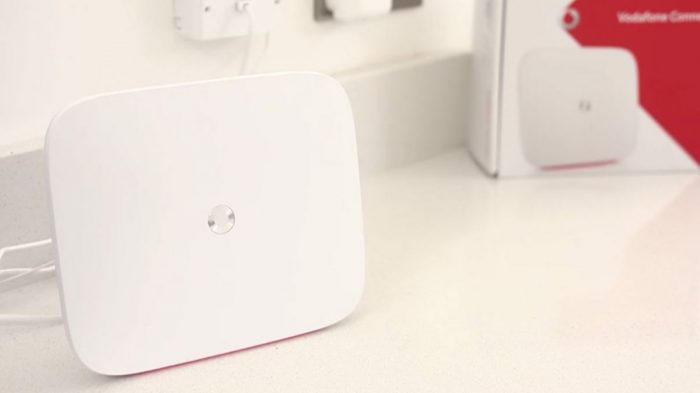 Here at Coolsmartphone we love a good bargain, and when this news popped up we just had to share it with you. It appears that someone at Vodafone UK has gone completely mad, as the company is blazing a trail within the industry by abolishing the line rental fee that normally is attached to your home broadband package. Many companies tend to hide this fee in the small print, but it can be between £16 and £18 per month, just for the privilege of having a bit of cable going into your property. Now they're offering line rental for free. Yes free, nada, nothing.
In a press release today the company stated..
·         Vodafone is removing line rental charges for new and upgrading fibre optic home broadband customers – they will still receive a landline and enjoy the benefits, but won't have to pay a penny for it

·         Vodafone's Unlimited Fibre Broadband 38 is now the lowest price for unlimited fibre broadband in the UK market vs major broadband providers and best pricing has been reserved for existing mobile customers who will save an additional £3 per month

·         Customers that purchase Vodafone Unlimited Fibre Broadband 76 can save up to £349 during the 18 months in comparison to Sky Fibre Unlimited Pro (76 mbps) and £332 vs BT's Unlimited Infinity 2 (76mbps) *

·         All fibre broadband packages are unlimited and deliver high speed broadband across the UK
New customers can enjoy Vodafone Unlimited Fibre 38 for £25 per month and Vodafone Unlimited Fibre 76 for £28 per month – a package that is £332 per year cheaper than BT's Unlimited Infinity 2 (76mbps).
Vodafone has been active in the consumer broadband market since the launch of its Home Broadband and Phone services in June last year.
Glafkos Persianis, Commercial Director at Vodafone UK said..
Giving our customers the opportunity to break free from hidden line rental charges is our way of letting our customers know that we are listening and that we are serious about providing them with the Unlimited Home Broadband experience that they deserve. We started our journey into fibre optic home broadband just over a year ago and are delighted to show that we are a truly innovative and customer focused provider. We know our customers depend on us to stay connected, and now we can satisfy their needs both at home and on the go whilst also putting an end to line rental charges.

The innovative Vodafone Home Broadband companion mobile app, coupled with the router, offers a range of features which will give customers greater control over the devices in the home: 'Boost' allows customers to supercharge any device connected to their home network, giving that device priority over others; 'Beam', which uses Beamforming technology, sends a stronger Wi-Fi signal to compatible devices wherever they are in the home; 'Family Time' allows customers to easily manage and set time limits, giving them control over when Wi-Fi is available and when it's not; and 'Guest Wi-Fi' allows controlled Wi-Fi access to household guests in one click.
Get more details at Vodafone.co.uk