Google announces distribution numbers for the Android devices that connect to the Play Store on a monthly basis. The Android distribution numbers for the week up to August 1st are now out, and they make for interesting reading if you like that sort of geeky number subject.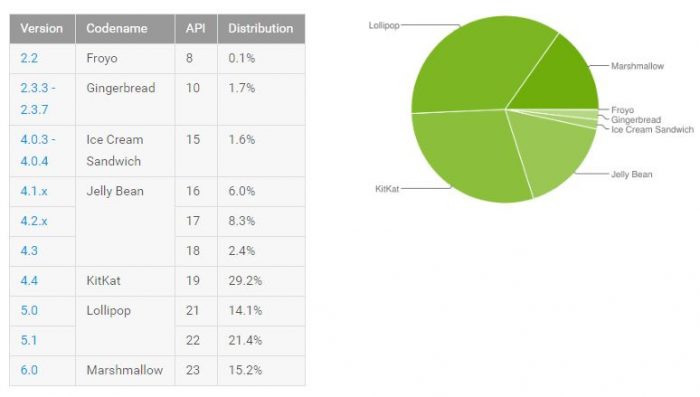 Android 6.0 Marshmallow, the latest released version, is now running on more than 15% of devices and has been steadily growing for the last few months. Android 5.0 and 5.1 Lollipop now sits at more than 35% of the share, while Android KitKat 4.4 is at more than 29%. Android Jelly Bean, in 4.1.x 4.2.x and 4.3 versions is at just over 16% and dropping rapidly. There are token appearances from Android 2.3 Gingerbread with 1.6% of devices and Android 2.2 Froyo with 0.1%.
What insights can we take from this? Well, one thing is that more than half of the devices in Google's Android distribution numbers run android 5.0 Lollipop and above. This means that more than half of the devices on the Google Play Store come with the potential to run the Material goodness out of the box, but it may be well hidden by the OEM's custom software.
Almost 80% of devices are running Android 4.4 KitKat and above, which means that most of the Google applications update independently of the Android operating system. This is good news for security and consistency of experience across different devices and OS versions. All in all that "Android Fragmentation" issue isn't as big of an issue as some say.
With the rumoured release of Android 7 Nougat this month, will Android 6 Marshmallow make it to 20% of the market share before September? Do you think the fact that Pokemon Go only runs on devices running Android 4.4 KitKat and above drove up the numbers for more recent versions of Android? Let us know in the comments or on Twitter.