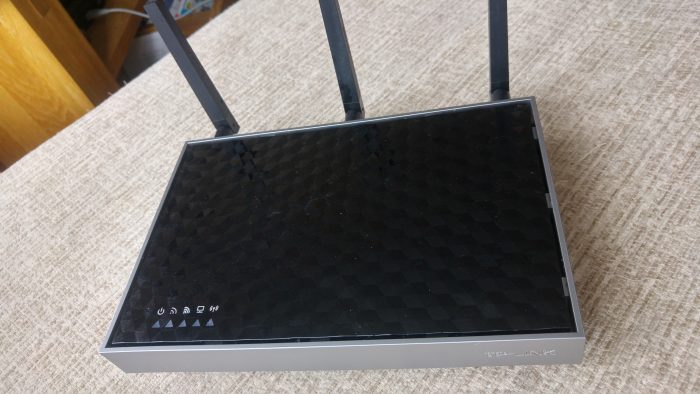 You don't necessarily have to live in a mansion to have WiFi coverage problems. Even "normal" houses will have patchy areas where the WiFi coverage isn't brilliant. Most internet providers will give you a free router now, and the WiFi range can be questionable at best, especially if your is on the floor behind your TV or under the sofa next to the telephone socket.
When I moved into this house I noticed that there was a dirty great hole behind our telephone socket that came out in the garage, so I now have my WiFi router and FTTC modem sitting on a shelf in the garage. That's great if you're going for the whole "minimalist look" because all the cabling and power cables are stuffed away in the garage, but if you're trying to get a decent signal in our kitchen … well, you're out of luck my friend. A brick wall isn't great for a WiFi router. Especially, in my case, when it's an exterior wall. When you're in my kitchen you'll probably find that an iPad or phone has to work harder to maintain that connection and I just naturally move closer to the router without even thinking about it.
This is a solution to all that – the TP-Link AC1900 Wi-Fi Range Extender. It'll basically suck up your existing WiFi connection and then spit it back out in the place you position it.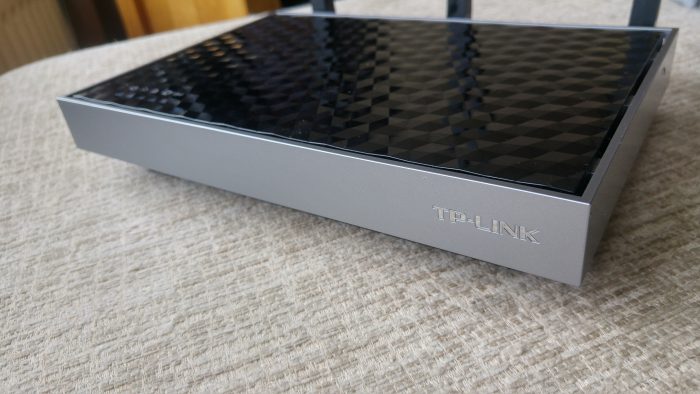 First up, let's take a look at the thing. The top is something I was continually polishing for these photos. You can see the design here and the unit can either sit flat or stand on end with the aid of a provided stand. There's 5 Gigabit ports at the back, and you can plug in various bits of kit – this makes it ideal to sit at the back of my TV. I've got a Sky TV box, a TV and a couple of other streaming and set-top boxes which all need a web connection. Although a lot of these can connect to WiFi, some can't, and either way – a lot are positioned in the worst place possible – right next to the floor. Hook them all together using this.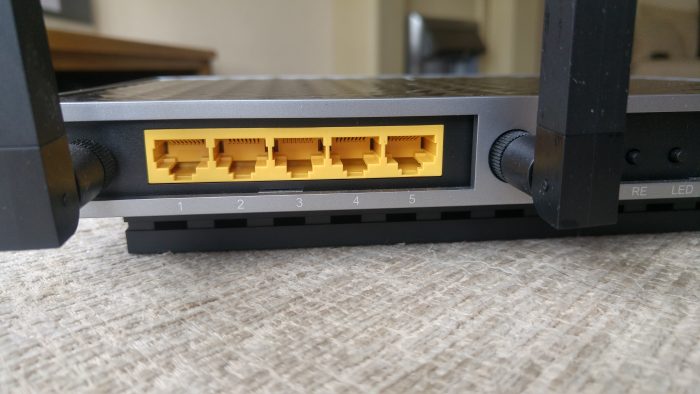 Now, for a quick blast of tech-speak. On the back there's 5 Gigabit Ethernet ports so you can connect devices up that way – good for eliminating one long run of cable between your current ADSL / fibre router and the other side of the house. If you're lucky enough to have an office at the bottom of the garden then this will not only extend the range of your WiFi but it'll also let you feed your computer, your laptop, your printer and everything else without a dirty great cable going from your house. The extender will provide simultaneous 600Mbps on 2.4GHz + 1300Mbps on 5GHz. That basically totals 1.9Gbps of WiFi speeds. Whilst your home broadband might not keep up, it certainly means that you can shift files around with great ease.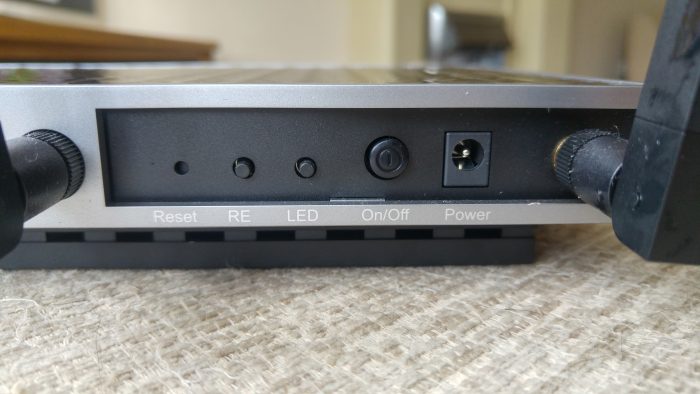 The 3 dual-band external antennas aren't normally seen as "cool" by router designers, and many of the free ones you get delivered will have the, hidde away. Here though, coverage is what we want, and these 700mW high-powered amplifiers help eliminate "dead zones" and greatly extend your existing wireless coverage.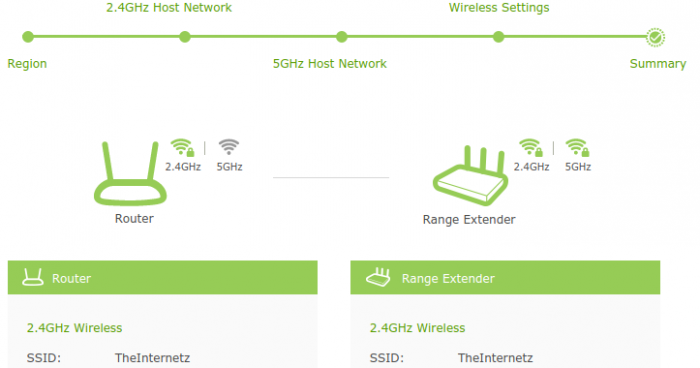 So, the setup then. Let's have a look at that. It's a simple web-based setup which is really easy to follow. It'll find your WiFi and re-publish it again. In the screenshots above you'll see my old 2.4GHz WiFi router sending the signal to the Range Extender. This picks up the signal (after you've provided the password) and then broadcasts a 2.4GHz and a 5GHz CPU.
Here's me getting started..
The GUI is quick and easy to understand. The router itself has a dual-core 1GHz CPU which keeps things whizzing along as you're setting up. The gallery below shows some of the setup screens you'll need to go through but to be honest it's all pretty self explanatory and you can't really go wrong.
There's something called "beamforming technology" which, according to the tech blurb,  "delivers highly targeted and efficient wireless connections". Well, whilst I'm not totally up to speed with my techie speak, I can tell you that the range of my little free broadband router in the garage was certainly boosted by quite some way thanks to this. There's a "high speed" mode too. This will use both the 5GHz and 2.4GHz bands to create one super-fast connection. How? Well, it'll transmit data on one channel and receiving data on the other. If you're a gamer or doing any HD streaming from one office to another, or from your house to your shed-come-cinema, this is especially beneficial.
You can get more information on the TP-Link website. It costs £96.28 on Amazon which, yes, seems like a lot, but it's a top-end product which really delivers the absolute fastest WiFi transmission you can get. It looks good, it's a breeze to setup and it's absolutely rock solid.
Hopefully this helps in your mission to extend your WiFi signal.
TP-Link AC1900 Wi-Fi Range Extender Review
Setup - 92%
Design - 93%
Performance - 91%
Ultra-fast, ideal for gamers and anyone who's considering a huge long ethernet cable to sort their connectivity problems. Brilliant.