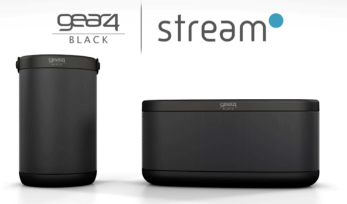 Up to now, if you wanted to have your audio streaming throughout your home and garden, perfectly in sync with each other, there was only really one option: Sonos, and this can be an expensive option. I have visited a home with a synced system, and to be honest the experience was impressive indeed.
Well it appears that UK speaker manufacture GEAR4 (one of the UK's largest consumer audio brands) are launching their own range of multiroom speakers especially designed for consumers looking for a simple and affordable solution to playing music throughout their home.
Under the company's new premium brand, GEAR4 BLACK, the 'Stream' multiroom speaker range allows users to play the same music in each room or create a personal 'zone' with different music playing in each room. All of this is controlled from the GEAR4 Stream App, which also features a Preloaded vTuner and you get over 1,000 internet radio stations gratis.
You can also create your own network of speakers without affecting broadband speed (something that interests me, as my speed is terrible) thanks to the built-in router. This also means users can take their Stream speakers to the park, beach or anywhere they choose and still be able to connect them easily together.
There are currently 2 options of speaker available:
Stream 1
Stream 1 is a WiFi multiroom speaker with Bluetooth and aux-in, making it easy to connect to. A charge-out feature enables users to charge their mobile while streaming their favourite tunes all day long, with three pre-set buttons giving one-touch access to streaming services and radio stations. A handle makes the Stream 1 easy to carry around and the built-in battery gives 8 hours of wireless music. This makes the Stream 1 a truly portable speaker which can be enjoyed anywhere.
Stream 3
Like the Stream 1, the Stream 3 has three pre-set buttons for one-touch access to music. The charge-out feature means the music never stops. Just as simple to set-up and connect, the Stream 3 makes a great companion to the portable Stream 1.
https://www.youtube.com/watch?v=lnPwtdowYE0
If you have ever tried to set up – and more importantly, get  a multiroom speaker setup in sync, you will realise how difficult it can be. GEAR4 has spent over a year making the Stream range simple to set-up and network together.
All Stream speakers come with a simple WPS WiFi setup feature that enables connection to a home router in seconds. GEAR4 has also added a patented Pair/Share feature to quickly add more speakers to a network and if that still sounds complicated, there is always Bluetooth and aux-in!!
We are hoping to receive some review units to try in the Coolsmartphone mansion, so keep an eye out for our full review.
Both Stream 1 and Stream 2 will be available online and in store at Argos from 1st August 2016.