We have long been dreaming of the ability to make your Android phone more productive here at Coolsmartphone Towers. Today that dream came a bit closer to reality with a Kickstarter project called SuperBook, from the team behind Andronium OS.
Here is a video of what it can do..
The project only went live on Kickstarter at 4:30 UK time and, as I write this article, a mere 20 minutes later the current backer total is $117.968. This is over double what they were aiming to achieve. If that wasn't enough it is still climbing.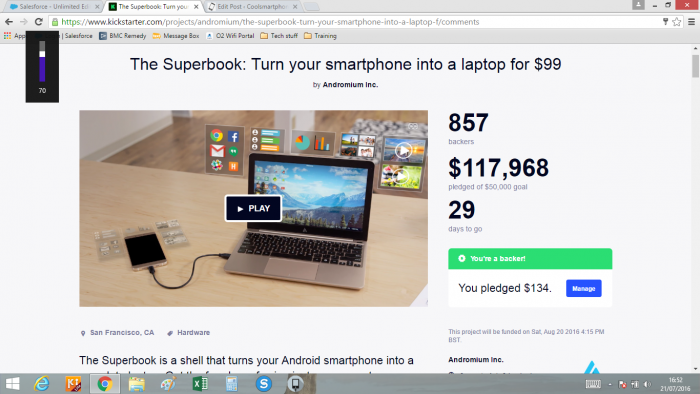 I have been following this project unwittingly since I first encountered it back at MWC 15. I met the founder at an MHL booth, back then that was the technology that they were using. Fortunately, things have now moved on a bit and hey are using their own kit to manipulate the signal coming in from the phone.They are now using Display Link technology which works with USB-OTG. Check out this link for more info.
As long as the supports USB-OTG (which most Android phones do now) then you are good to go.
The Superbook will work with both USB Type C and also the existing Micro USB standard. The phone will provide all the computational power of the device as well as the storage etc. All of the connectivity options on the phone are available to you as well allowing you work on the go – as long as you have some form of data connectivity.
Here are the specs of the "laptop"…
11.6″ LCD display at 768p
USB Type-C port
Supports Type-C and Micro-B smartphones
8+ hour battery life
Simultaneously charges smartphone
QWERTY keyboard (Android OS layout)
Android-specific navigation keys (Home, Back, Menu, Recent)
Multi-touch trackpad
Here are the minimum specification requirement of the phones…
Android 5.0+
Dual Core Processor and above
1.5GB RAM or higher
Type-C or Micro-B phone port
25mb of free storage (100mb+ recommended)
It could not be simpler to work. All you need to do is download the Andromium App from the google Play Store (it is out now albeit in beta) and then plug in your phone using the appropriate cable. Within seconds you will be working and the phone will be getting charged for you (this will only work with USB Type C).
Here is a video demoing this …
https://vimeo.com/171882289
If you are wanting to get in on this, check out the Kickstarter project before the 20th August. They have already stated that if they hit their stretch goal then the screen will be updated to 1080p from the current 720p.
Here are all the stretch goals..
$150K – Extra USB port for additional accessories / storage
$300K – Additional color options (Black, Silver)
$500K – Battery upgrade from 8hr+ to 10hr+ for all backers
$1M – Option to upgrade to 1080p HD screen (w/ additional cost)
I am very excited to see where this will go in the future and I am backing them already. I can't wait to get my hands on it.