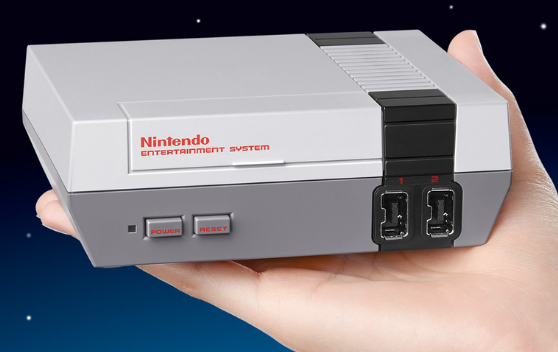 We keep getting this stock image. I've perhaps been looking at it too much. Is that a real hand? Is that a plastic hand? Who knows. It doesn't look right. It doesn't look right to me at all.
Either way, this is a proper retro gaming gadget – a NES Classic. It's amazing to see Nintendo coming back at the moment and, from November 11th, you can get a shrunk-down version. It's available from TheGameCollection for £49.95 or from somewhere called ShopTo for £47.86. It's basically a shrunken version of the original home console. There's 30 NES games built-in, including Super Mario Bros., Donkey Kong, The Legend of Zelda, Metroid, and PAC-MAN.
You can also use the controller on a Wii U too, but the actual box just connects to your TV with a HDMI cable and you're away – Bubble Bobble, Dr. Mario, Final Fantasy, all the SUper Mario Bros games and Pac Man. Yes, Pac Man!
Gotta wait until November though, so until then – keep playing Pokemon Go 🙂