As listeners to the podcast will be aware, I've been looking out for a 360 degree camera option for my iPhone for quite some time…today a new option entered the market as Arashi Vision announced the Insta360 Nano which  is presented as the worlds first HD Apple MFI approved camera capable of shooting and living streaming VR straight from the iPhone.
After you connect the camera to your iPhone the associated Insta360 app automatically loads, so that you can be ready to take a photograph or live stream in 360 degree video in an instant. Further one-click features have been added to allow you upload directly and quickly to  Facebook, Twitter or WeChat.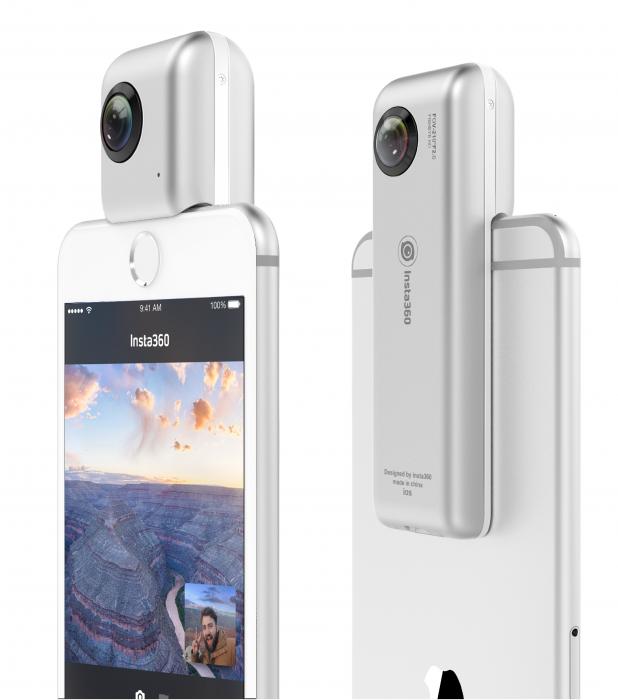 The Camera will clip directly onto an Apple iPhone 6, 6 Plus, 6s or 6s Plus but can also be connected to a bike, safety helmet, drone or selfie stick (Are they really still a thing??)
If you don't have a VR Headset to fully appreciate your work then the Insta360 Camera packaging can be converted into a Google Cardboard style viewer which is a nice touch.
The devices specifications look to be impressive featuring:
2 x 210-degree fish-eye lenses
Minimum Aperture f2.0
Shutter Speed 1/8,000 – 2s
Video Capture at 30 FPS upto a resolution of 3040 x 1520
64-gigabyte memory card
A 800 mAh battery
But what does these specs mean in practice?…we'll soon know as we have a review unit on the way – and as I've been waiting for something like this for a long time, I'll make sure we put it through some mean testing so watch this space.