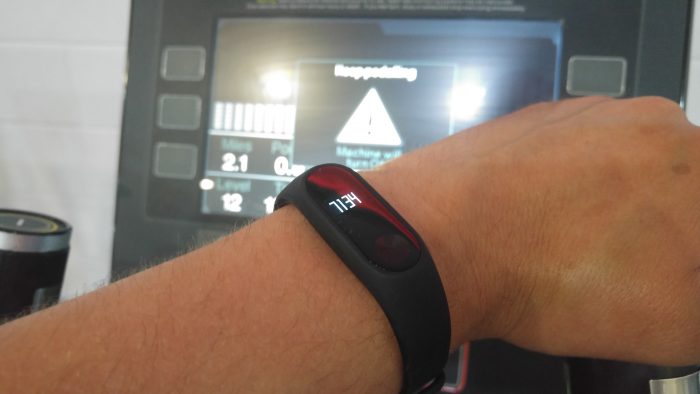 The Mi Band 2 is comfortable to wear and easy to forget about. I mean that in a good way because it doesn't feel heavy or awkward thanks to the silicon strap and the easy but flush fitting of the Mi unit itself. It's clever too – not just monitoring your steps, but also telling the time, distance travelled, calories burned, the remaining battery and your heart rate. To monitor your pulse there's an optical heart-rate sensor which touches your arm and checks just how fast your heart is beating.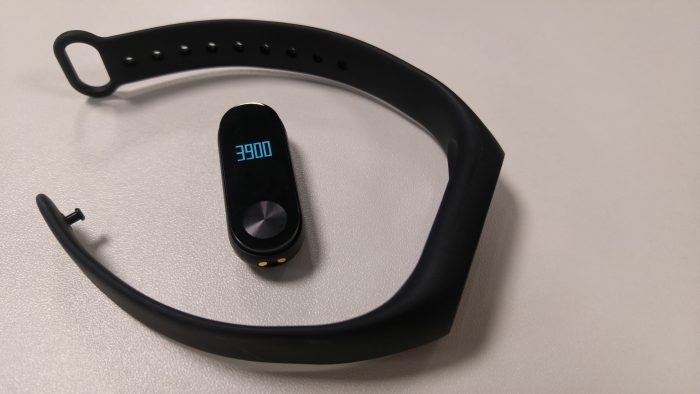 The unit itself, which sits in this black strap here (there's other colours including orange and yellow available) is dust and water proof. Up front you'll find an anodised button which sits flush on the polished black display. Tap this and you get to see the time, the battery level, heart rate (you can test your current heart rate here), step count, distance travelled etc. I charged this unit about 6 days ago now and I've used it every single day. It's showing 66% battery remaining as I type, and I've faffed with it quite a bit.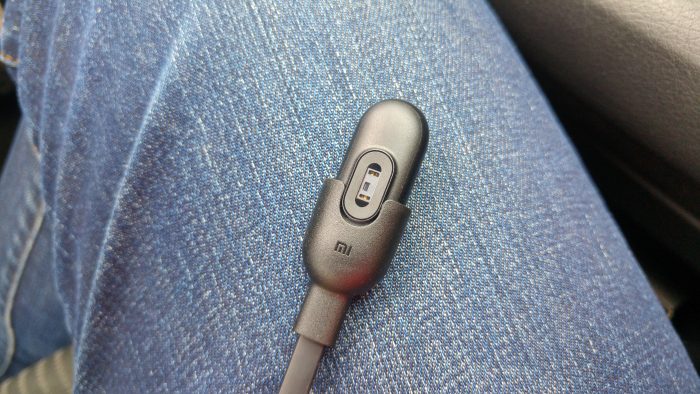 There's other clever little additions, such as the band turning itself on when you raise your arm. It means that checking the time becomes a natural and simple thing to do.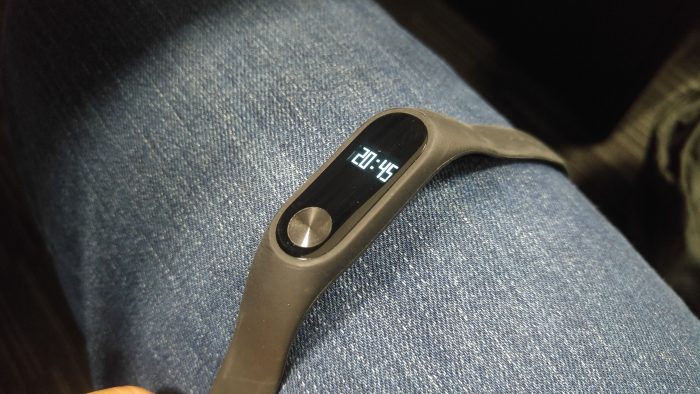 The strap connects to your phone over Bluetooth and can monitor your sleep too, provided you're into that sort of thing. I can't personally sleep with these things on but it's comfortable enough to do that if you wish. Fitting the band is pretty easy and it has a range of holes so that you can adjust it to fit your wrist size. I truly don't recall it feeling uncomfortable or tight. When you do find the right size for your wrist, just push the black anodised disc (which looks exactly like the one on the screen itself. Find your size, push in and it's sorted.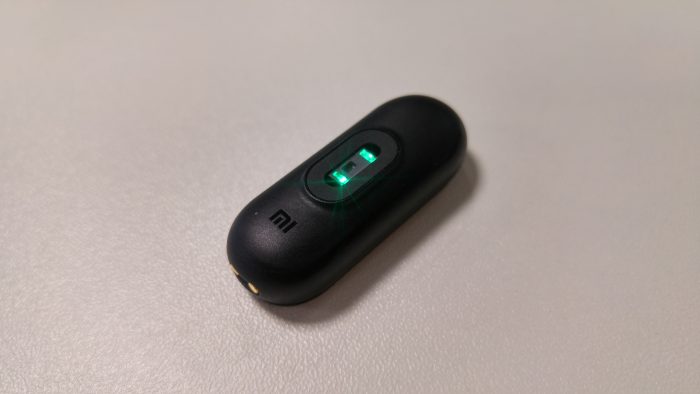 Xiaomi tell me that the 0.42″ OLED display is both scratch and fingerprint resistant and, as I can attest, this certainly seems the case. I've worn this to the gym on a number of occasions. I've sweated all over it, took it in the shower and it seems as good as new still.
Now yes, there's an associated app which I'll get to in a moment but you don't have to use it if you don't want.
A new pedometer algorithm and a power-efficient accelerometer keeps an eye on your movement and that optical heart-rate sensor did a very decent job of keeping tabs on my pulse. During particularly heavy running at the gym it did seem to get upset, but it responded better if I stayed still.
The app itself connects to the band easy enough and guided me helpfully through the setup process – this was something I really appreciated, especially after receiving the all-Chinese manual.
A point to node before I go any further. When this arrived I found that it didn't track any footsteps whatsoever and the battery level showed "65%" for days on end. In the end I plugged it into the mains via the very simple charging cradle (good this, and I didn't have to use it that often) and left it overnight. I'm guessing it had tired of all the shaking and movement during the delivery process and had locked itself down somehow. Either way, a quick boost of charge sorted everything out.
The app then. This will let you dive into the settings of the band. You can update the firmware (if there's newer software available) and you can set whether to enable the sleep assistant (which helps with sleep analysys but can pull down battery life) and whether you'd like to have it wake up when you lift your wrist.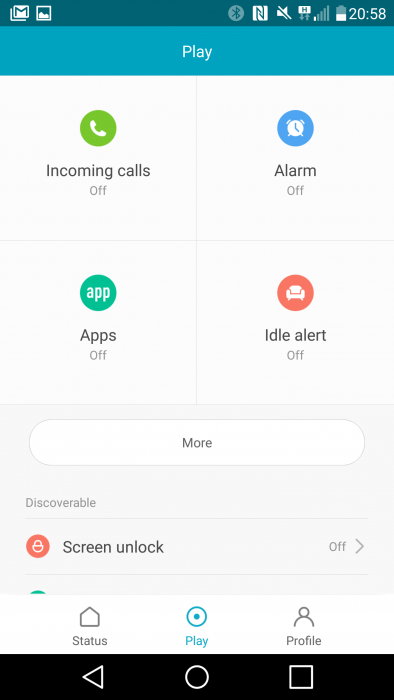 What I found really useful was the additional notification features. The fact that you can have it wake you up was cool too. There's an alarm system which is properly configurable and you can use the "Smart Lock" system to unlock your phone screen when you're wearing the band. It can tell you when you've got an incoming call, when you're idle (the fabled "sedentary" reminder to stop you being say on your backside too much) and it'll tell you when you've received a text message too. I like additions like this. It converts this from just a sports band to a smartwatch. There's also the option to turn on goals – you can be notified when you hit a certain amount of steps etc.
What I was interested in though, was the ability to get app notifications on the Mi Band 2. This meant that the band could tell me when I'd received a tweet (with a nice "Twitter" graphic on the band too – nice touch), a Facebook message, an email, a WhatsApp message and so on. Initially the band wouldn't show all my apps, but after a firmware update and an app update it's showing everything and behaving a lot better.
The band will also work with a number of third-party apps. You can get it talking to Google Fit for example. All your fitness data is then kept in sync with that.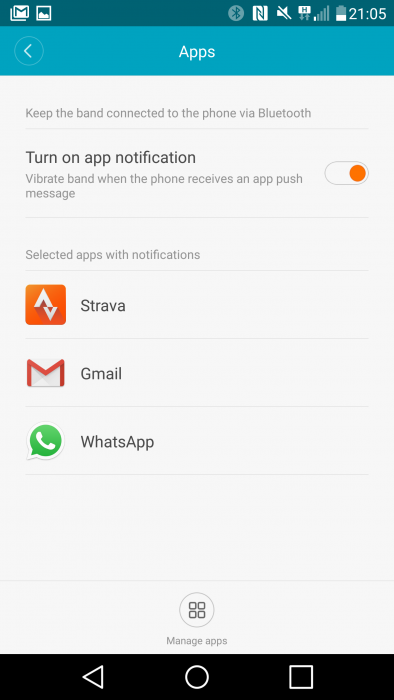 The app is easily driven with three main menus. "Status", which shows your steps, sleep, weight and heart rate (based on your recent reading, but you can dive into this screen to see your historical readings and take another reading). This screen also shows how many steps you took today and how many calories you got rid of each time you did a "burst". Swipe each eay to go back to previous days, or go to the "stats" button to see a weekly or monthly view. It'll show you how far you usually travel on average, how much activity you're doing and more detail about your daily movement. You can share all this on social media and beyond if that's your thing.

In the "Play" section you can adjust those app notifications, enable the idle alert, alarms and everything else I mentioned earlier regarding third party app access and screen lock settings.
The "Profile" section shows information about you. You'll need to register for a free account but once you've done this you'll be able to enter your height, weight, date of birth, gender, activity goal, weight goal and you can even hook up with friends to share sleep and activity data. Oh, there's also a "Settings" option here for adjusting the measurement units (imperial or metric etc) and you can send feedback about the app if you're having problems with it. There's also the ability to remind you to view your stats with the "Activity stats notifications" screen and a "Wake up notification" to remind you to look at your sleep data.
Overall
Gotta say, I really can't see what's not to like here. The price is good, the build and the design is good. It'll measure your pulse. It watches your movement, checks your sleep patterns and tells you off when you're sat on the sofa doing nothing if you want it to. I like the little screen. I LOVE the battery life. I love the simplicity. The app notifications could do with a little more configuration, such as Gmail telling me about every new email, not just notifying when I had mail and then not telling me again until I'd read it. However, I wasn't really expecting the functionality to be on this band – this adds an additional element to such an unassuming and simple gadget which just does exactly what it should do.
We got this one from EverBuying.net for $41.30, which is £31.14.
Xiaomi Mi Band 2 - Review
A robust little thing that'll measure your heart rate and steps reliably whilst also notifying you of texts, emails and more. Even with all the notification stuff enabled, I found it to have a great battery life.