I've reached the end of an EE SIM-only deal that I took out last year. It should've been £20.99 but I managed to get it down to £16.99 per month for 4GB of data and enough minutes to keep me waffling to the missus. However, that deal is done now and, looking on the EE website, it's going to cost me £21.99 per month for a similar deal.
I don't like that. I want deal. Gimme deal. DEAL!
I live near Lichfield and, despite the signal being UTTERLY RUBBISH in Lichfield, I'm thinking of going with Vodafone (sorry guys, but it is – please go down there and sort it out). They've got a double data offer on right now for SIM only ..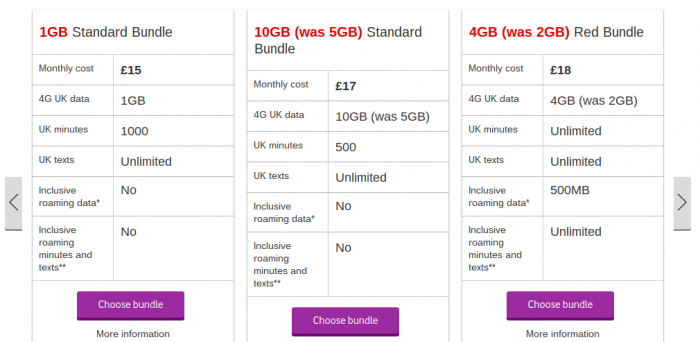 See that middle one? That's the one I'm looking at. The 10GB deal is actually cheaper than the 4GB deal because you don't get any inclusive roaming data or minutes and texts. That's fine with me, because next time I go on holiday I'm going to be parking my fat backside on a chair and not giving a stuff about Facebook or LinkedIn. So, £17 per month for 10GB of 4G data, 500 minutes and unlimited texts. Not bad.
But wait. Head over to Quidco and you can get yourself a £65 cashback..


That's £65 cash in the bank. Boom. However, if you spread that £65 over the period of the 12 month SIM only deal it works out at £5.41 cashback per month. Well, if I'm honest it's £5.416666 something but I've rounded it down.
Now, if we take £5.41 off the £17 price-tag on the 10GB plan, we get £11.59 per month. Not bad huh ?
Right, OK – I'll be honest. You can get it for even less if you do the redemption deal from places like Mobiles.co.uk (here's that one) but it does mean submitting your Vodafone bill through their online portal every couple of months and, with my time-keeping and organisation skills, I'll probably forget entirely..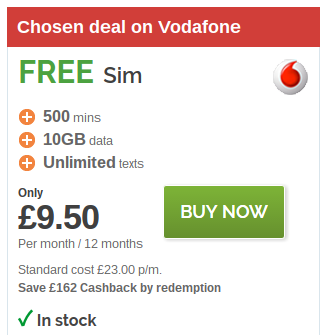 Update – It turns out that you can order online, do the Quidco tracking and discount, then you can choose to either have it delivered or you can pick it up from a local Vodafone store. I've just done that and I've got the SIM in my hand just one hour after ordering it online. Not bad eh?


Also worth noting is the fact that if you're an existing customer, the guy with the "interesting" hair in my local Vodafone shop tells me that a discount is available in store if you buy it there (basically, they like to get commission on sales, so he was about to cancel my £17.99 order and reduce it before I informed him that I'd already got £65 off the 12-month term). I believe he was offering me a deal for £16.20 or something.
Here's the 3-in-1 SIM you'll get..