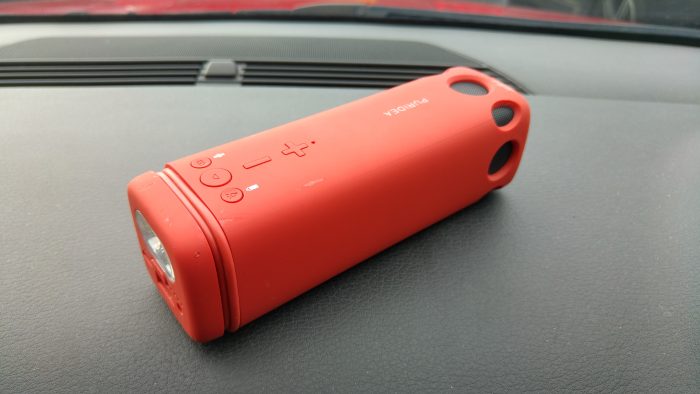 Yes, I agree with you. That is a weird combination of features. This is indeed a bike light which is also a Bluetooth speaker and … a portable charger for your phone. All those things in one unit isn't normally something you'll see wrapped up in one unit, but here it is. This is £25.99 on Amazon and we've got one right here.
"Test it out" they said. So, with no real training and my first ever ride on a road bike just a few days before, I decided to attach it to my bike and do the "Epic Route" on the Round the Wrekin charity event. Oh yes. Raised a lot of money I did, but I was totally broken. Imagine if someone shot you in both legs. It was like that. I was broken. Properly broken. In my head I thought that I could pipe out some cool tunes though this Bluetooth speaker to keep me going. Y'know – to give me that "push". Oh no. I never got that far. It was just 6 hours of sheer and utter hell. Massive hills. Rain. Wind. The lot.
However, after I got back, had a bath and regained the feeling in my toes; I realised that the Puridea speaker was still going strong, despite actually falling off the bike (it's explained in the video below) and getting soaked. Good test that, even if my body didn't appreciate it.
Anyhow, let's do an overview first shall we eh? This is straight out of Shenzhen, China and the 8000mAh battery means this weighs about as much as those proper "man torches" (read "big flashlights" if you're in the USA) that your dad is always telling you to get. It comes with a bracket to affix the thing to your bike and I immediately broke the thing. Why? Well, there's a screw which is attached to a spring to soak up the vibration of, y'know, cycling. I thought it was loose. I didn't see the spring, so I strangled up the screw until it snapped completely. Doah.
Here's an overview video to show you around the device..
So, on the front – where the dual LED light is – you have a switch which starts the Bluetooth pairing process or turns on Bluetooth. You can either unravel the microUSB cable that is tightly (and handily) wrapped around the device or, if you have a device which doesn't accept a microUSB plug, you can plug your own cable (whether it be USB-C or Lightning etc) into the standard USB port up front. Four blue LED's will give you an idea on how full the on-board battery is and this is split into 25% blocks.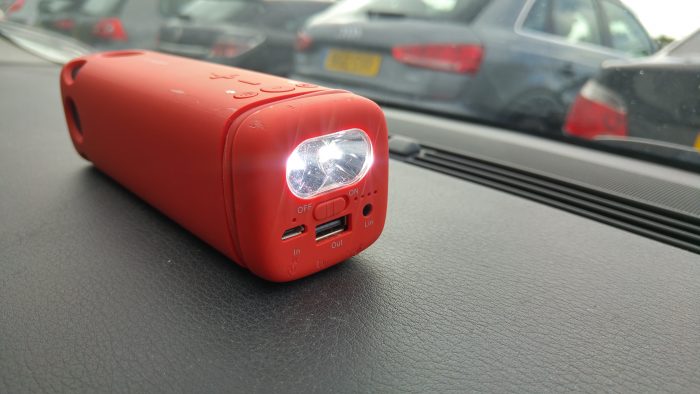 Meanwhile, as you can hopefully see here, you can charge the device via a microUSB connection from your wall socket and pipe tunes into the speaker through a 3.5mm audio cable.

On the top you've got a range of controls, including a button to actually turn that front light on. Press the button with the battery symbol on quickly twice and a very bright light will emanate from the front. Press it once and those blue LEDs up front will tell you how full the battery is.
The same button pressing can be done on the other side – press once and it'll activate a call on your phone or the Siri voice system on an iPhone. Double-tap quickly and it'll start playing music through the speaker once you've paired your device.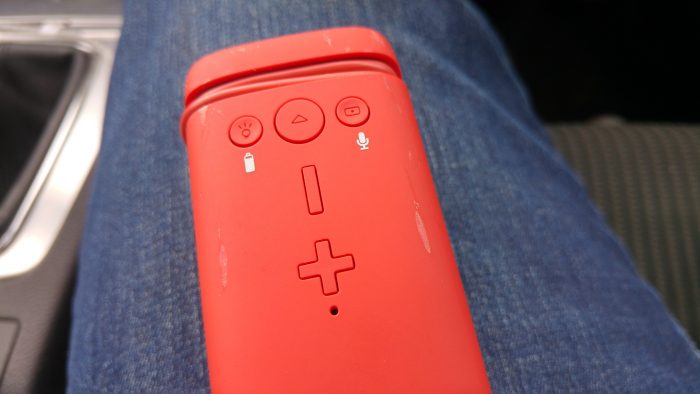 The larger central button here will play and pause the music, or you can answer a call by pressing it too. If you double-tap it'll call the last number. Those volume controls have a second function too – double-tap to skip forward or back tracks.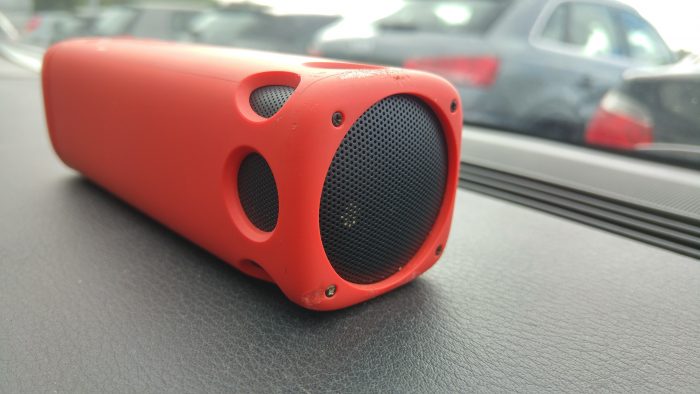 The speaker, at the back, is actually not bad at all and I have since used it as a motivational tool when we've headed up some particularly "challenging" hills. Having your favourite tunes blasting out on a quiet country road is always a fun thing to do, although I must confess that I used it more as a charger and a light than anything else.
Overall
This is a strong, well-built speaker / charger / light which feels like it is made from a rugged but smooth rubber / plastic mix. The sound is good and the 8000mAh battery will keep you going for quite some time. I've had this on my bike and it'll charge the standard 3000mAh mobile battery roughly twice. It'll keep you safe, it'll pair easily to your phone and it survived a drop from my bike.
I also liked the wrap-around USB cable, although I don't know quite how long it'll last with all the pulling and twisting I keep doing when I'm unravelling it. The bike clip might also not survive a particularly hard mountain bike ride.
Don't forget that you don't necessarily have to use it on your bike. Carry it like a torch and charge your phone when you get back to your tent – you can do that and listen to some music in the morning if you're camping.
Cost ? £25.99 on Amazon UK with three colours available (red, yellow and grey).
Puridea Bluetooth Speaker, Power Bank and Bike light review
A solid product which is good for camping trips, dog walks and bike rides when you want to have a charger, light and speaker all in one.