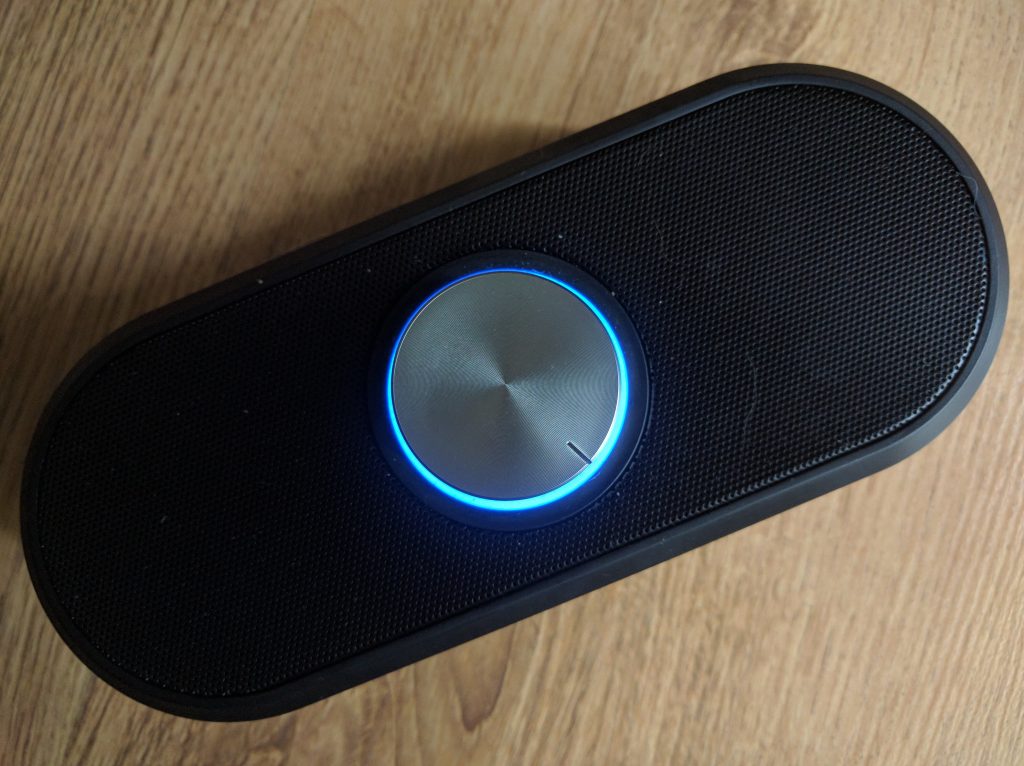 External speakers aren't something I've had a lot experience with – in fact, the majority of my time listening to things these days, it's a far cry from my old hi-fi setup. These days, I either listen to music through my computer or through my phone, on a headset or playing the decidedly below average phone speakers… That's why I was kind of interested in trying out the Coocheer Bluetooth Speaker with a built-in microphone. Just for the record, it's full name if you're looking for it on Amazon will be the "Coocheer Portable Powerful Sound Upgraded NFC Wireless Bluetooth Speaker Built-in Microphone". That's a lot of title for 12 quid. Yep, you heard right. £12 or more precisely, £11.99. So what is a £12 Portable Bluetooth speaker like? Read on.
There may be a lot of people who are used to these types of portable speakers, but this was my first time with one. I have to say that they're useful little things.
View:
The Coocheer Bluetooth speaker is an interesting little device. It's a thick lozenge-shaped object, about 17 cm long and it stands a mere 7 cm off the top of the desk. It has a fine grill mesh on the top, as well as the silver/aluminium style volume dial in the centre. The dial also dual functions as an all-purpose control knob, which we'll get into later. At the front edge, there's only the Coocheer label on the clear front. it's on the back that you see the on/off switch on the right, with the now-ubiquitous Micro-USB power socket in the middle, and a 3.5 mm socket finishes the collection. At the bottom, the rubber feet round out the base, with a bottom-firing speaker. This is what gives the speaker much more boom than its size suggests.
Coming with the Bluetooth speaker is the Micro USB charger, the instruction manual, a 3.5 mm cable, and a travel pouch which feels surprisingly nice in the hand.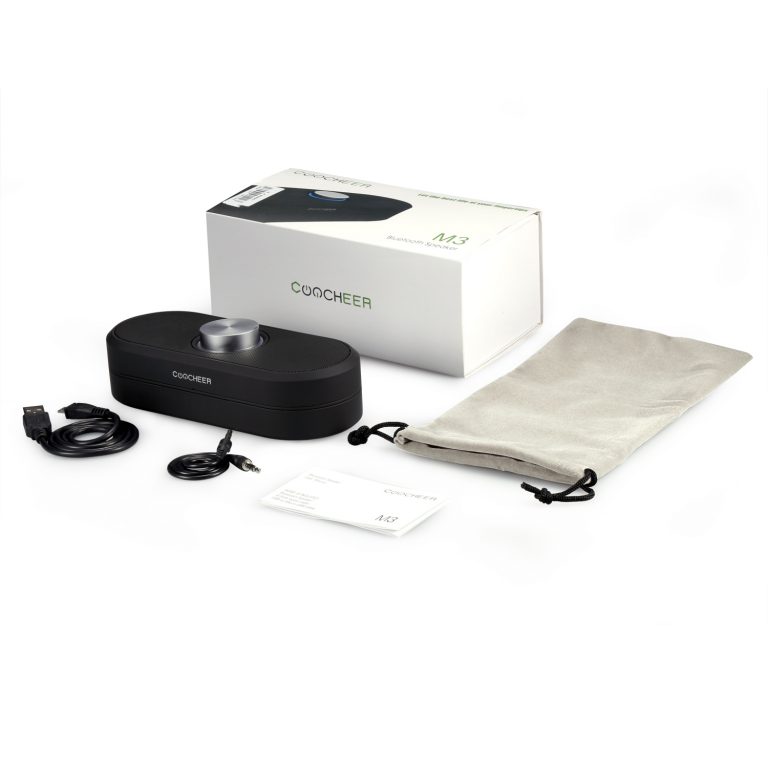 Specs:
Bluetooth Version:3.0

NFC: Yes

Distance:>10 Meters

Li-ion Battery: 1200mAh

Playing time:6-10 Hrs

Output: 2 x 3W

Voltage and connector: MICRO USB DC5V

Colour: Black

Size: 170x70x50mm
Usage:
It didn't take long for the Coocheer Bluetooth Speaker to make its way into my regular routine, which is something I thought just wouldn't happen. Tap to pair using NFC was as simple as it is supposed to be – and then I was off. It has to be admitted that I used the speaker for pretty much three main reasons – and a fourth just to test it out. The first and most frequent one by far, was listening to podcasts. The sounds of grown people talking about stuff is the thing that fills my ears most these days, so that was one of the things that was most important to me. The good news is that the Coocheer Bluetooth Speaker handled podcast conversations with ease. When listening to the 361 degrees podcast (now on season 13 if memory serves) picked out the amusing and informative voices of the three hosts with clarity. When I changed to the American Paul's Security Weekly, that too was easy listening. Bear in mind that I'm currently running through podcasts at 1.3 speed, which works well.
The second use was for listening to what I call wake-up tunes. Almost all of the music that keeps my head bopping these days are what my children 'lovingly' call "over-30's music." Ice Cube's Child Support got me up and out of the house and raring to get to work more than once. Hearing the deep bass beat while my face was full of suds wasn't a problem, although on the highest levels, it did prove a little too much for the Coocheer. The bass gets wooly and indistinct, which isn't particularly a revelation – most smaller units have problems with deep bass. My third and final use case didn't involve using the Bluetooth part of the Portable Bluetooth speaker at all: when connected to my laptop using the supplied 3.5 mm cable. I've been watching a little more streaming series recently, watching Outlander as a guilty pleasure was more of a pleasure, with the lush soundstage being easier and richer when the Coocheer Speaker was plugged in.
The multifunction dial was also really convenient. I'd carry both phone and speaker into the kitchen, and it was a lot easier to control both volume and to skip tracks with the dial. I'm not about to explain how to use a volume dial, but if I wanted to skip tracks, all you have to do it press the volume dial down a couple of seconds and then turn forward to fast-forward to the next track.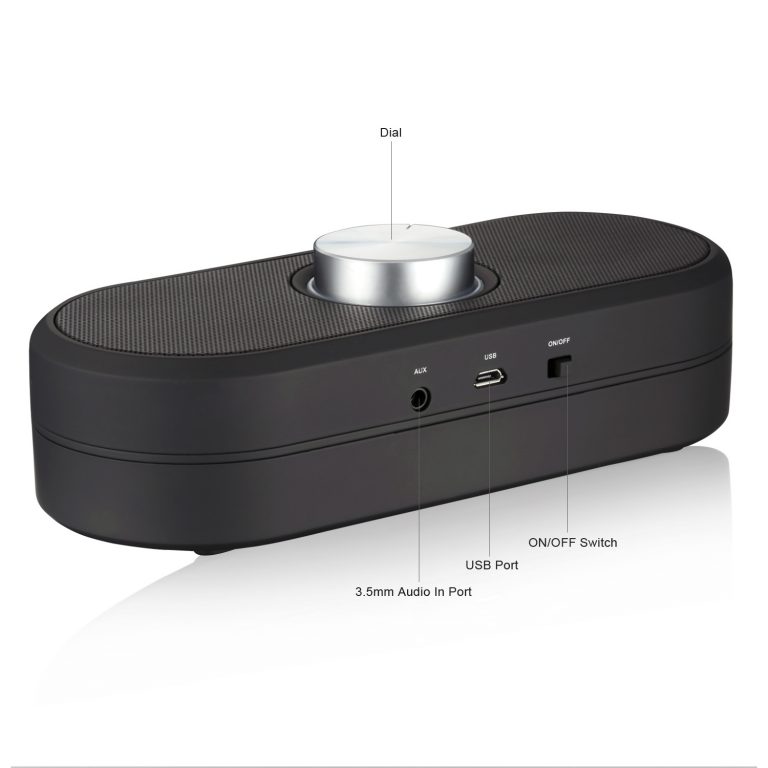 I tried using the Bluetooth speaker for calls, but it didn't really work for me – it was a rare situation where I actually wanted to have my conversations loud enough for everyone to hear. I have a headset for when my hands are full, and it didn't improve the conversation enough for me to turn the speaker on when I needed speaker mode. My phone was enough. Having said that, it's useful to have the option, and there have been a couple of times when there have been more than one person on my end of the conversation and we all were able to talk to the third party. Did I mention it had a built in mic? It does. It works. I don't think the mic is sensitive enough to want to use that option frequently, but when push comes to shove, it's nice to know that you have that ability.
The Coocheer speaker is rated as having 8-10 hours of battery. I have to admit to not testing the battery time longer than 6 hours, and it kept going with ease. If you are in the rare situation where you need more than 10 hours straight of Bluetooth speaker use, then you may want to consider whether this is for you, but since you can use it while it's plugged in and charging – which to be fair is probably most people – then it will probably be fine.
Conclusion:
All in all, having a Bluetooth speaker didn't mean I was having to review an albatross like I thought – having a device that you can find no use for is not the definition of fun. But the Coocheer Bluetooth Speaker quickly made itself a comfortable, regular and permanent feature in my normal usage. When you weigh in its shortcomings – microphone not the best, and the bass distorting when it the volume is loud – against the price, twelve quid, well,  it's a simple enough proposition. I'd get it. I'd be happy to receive it as a present and I would most certainly consider giving it as a present to someone who's never had one of these before. You can see more Coocheer gear here.
Construction quality - 89%
Value for money - 97%
Battery life - 88%
Sound quality - 83%
For the price, this will be a pleasant surprise. I'd hesitate to call it throwaway, but I can see people buying a couple for the festival season or for a present for those who have tweens.