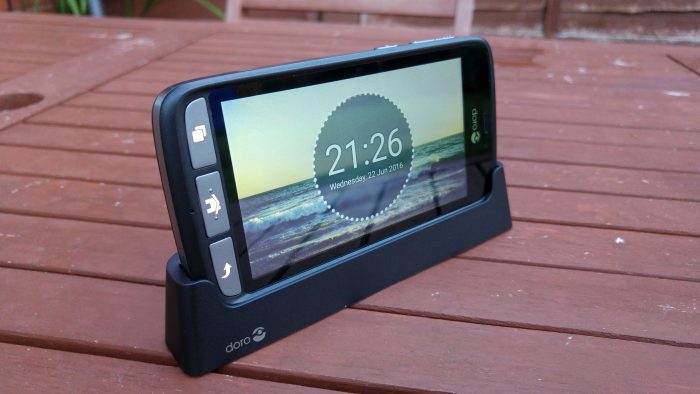 A smartphone can be a scary proposition for some. It's like being asked to perform brain surgery for a certain section of society and it's something that they'll run from.
Why?
Well, they're older. Age will happen to all of us, but put a modern smartphone in front of the vast majority of older people and they'll find it a confusing and perhaps scary experience. So here's another smartphone from Doro – the 8030.
Doro, for those who aren't aware, have a lot of experience in this area and they've integrated features like an assistance button and hearing aid compatibility. You can purchase the phone from Doro direct from £180, however it's cheaper on O2 – (£120 there or £14 per month) or Amazon (currently £134).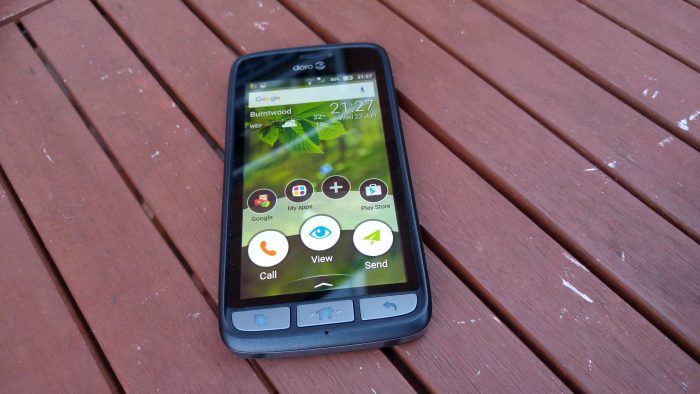 So let's have a look at this then. Specs aren't too important if I'm honest. Sure, it has a 5 megapixel camera on the back an it'll do 4G, but this isn't the big sell. Despite the fact that this is a "friendly" and "approachable" phone, it'll also let you do a lot of the things other Android phones can do – so you can get on Google Play and download apps. You're not going to be left out when your friends are downloading Angry Birds and wot-not. There's 8GB of storage (plus a microSD slot for more storage), a 854×480 4.5″ screen, WiFi, GPS and a Qualcomm MSM8909 CPU. This runs on Android 5.1.
The phone has remote programming, meaning other (trusted) parties can access your phone, and it also has a friendly startup wizard so that first few minutes isn't going to be too scary.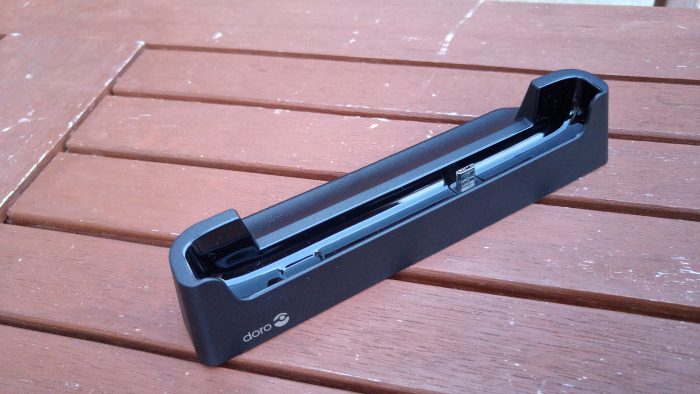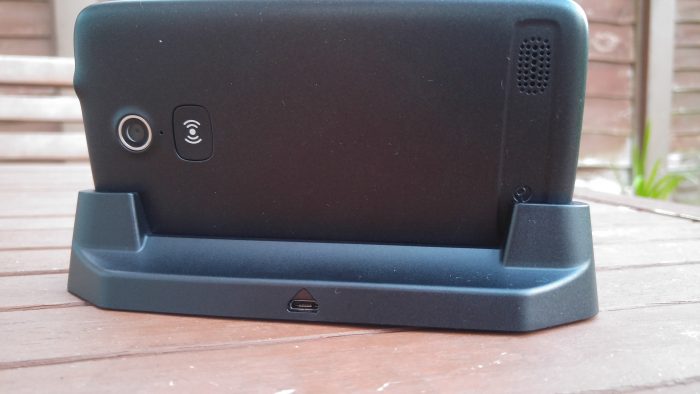 The phone itself, when you get it out of the box, looks very decent indeed. There's a lot of screen and not much border, which is a good thing. The 4.5″ screen doesn't feel small and the phone doesn't feel "basic" or clunky.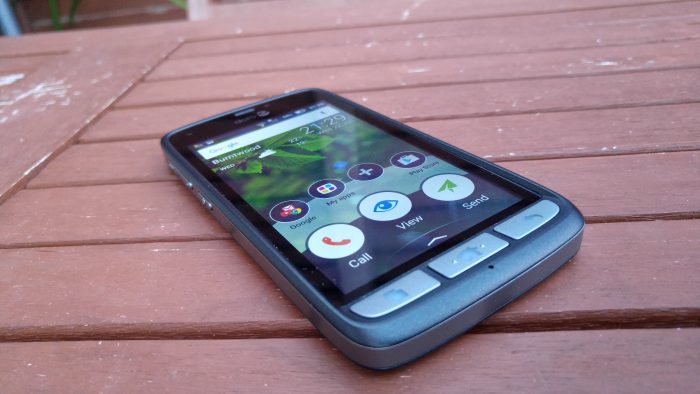 A nice and simple getting started guide has big and bold pictures guiding you through the setup process. This basically involves sticking a normal SIM card in and a microSD card plus the 2000mAh battery. The rear panel removes and clicks back into place with the minimum of fuss.
Before we turn this on, let's take a look around the phone. Under the screen you'll find some easy to locate buttons which, although large, aren't distasteful in any way. The polished black surround is met by a rubber ridged outer rim which surrounds the screen. There's also the front-facing camera and of course the earpiece up top.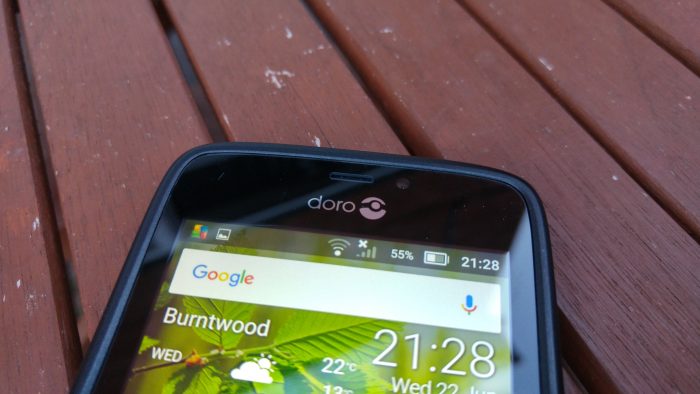 On the right side, which as you can see has a silver strip going round it, there's a charging port with a helpful symbol so that it can be found easily. A camera button also lets you fire up the rear camera. Yes, for the elderly that whole charging business is going to be fiddly.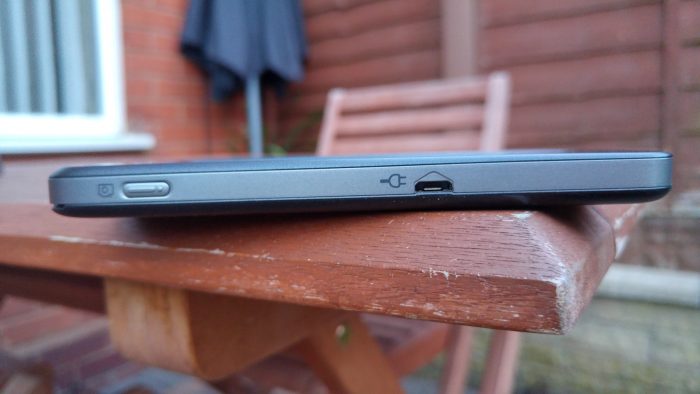 You're right, and there's a very helpful stand in the box which means you won't need to worry too much about fiddling with cables. A friend or relative can plug the stand into the mains and then it's just a matter of dropping the phone onto that cradle to charge. Simple and rather clever that, because the person using the phone can have it in the corner of the room and it'll be ready when they are.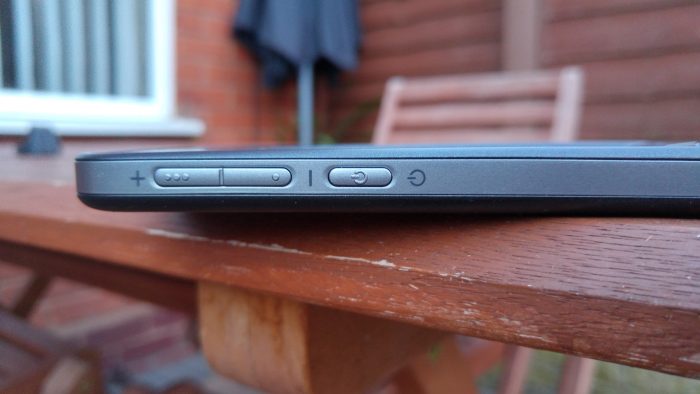 The left side has a similar feel and, like the camera key on the other side, the buttons are ridged so that you can locate them. Again, as you can see, there's a symbol to indicate what each button does.

Up top, a 3.5mm audio port for the supplied headphones or any other that you may have available.
On the back there's an external speaker and that rear camera. No flash here but, as you can see, there's a button. This is the emergency button. Press it and it'll fire out an emergency message to contacts listed in the emergency number list. After this has been sent, the phone will call the first number in this list. Then, if that number isn't answered, the phone will call the next number and will continue to do that until it's answered.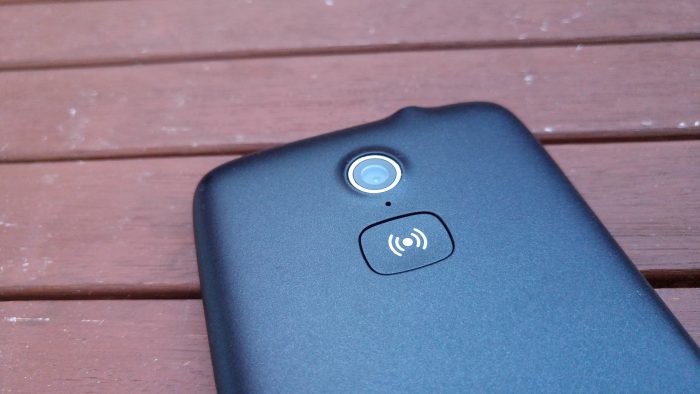 Don't worry about this button being pressed by accident. You'll need to press and hold it for three seconds to activate it.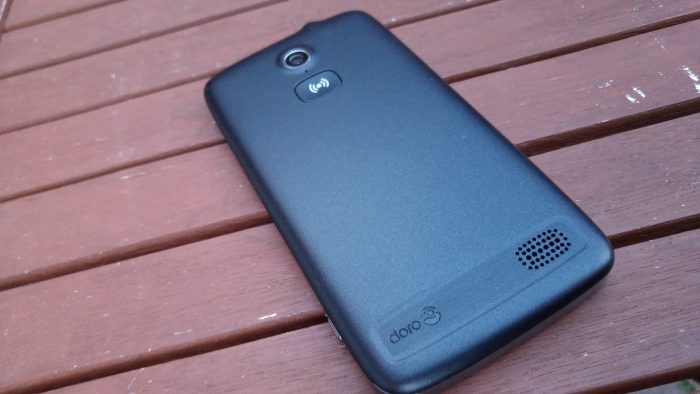 With only minimal instructions in the box you're going to hope that the phone will help you through, and indeed it does. However, before we get to that you have to remember who this phone is aiming at. This is a phone that may be getting used by people who aren't necessarily that advanced with smartphones. They may not even want a smartphone or know how to work one. So, as a relative or friend you can download an app on your traditionally smartphone and help your elderly user – just as if you were in the room with them. To be honest it's all very cool and I wanted to show you this in video, but I found a much better one on the Doro website, so here's a look at just what you can do with this…
https://www.youtube.com/watch?v=KrHNxaGnuow
Pretty cool right? That remote control means you can be there virtually, and I loved that. You can share files, set up the phone, add emergency contacts, add people and much more. The Doro Manager app is available for Android and iOS.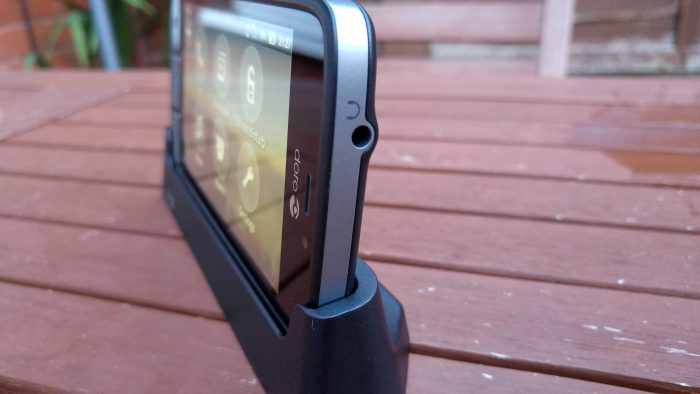 OK, so the phone itself then. Whilst it does run Android and you can get the Android apps, there's a custom skin which breaks down the myriad of traditional smartphone options, apps and widgets into simple options that you'll probably be wanting to do. You can share (send) stuff, look at stuff or make a call. Clicking into each one gets you to the relevant set of further options.
However, when you power on you're met with this screen. It's the start of a journey which will guide you through a gentle learning curve. Big, friendly buttons and well-thought-out questions will tell you how to scroll and operate a smartphone if you've never used one before. Although this sounds bonkers to many people, it's a level of detail that I think the target customers will appreciate. Unfortunately this does quickly bump into questions about WiFi, WPS buttons and email. If I'm honest, there's really not a great deal that anyone can do about this but and, because you need the phone on the internet in order for others to remotely support you via the Doro Manager app, you may need to be present to guide the intended user through this bit.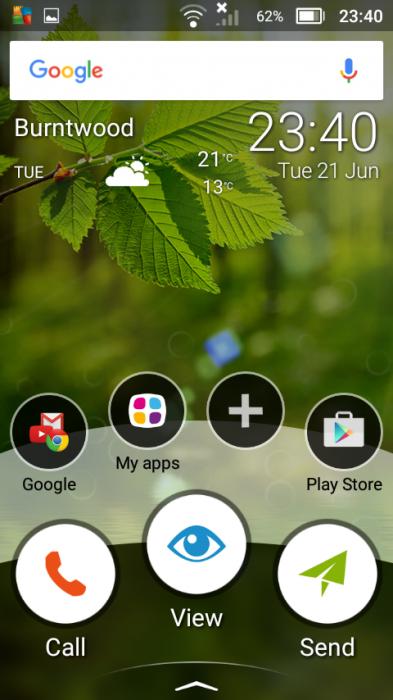 So, those options I mentioned below. If you want to read your messages you'd hit "View" and then choose "My Messages". Simple. Likewise, in this option you'll also find options such as "View… My alarms" or "View.. My location" or "View .. with a magnifying glass" or "View.. something on the internet". That last option got me into a web browse with the font size that I'd chosen as suitable in the setup and it changes the menu options to "I want to", with big and friendly prompt boxes and options popping up instead of smaller and confusing ones. This "I want to .." menu also makes it easy to send pictures or set them as your backdrop. It follows a simple logic which is easy to understand.
Likewise, in the "Send" range of options, you can send a message to a contact, a recent contact or a number. One thing I did notice here was that the keyboard wasn't anything special – it was the SwiftKey keyboard and had fairly small keys.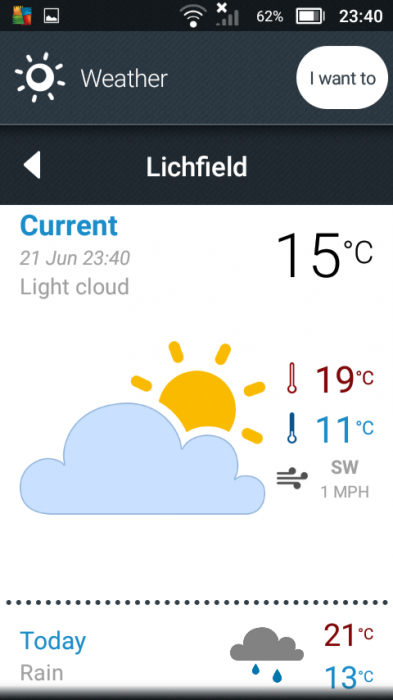 That dock that I mentioned earlier is a very cool addition, and popping the phone in there will show you a swish clock. You can hop into a chunk and easy-to-understand settings option which lets you adjust the clock style, the background and whether you'd like a slideshow or the weather in the background. You can also use the phone as a music player when it's in the dock, playing your favourite album or artist. It's all very easy to "get" and I was pretty impressed with the little additions and the thought that had been put into the menu systems.
I appreciated the little things. I liked the fact that the setup process said, "Is the text too small? Shall we make it bigger?" and "Can you hear the ringtone? How about now? How about now?" It was straightforward, it was natural.
Plus, let's not forget that despite all these helpful remote configuration and assistance additions it's still a regular Android device. You'll still be able to download apps from Google Play, you'll still be able to watch videos on YouTube, you'll still be able to browse the internet. You can do all the things you'd expect, but it's a friendly and supportive environment.
Camera
The camera, whilst not super-high resolution, really isn't that bad at all. Again we have that very fluent and easy GUI and again it's simple to use – just whack the camera button on the side. You're not attacked with stacks of options (which is a good thing) but, as you start to become familiar with the phone, you'll find them in the menus.
Here's a few examples of the photos. Some up-close, internal and outside shots to peruse. Although the screen resolution of the screen of the Doro doesn't always do them huge justice, when I copied them off onto a computer they looked fine as you can see here..
Overall
I've got to be honest, I liked this. It's not the chunky, slightly ugly phone I expected. It's fairly slim, well designed and the friendly buttons up front work well. The remote management solution is great, the Doro support is great. The additional on-screen menus and the GUI alterations are done well. It's a nice, welcoming place to be if you're an elderly user or you're just someone who doesn't take to technology well.
If I'm honest, I really don't see why Doro don't target a wider market. There's people out there who have been quite happy with a feature phone and would probably like a bit more but are perhaps frightened of the "tech". This is the ideal phone, and it's so easy to use.
I was impressed by the design, the thoughtfulness and the fact that other people – trusted friends and relatives – could hop into your phone and adjust settings, add frequent contacts and more. It's a reassuring and smooth ride.
OK sure, if you wanted to pick flies then you could point out the slight lag that sometimes pops up when you're typing quickly, you could even mention the keyboard being a bit fiddly. However, you can switch the keyboard and the target customers may not be zapping around the phone that quickly anyway. Overall, for me, it was a very good mobile solution.
You can buy the Doro 8030 for £180 out-right from Doro.com or from O2 for £14 per month or on Pay As You Go.