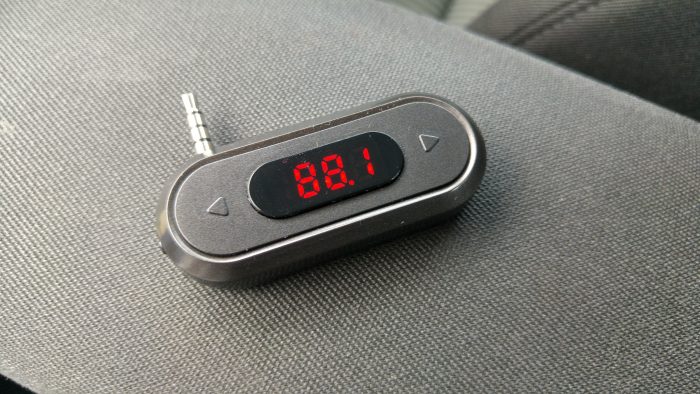 I've been sent an FM transmitter again. It's one of those ones you'll find on Amazon with a rather long and confusing name. The full description for this £13 gadget is (wait for it)…
"FM Transmitter, Doosl® 3.5mm FM Transmitter Radio Adapter Hands-free Calling Wireless Radio Car Kit, Compatible with iPhone, iPad, iPod, Samsung Galaxy, HTC, MP3, MP4 and Most Devices with 3.5mm Audio Jack"
To put it in a shorter and punchier way, let's just call it a tiny gadget that you plug into the 3.5mm audio port on your phone to broadcast the sound to your car radio.

In the box you'll get a microUSB charging cable, an instruction leaflet which is just one page long and a warranty card which you'll ignore. Oh, and you get the device itself of course. The gadget itself is small and about the width of an iPhone 6s. To be honest you can tell by the position of the 3.5mm audio plug that this has been designed with the iPhone in mind. When I plonked it into the resident Coolsmartphone iPhone it suited it well and the dimensions matched perfectly. If you try it on a phone with the 3.5mm audio port on top or elsewhere then the transmitter will be upside down or off-centre. This isn't a terrible thing of course, and it'll still work, but it's worth noting.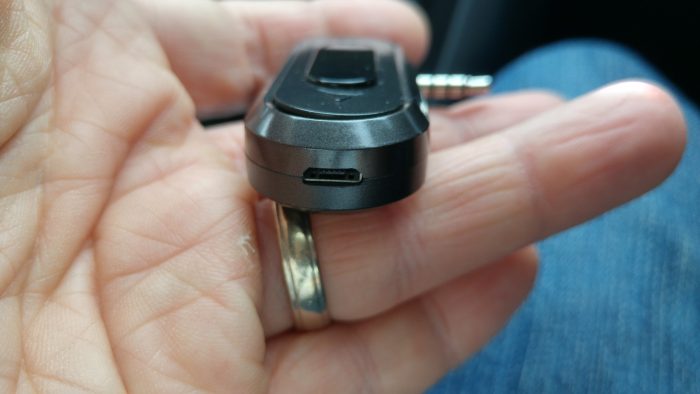 Operation is blindingly easy. There's a tiny switch on the side which, once thrown, turns it on. Two buttons up front let you adjust the FM frequency, which can be done in fine increments. What you'll need to do is find a free frequency on your radio and then match that on the transmitter, else you'll have your mini "FM station" and an official one blending into one.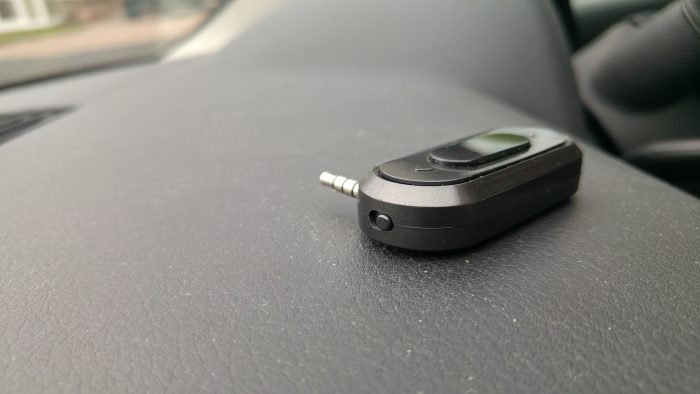 Inside the transmitter is a 300mAh rechargeable battery, which will pump out your tunes for 10 hours. You can keep the device charged as you drive too, just plonk the microUSB cable into the side of the device and then into a standard USB charger in your cigarette lighter.
The device also has a little microphone in and, to avoid getting in trouble with the cops, you can conduct hands-free calls. The audio comes out of your car speakers and you speak into the transmitter. All good.
Video
I thought this would suit a quick video, so here you go.. 🙂
Overall
I liked the fact that the transmitter remembered the last frequency and, in my test with the iPhone, the sound was particularly crisp and had a rounded sound with deep bass and no frequency drift or interference. The only thing I would say is that there appears to be no auto-power off, so if you forget to turn it off when you get to your destination you'll end up with a flat unit when you get back.
Very nice little gadget this though. Head to Amazon to get yours.
Doosl FM Transmitter Review
Overall - 84%
Does what it says on the tin. Shame there's no auto-power off but the sound quality was great and it works well.