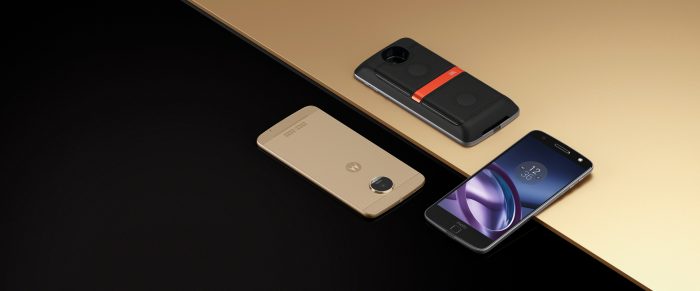 Did you watch the live announcement? If not, you can watch it all again here. Anyhow, come close, because we have to get one thing out of the way…
Say goodbye to that 3.5mm audio port.
Yes, I know. I know. Moto appear to have beaten Apple to it. They've quietly glossed over this during the launch, but the sound will now come out via the USB Type C port and you'll get an adapter for your headphones.
However, before we get to that, let's have a look at the Moto Z handsets and the Moto Mods. Motorola (and no, not Lenovo here) appear to have realised that smartphones now are just giving you tiny little incremental updates. The bigger "leaps" in both specs and innovations aren't occurring as much now.
The result? Limited choice, similar products and bored consumers. And that's not fair.
They've introduced some snap-on mods which are similar idea-wise to the LG G5. These work with the Moto Z (more on that in a moment) and let you click on additional kit such as the JBL SoundBoost – a properly loud and chunky speaker system. Or the Moto Insta-Share Projector for displaying a massive 70″ screen on a wall. That'd be good, but after watch a movie you're going to need to top up your battery. You can do that with a click-on Power Pack that'll add on 22 hours of additional battery power. There's also fashionable rear covers which can give your phone some additional style.
It's easy to swap and there's a magnetised connection system to click everything in place quickly. Motorola are ensuring that the same connection system will be used on future phones and they've also launched a Moto Mods Developer Programme which gives you the chance to add to the ecosystem. Lenovo have even set aside $1,000,000 in equity funding so that they can help those with good ideas. Head to developer.motorola.com
Here it is in action..
Now let's have a look at that phone. The Moto Z is, according to the company, the world's thinnest premium smartphone. It's made from stainless steel and aluminium and is just 5.2mm thick. Ahhh.. remember the RAZR anyone?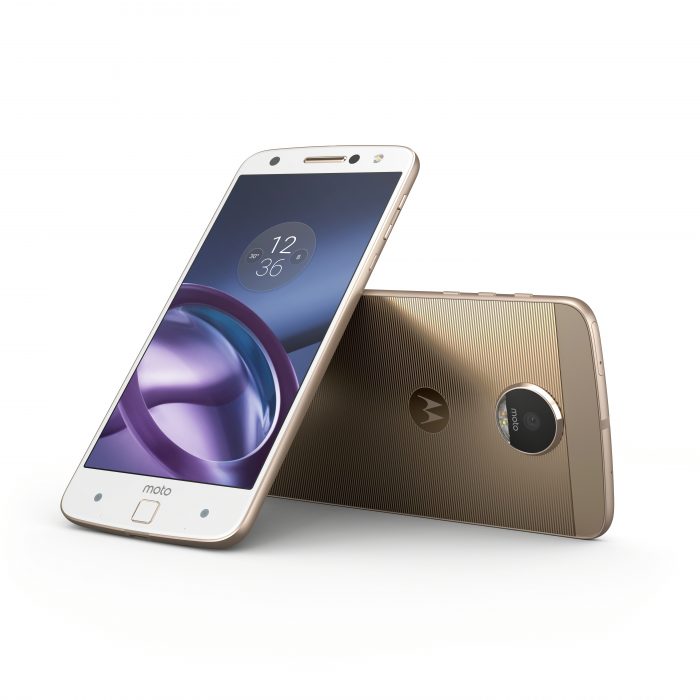 Despite the skinny dimensions it's going to have a 5.5" Quad HD AMOLED display, Qualcomm Snapdragon 820, 4GB RAM and it'll arrive with either 32GB or 64GB plus there's a microSD slot for more storage.
The Moto Z also features a water-repellent coating, a fingerprint reader which will unlock the phone, a 30 hour battery life and fast charging (8 hours of power after a 15 minute charge). You also get a 13 megapixel camera with laser autofocus and optical image stabilisation (OIS). Up front there's a 5 megapixel camera with a wide-angle lens.
Next up, the Moto Z Force. This one adds a Moto "ShatterShield" tech which stops your screen shattering if you drop it. There's all the same specs as the Moto Z, but with a higher resolution camera (21 megapixel), 40 hours of battery life and an even faster "TurboPower" charging system – 15 hours of battery life delivered after a quick 15-minute charge.
When can you get them? Well, the Moto Z "DROID" Edition and a Moto Z Force "DROID" Edition will be available in the summer on Verizon. Elsewhere, the Moto Z will be arriving in September, as will the Moto Mods.