Well, this is small. I'll give it that. You can bag one on eBay for $28.99 in the US or £21.99 in the UK.
There's a blue one or this green one. In the box you'll get a USB-to-microUSB cable for charging and a 3.5mm-to-microUSB cable should you want to pipe audio into the speaker from a non-Bluetooth device. This, though, is a small thing. It measures in at 50mm by 50mm and comes with a rubberised "tail" which can be used to hook the speaker onto .. well, pretty much anything you like really. You can hang it off a bag, your handlebars whatever really.

The 1.5″ speaker pumps out 3W and you can push audio from your device by up to 10 metres on Bluetooth 2.1 +EDR.
The speaker has a soft rubber feel to it and three bottoms on top let you control what's happening. To wake it up you'll need to press and hold that power button. This will fire up a voice which has a pretty "individual" audio prompt to get you started. Here's me taking you through it..
You can double-press to switch modes, because there's not only Bluetooth and 3.5mm audio input, but microSD card too. It supports MP3, WAV and WMA. You'll need to open the flap at the back to access these ports and, although it's sold as being waterproof, I'd perhaps class it as "splashproof" as water could get into this flap if you put it into water.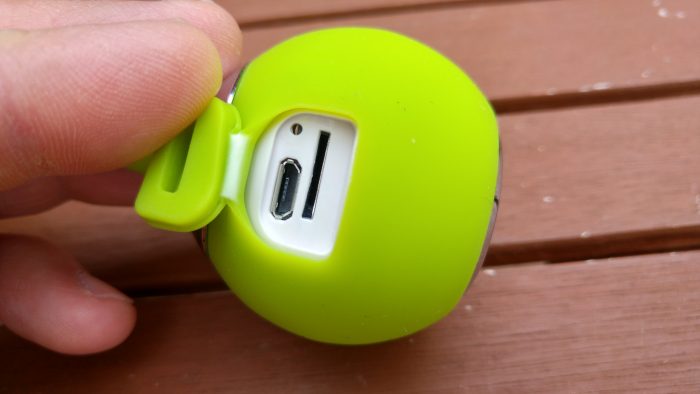 You may also notice a small hole which, if you use a tooth-pick or similar, will let you reset the device if you're having problems connecting.
Two other buttons allow for volume adjustment, but if you press and hold these then it'll let you skip and move around tracks.
The speaker will beep if the battery if running low and charging is fairly simple – just use any USB output (whether it be on your TV or from any smartphone charger) and it'll charge the on-board 400mAh battery.
Connection via Bluetooth is just a matter of turning on, pressing and holding the power button and then doing a search with your phone for the device name – which appears to be "AS888" for reasons I'm not sure.

Now for the sound and, I have to say, it really is rather good. Of course, this isn't going to blow your ears off, but for the size it's really quite powerful and has a decent range with no distortion or tinniness.

The price, at £21.99, is slightly higher than I would've liked. However, with a soft silicone feel, a very decent sound and the ability to (literally) throw into your bag like a ball was really quite handy. I found it ending up in my back-pack when stopping in hotels and it hung off the shower really easily so that I could listen to the breakfast show just as if I was at home. Handy this. Very nice little gadget.
Get one from Amazon USA ($28.99) or Amazon UK (£21.99).
NatualRays Bluetooth Speaker Review
Audio quality - 85%
Build quality - 92%
A diddy little thing that packs a very decent punch. Throw it in your luggage, carry it on your bag, hang it anywhere. Very good little speaker.