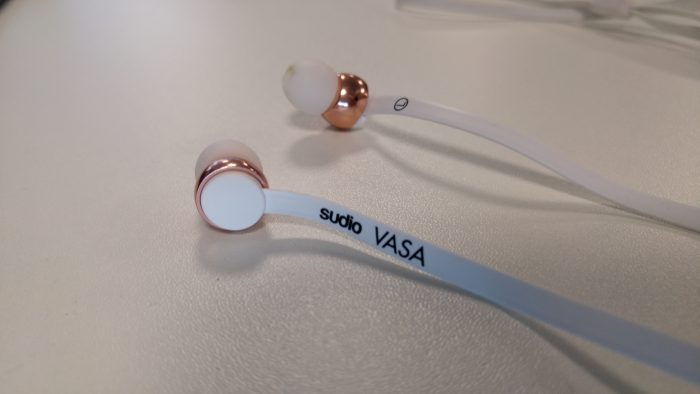 These are £55. I thought I'd tell you the price up-front because for that price you expect some quality kit. Indeed they are. The ones we have here are the rose gold and white ones which come with multiple ear buds. I'm always losing the ear buds and sometimes even have that strange feeling where a bud comes off in your ear and you don't realise for a bit. Honestly – I've thought I'd gone deaf a few weeks back.
Made from aluminium and with some polished metal outer sections. In the box you get 4 of the replacement earbuds, a proper leather carry case for keeping your headphones nice and tidy plus a clip for attaching the headphones to your shirt or coat.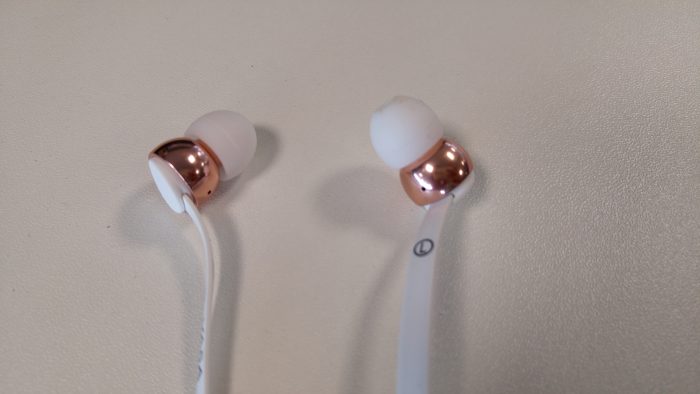 The headphones are nicely designed and feature a flat cable which doesn't get tangled or knotted. There's an Android and an iPhone version which both offer the same audio quality but are just wired differently for the buttons on the cable which control volume and playback.
They fit nicely in the ear but the audio output seems to lack a great deal of bass. Whilst playing pop and classical music this was fine, but dance music needed a certain amount of additional bass. Turning up the volume helped a little, and you could feel a "natural" bass sound, but it didn't have the "whoomp" I was expecting. They did give out a quite soft and clear sound which lets you hear every element of the music. I tested these on a HTC 10 and an iPhone 6s.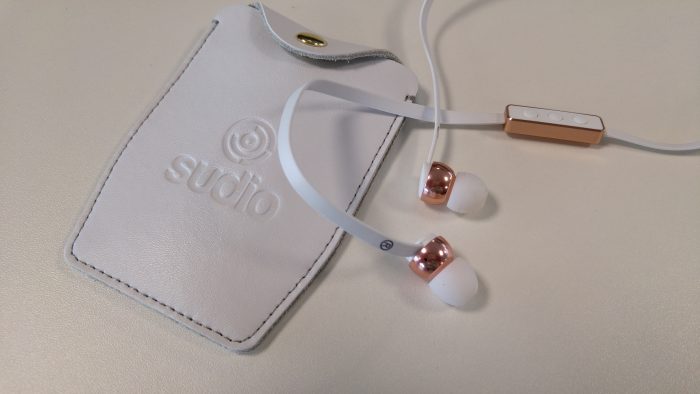 I also found, as you can probably see from some of these shots, that the blue dye off my jeans wore off onto the cable and plug.
For the tech-heads, this has a 10,2 mm dynamic speaker with 113dB sensitivity, 32 Ohm impedance and a 18 Hz – 23 Hz frequency response. The buttons on the control area were soft-press rubber ones and they were very easy to use and find. Phone calls made through the Sudio VASA were clear and crisp.
Overall
A premium look and feel. Beautifully designed with a light, crisp sound which lets you hear all parts of a music track. They do lack a bit of bass, but the mix of high and mid notes doesn't clash and the sound comes across well. They also blocked out exterior noise without problems and the 3-button remote was easy to locate and use even whilst running.
Get the Sudio VASA headphones from their website direct for £55. They also do cable-free Bluetooth headphones.
Sudio VASA Headphones Review
Build / design - 92%
Sound - 76%
A quality set of headphones that look and feel the part. A fresh and clean sound which is nicely balanced but lacks some bass.