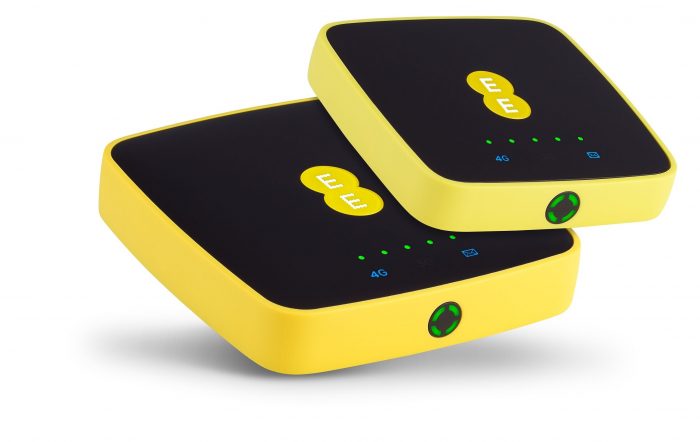 Some people call these things "MiFi" units. Basically they're tiny gadgets that you can pop in your pocket which will fire out a WiFi hotspot for you to connect to. Share the hotspot or keep it secure, it's up to you, but it can be a life saver for a family of iPad users or for those moments when you need to use a laptop and the hotel WiFi is just plain rubbish.
There's two models. First, the 4GEE WiFi is available on a range of pay monthly price plans. Prices start from £11 per month, with a £49.99 one-off upfront cost. You can also get it on pay as you go for £79.99
The 4GEE WiFi Mini is starts at £11 per month, with a smaller £19.99 upfront cost. It is also available on pay as you go for £39.99.
You can buy them in your local EE store, over the phone or online at EE.co.uk. Here's the main 4GEE WiFi page.
Although the CAT 6-enabled 4GEE WiFi is a tad larger than the WiFi Mini, it can also charge your phone on the move and supports Qualcomm Fast Charge 2.0. The 5000mAh battery should keep your WiFi going for a full 24 hours. The WiFi Mini is 15% smaller and does 802.11b/g/n compared to the 802.11a/b/g/n/ac on the 4GEE WiFi.
More details below.