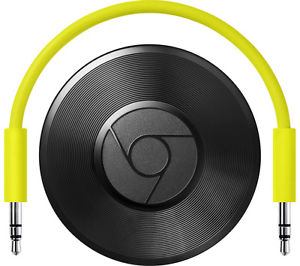 Well, the title of this post has pretty much explained everything hasn't it? Basically this is a brand new item, being sold by Currys / PC World through eBay. The Chromecast Audio works in the same way as a regular TV Chromecast, but it'll instead blast the streaming media from your phone to your big posh home entertainment kit.
They've now knocked it down to just £14, which is probably about the same amount you spent buying drinks for that girl last night, only for her to blow you out for someone else.
Set up is easy. Just plug the magical Chromecast Audio into the AUX IN on your flashy HiFi kit and then grab your phone (iPhone, iPad, Android) or laptop and cast the tunes straight to the device. It won't drain your phone battery and you can stream live or recorded radio shows via the likes of iPlayer Radio. Tap the "Cast" button from YouTube, Spotify or any other compatible app and it'll pump it out of your chunky speakers.
Get more info at Chromecast.com/audio or had across to the Currys / PC World eBay page to get buying. Free delivery on this too!