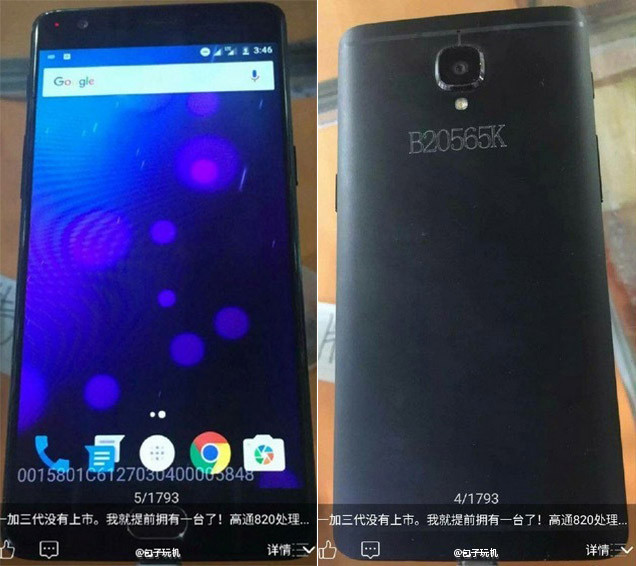 Yes I was one of those people that jumped on the invitation merry-go-round to buy the OnePlus One. Oh, and guess what. I did there same a year later for the OnePlus Two.
I love OnePlus devices so, when here at Coolsmartphone towers we had a sniff of the OnePlus Three rumours…. well I was up like a meerkat.
Rumoured to make its debut sometime later this month (can I hear faint merry-go-round music?), the usual blurry cam photos are starting to appear from China. The latest are from Weibo showing the front and rear of the device.
From the images the material on the back of the phone does appear to be different to the sandstone back which adorned the rear of the previous two devices. This is a OnePlus trademark, and to honest I think a fantastic finish. There is a third button by the volume rocker which is probably the notification switch that we saw on the OnePlus 2. The camera setup also appears different to the general setup that was seen on the first two devices.
On the front is a home button which seems to be similar to the capacitive button on the OnePlus Two, so it's likely retain a fingerprint sensor, and there's a noticeable curve along the sides.
The leaked specs are ..
. 5.5-inch Full HD display,
. 2.2GHz Snapdragon 820,
. 4GB of RAM,
. 32GB internal storage, (hopefully there is a 64 GB version)
. 16MP rear camera,
. 8MP front camera,
. Running OxygenOS 3.0, based on Android 6.0.1 Marshmallow.
There is still no mention of NFC, which I hope is there as Android Pay is getting closer to launch here in the UK.
Are you interested in the OnePlus Three? If so, no doubt I'll see you on the invitation merry-go-round as I try and get my hands on my third device.