About a week ago I unboxed a new 2-in-1 PC that had a retail value of £150, and I posed the question of 'can a machine this cheap be any good'? I also mentioned that I was going to be able to compare this to a more standard-priced 2-in-1, in the form of the T100 Chi from Asus. Some bad news on that front as the Asus had some issues, therefore I have had to return it to the seller. Due to this, I will not be drawing any comparisons with the BravoWin 10KT to that device.
However, it still does beg the answer to the original question of can this cheap laptop be any good? Well in short, yes it can, but before I go into the reason why, let's recap slightly. In my unboxing, I mentioned some of the strengths and the weaknesses of this machine, so that would be a good place to start.

Design and Hardware
The BravoWin 10KT is incredibly functional in its design, and that is a good thing as we will see in the hardware section later on. It features all the connectivity that you could expect for the price of £150. The ports all appear on the left-hand side of the machine as you look at it. Starting from the top, we see a full-size HDMI port with a Micro SD slot just below it. This will read cards of up to 64GB which is fairly normal for these lower end devices, and I believe is something that is dictated by the chipset being used.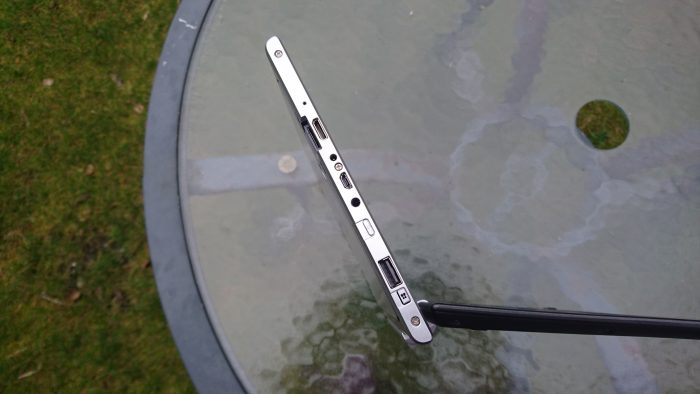 Below this, we find the proprietary charging port that will allow the device to charge in around 3 to 4 hours – which is much faster than the Micro-USB port that sits adjacent to it. This Micro-USB will also allow you use USB On-The-Go if you need to.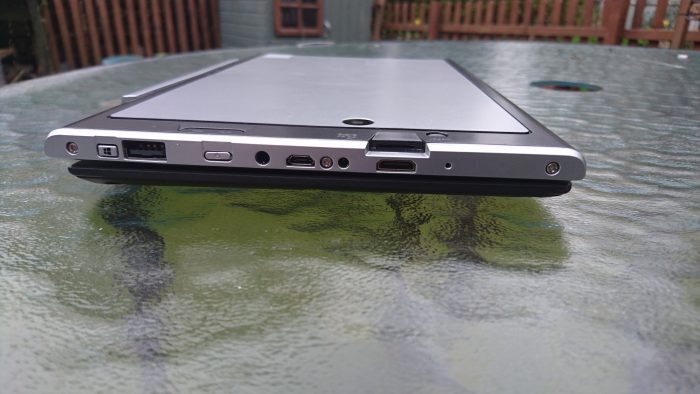 Next up is the 3.5mm headset jack that acts as both input and output, allowing for the user to use this as a reasonable good Skype machine. In fact, the most recent podcast I was on was done by using this machine, which proved to be very successful. Beside that is your power key, which being honest I just a bit too small, and it makes for a nasty experience when using it. This is partly due to the size – but also the positioning.
Last, we find the full-sized USB port, which is really nice to see on a design at this price point. Next to this is the Windows button, feels somewhat irrelevant now with the implementation of Windows 10 onboard, but nice to have just in case it is needed.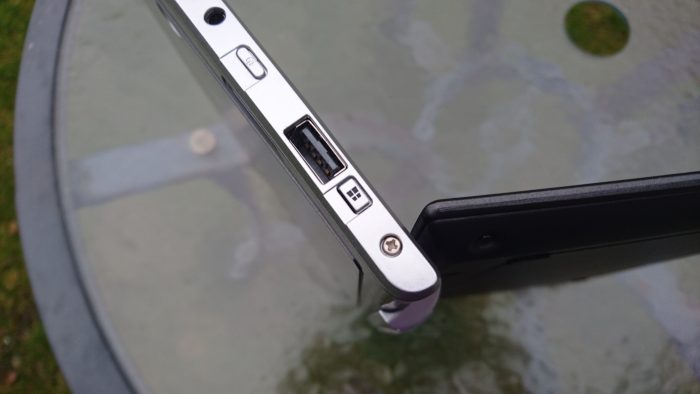 Around the base of the machine is where we have all the docking components to allow this to dock into the keyboard. We see that there are two rectangular holes, and an arrangement of pogo pins which are there to provide the ability for data transfer. The whole dockable area is lined with a soft touch textile material that will protect the base of the tablet from the dock. This is a nice touch and it is something that is often forgotten about by the makers of 2-in-1's with even the Surface 3 being guilty of missing this out of its design. The tablet is held in place by strong magnets, and there is very little chance of the tablet slipping out of its slot.


On the back of the BravoWin 10KT, we find both a reset button and volume keys that help you control the sound levels coming from the single speaker. This speaker is, well, a bit meh – but it is plenty loud, Just don't expect the best sound quality from it. The biggest issue I have with the speaker is that it is a rear-firing speaker, meaning that the vast majority of the sound is being directed away from you. This leads to an awkward cupping grip that needs to be adopted in order to get anything close to a good experience on the sound, not ideal I'm sure you would agree.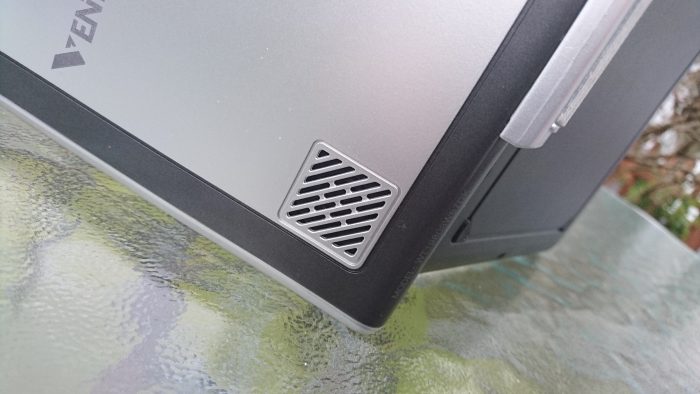 Onto the keys, and this is where I was most impressed with the machine. Although the keys are not the biggest in the world, the travel on them is fantastic. I was able to comfortably type on this with great ease and comfort for extended periods of time. The keys did take a bit of time getting used to, but as I have extensive experience on typing on smaller keyboards (remember the Asus EEE PC?) I was flying within a few minutes. I found the key layout to be well organised and tidy, with the only real issues being the size of the right shift key, as it is a wee bit on the small side. The good news is that I am mainly a left shift key user, so it did not overly impede my typing.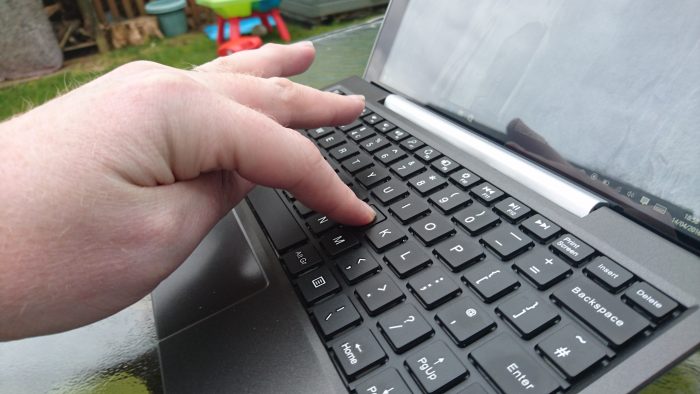 The trackpad, however, is an entirely different kettle of fish. It does not have any clicky buttons and is all one uniform surface with little to no movement in the keys. meaning that when you are trying to move around the UI and click on things, you often misclick. It is only of a minor annoyance as I was able to get by using the touchscreen for most of the things that I needed to do.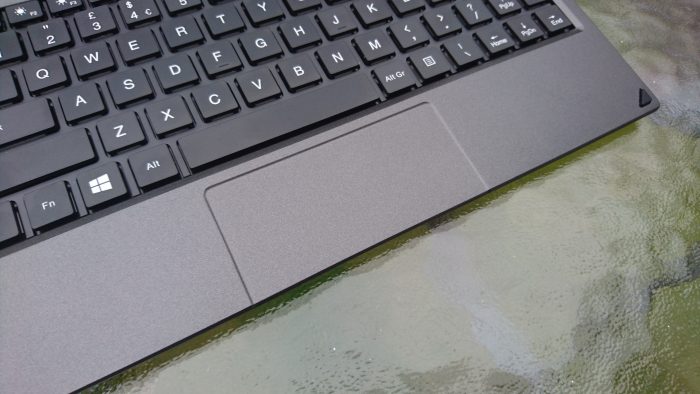 The screen itself is very responsive and supports multiple touch points. It is also an IPS panel with great viewing angles, and a good level of brightness and contrast even at wide viewing angles. The resolution of 1280 x 800 gives you a PPI of 149, which is okay for the 10.1 aspect ratio. This is fine for viewing content at 720p, but I wouldn't advise using any 1080p content as it does start to judder a bit and slow the system down. I don't have any brightness measuring kit on hand so cannot give brightness levels in nits or Adobe RGB ratings. What I can do is say that again for the price of the machine, I was mightily impressed, The only complaint is that the resolution is quite low by today's standards. That being said, I regularly use a Macbook Air 11.6″ and the resolution on that machine is not much better. That machine is over £700 more expensive!!

Build Quality and Durability
This is purely subjective, as I have not had the device for a long period of time and I will not be able to test this over a long time scale. I have been able to observe this device being used in my normal daily slog. This involves the machine being carted about in a rucksack, and being used in spurts all day. It is then normally plugged in overnight so that it is good to go the next day. The machine feels solid, but it does have a few creaks and groans when pressure is applied to the back casing, which at first was worrying. After using the BravoWin 10KT for a bit of time though, either I have stopped noticing the creaks and groans or it has stopped happening (unlikely). This is really where you start to see the price being reflected, as it most definitely built to a price point. I do however feel that if I were to drop the tablet, I would not be overly concerned with it breaking as it is solid. This means that there are relatively large bezels that go around the screen to help absorb any potential impact, (it has been drop tested to a height of 1.2m and survived… although not by me!) which means whilst not being particularly pretty, it is functional.
I think that kinda sums up the design and hardware. What keeps this thing going, though? Well, let's open her up, (metaphorically speaking) and see what lies under the hardy exterior. Inside, we see an Intel Atom Z3735F processor at 1.33Ghz (with burst to 1.83Ghz), 2GB of RAM, WiFi b/g/n, Bluetooth 4.0, and a gyro sensor. All of this is really the standard sort of spec that you would expect for this price. It does compete quite well against the slightly old Asus T100 series of machines, however, this machine does seem to run a little cooler than that machine. I can only really put this down to the fact that it is slightly thicker in its build. As you can see from the below pics, I did actually open the BravoWin10KT up and as I expected, there is very little one can do with regards to upgrading these components. This is the norm for these machines, as it is really only the desktop replacement class of laptop that is able to be upgraded these days.
Performance
This machine performs exactly as I would have expected. If you are carrying out simple tasks one at a time, then you will not run into any problems at all. However when you start loading up tabs in the Edge browser, then you will start to see the machine struggle a bit, and the same can be said for having multiple office apps open simultaneously. This is a lightweight laptop 2-in-1, both in the physical sense and the hardware standards sense. You do have very much entry level specs on board, and as much as Windows 10 is designed to run with the low specs onboard, it can only do so much. I tried a bit of basic gaming on it as well, and this was playable as long as you stick within the Windows Store App "garden". If you stray out of this realm, then you start to see that the frame rates drop, and the whole gaming fluidity starts to become a bit "janky".
I have not run the machine through any benchmarking as I don't have another Windows machine to do a comparison with. I have been fairly happy with the performance when I followed the guideline above, and it coped with my daily tasks during the testing time.
Software
As I have mentioned a few times, the BravoWin 10KT comes preloaded with Windows 10 Home on the machine, with the free offer of MS Office Mobile for a year. This is a nice touch and it takes some of the pain out of the initial cost of £150. Windows 10 works exactly as expected, and due to the mechanical nature of the hinge mechanism being used, even Continuum worked as expected. This is something I cannot say is the case with some much higher 2-in-1's that I've had the opportunity to use. Another nice feature is the way that Cortana works, as this has now been built into the Windows experience much better (it is soon to come to the lock screen as well). I have been a long-term Mac user, and I have to say that the more and more I use Windows 10, the more I like it, so well-played, Microsoft.
As for bundled content or "bloatware," I am very pleased to say that there is virtually none. I am so glad to see that Venturer did not go the same way as most manufacturers on this front, especially when we are looking at a memory capacity that is so low.
Here are some more pics of the BravoWin 10KT sized up against my Acer Chromebook R11.
Conclusion
So at the beginning of this review, I posed the question 'can a £150 2-in-1 laptop be any good?' Well, in short, yes it can… but you have to err on the side of cautionm as there will be some sacrifices to be made. As long as you can accept these, then what we have with the BravoWin 10KT is a strong durable machine that will work very well as a secondary machine for a commuter, or as a primary machine for young children to use forhomeworkk etc. I would even go as far as saying that this may be better suited for the second computing device type of customer better than the competing Chromebooks, but again that one is subjective.
I have been happy to use this little computer over the last few weeks, and in a way, I will be sad to see it go as it does exactly what it says on the tin, and doesn't pull any punches while doing it.
If you are looking to get a BravoWin10 KT then check it out at Amazon now.
BravoWin 10KT MiniPC - Review
Design and Hardware - 80%
Performance - 67%
Software - 87%
Battery - 91%
A great second device for the commute, or for a child's laptop. Just be aware of the constraints that come at this price.