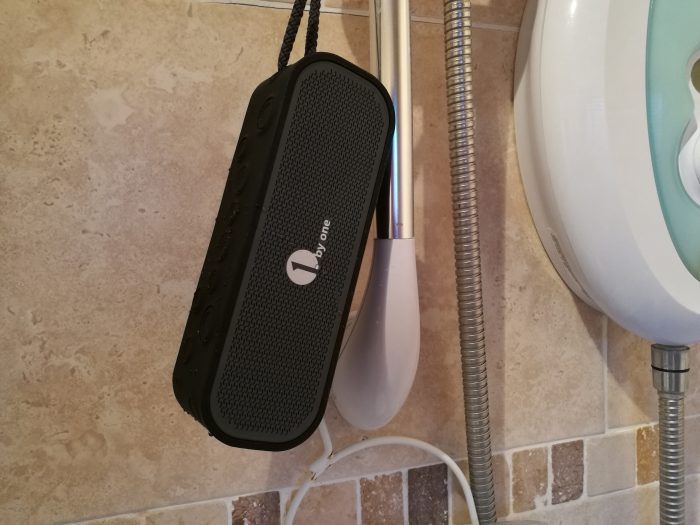 When you're young and full of beans you really enjoy writing about tech. Mobile phones, gadgets, gizmos – it lights your fire.
Then, after several years of looking a Bluetooth speakers, you start to wane a little. You get sent dozens and dozens of the things. Some are from big names, with high prices. Some are from random Chinese manufacturers trying to sell their kit to the Western World.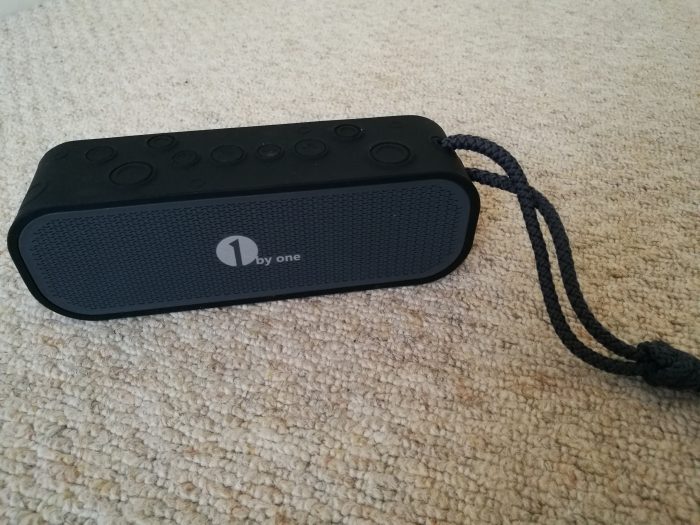 This one falls into the latter category. This particular Bluetooth speaker is £25.99 from Amazon UK and looks like a lot of other speakers we've tested. It's designed to work either inside or outside of the home and is splashproof with a built-in microphone. The makers, 1Byone, state that it's "IPX5 Waterproof". We had to look this one up but it basically meant that water can be sprayed at it in any direction.
You can probably tell from my introduction that I wasn't expecting a great deal. It states "Enhanced Bass" on the side but I've read this promise so many times before on Bluetooth speakers. The design, especially on the top, had me a little confused too. The rubberised buttons sat in amongst bubble designs which sometimes mean I was pushing the wrong things.

It's charged by a microUSB port, which sits behind a flap at the rear. Next to it is a 3.5mm audio port should you want to do the old "line in" input. It comes with a line-in cable and a microUSB charging cable too, so you just need to plug it into the nearest available USB port to charge.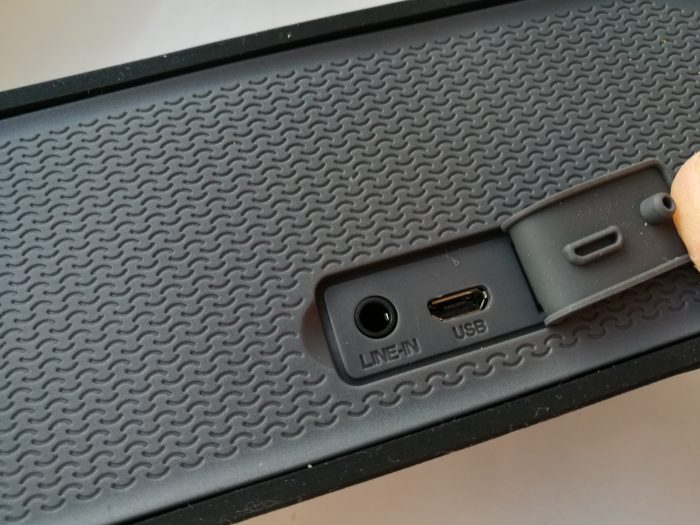 The speaker is turned on or off via a long press on the power button at the top. Hold it down longer if you want to re-pair. A lovely English voice will say, "Power on" and "Pairing" to let you know what's going on. She's properly English too.
There's other control buttons on the top too, including a play / pause button which you also press to answer a call if your phone rings. The plus / minus buttons on the top let you either adjust the volume or skip tracks and the microphone built-in to this speaker allows hands-free calling.
A big chunky cord hangs off the side and I found this ideal for attaching to a bag or a shower.
However. Although the design is good (it feels rugged, tough and rubberised for surviving even the roughest and toughest trips) and although the pairing was simple enough (just search and connect to "1Byone BS001"), there's two major things that this speaker needed to deliver on…
Sound and battery life.
After a full charge the speaker will keep going for around 6 hours. Mileage may vary depending on the volume, but I achieved 6 hours quite easily from the 1,500mAh battery.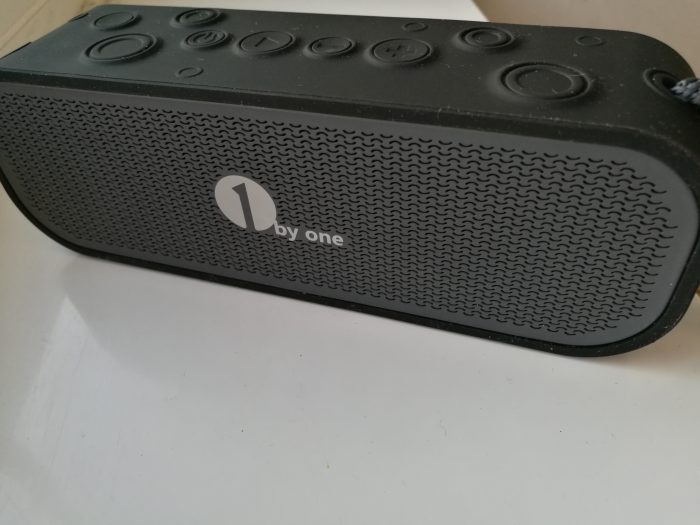 The sound though. Wowser. It delivered in spades. I was pretty shocked at the sound quality. The bass from the "Ultra Bass Booster" and the HD Sound Quality promised by the packaging was actually, truly there. High notes and deep, earthy, warbling bass sounds were punched out of the speaker in equal and separate measures. It was amazing just how clear and concise the sound was. I expected the usual mid-range "meh" sound from this thing but received a kick in the chest from the rich and solid audio. The bass is really noticeable. Sure, a bass cannon would probably beat it, but considering the size it produces some very juicy deep bass.
Well done 1Byone, whoever you are, this is properly good and then some. Round of applause for this one lads. Top banana.
Get the 1byone Portable Bluetooth Speaker with Enhanced Bass from Amazon UK for £25.99. Well worth it.
1byone Portable Bluetooth Speaker Review
Construction quality - 93%
Value for money - 90%
Battery life - 93%
Sound quality - 97%
The sound hits you like a stick in the face. Totally fantastic audio quality considering the size and unassuming exterior.