Way back in 2002 Alton Towers opened a ride called "Air". It was their first ever "flying" roller coaster. You strapped yourself in and then the ride would tilt you forward, sending you face-down under footpaths, over trees and upside down.
Some 14 years later, it's still there. Now there's a new name, a new look and a new feature – Virtual Reality.
Welcome to Galactica.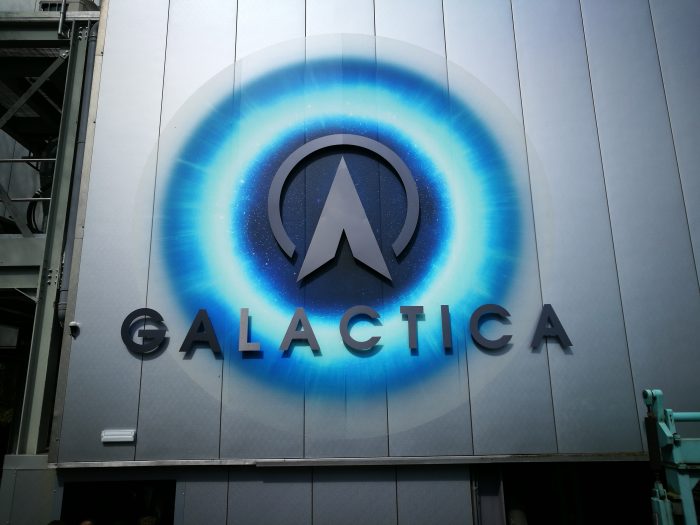 On Sunday I went to Alton Towers to test it out. The park, if visitor numbers on a beautiful sunny April weekend are anything to go by, is still suffering from The Smiler crash last year. Some rides are closed, staff numbers have dropped and most rides posted no queue times at all. There's a noticeable seriousness from ride staff, with "thumbs up" checks strictly adhered to and each lap-belt and harness checked and double-checked. Gates are closed and rides are closely monitored before being activated. The June 2015 Smiler incident, which resulted in five seriously injured riders, is said to have been caused after a ride engineer manually overrode a safety mechanism that had stopped two trains from occupying the same section of track. This sent a carriage loaded with people into an empty test train, resulting in the injuries and the park itself closing for several days while an investigation was conducted. The Smiler, which cost 18m, now has additional safety features but only reopened last month.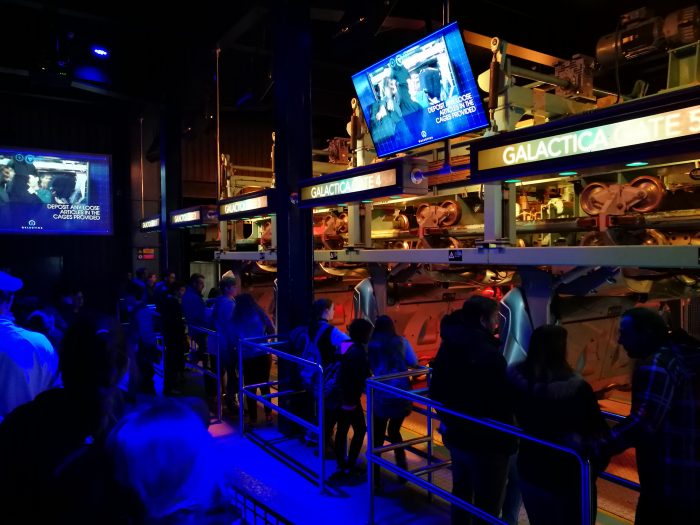 Galactica opened just days ago too. There's new branding and an in-queue booth where you have your photo taken before you get on the ride. You stick your head into a helmet-shaped window so that you can be turned into an astronaut after exiting the ride. This is done because the ride needs you to wear headsets, and that wouldn't look great for those on-ride photographs. The headsets, from what I saw in the shop afterwards, are Samsung Gear VR units. They sit inside protective waterproof covers with hard-wearing velcro straps so that you can plonk them on your head quickly pretty easily. You can buy one after you get off too, minus all the external protection of course.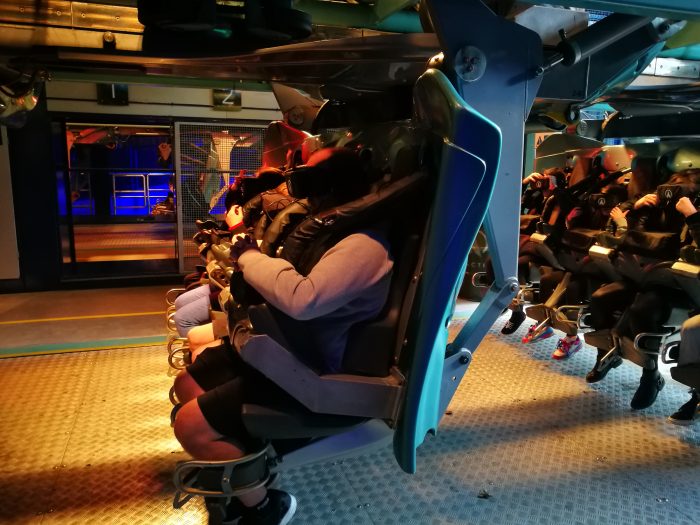 Actually putting them on at all is entirely optional. You can choose not to, and experience the ride as it was when it was called "Air".
The VR headsets sit inside pouches on the chest harness. There's two sturdy cables holding the headset on plus the data / charging cable too. At the end of the ride, as you wait to be sat back upright, you're told to remove the headsets and they'll happily dangle down in front of you.
The outer cover allows access to a focus wheel and it also incorporates headphones. Each unit can be reset and controlled remotely by the operators via tablets too. A thick, hard-wearing rubber will cushion the headset against your face and you're met with a Galactica splash screen when you first put the device on. A helpful member of staff is on hand to help you too, and we had a very nice staffer adjusting the tightness and tucking back the excess velcro strapping. I'm told that the phones inside are Samsung Galaxy S6's.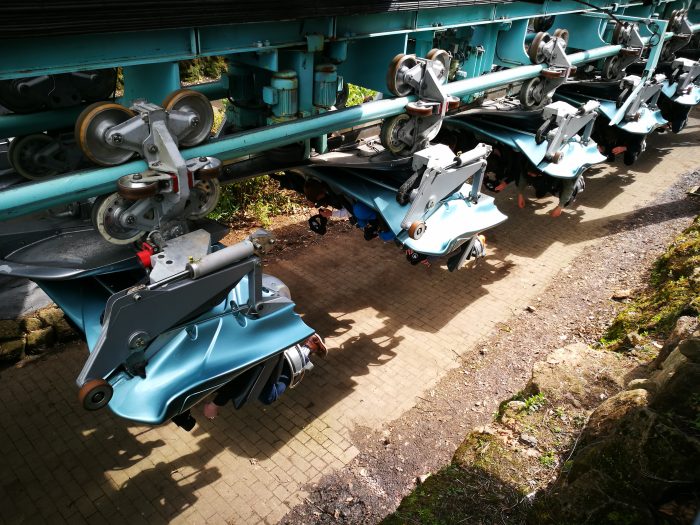 Before you know it, you're tilted back and a computer-generated launch sequence begins. Inside the headset you each appear to fly tiny spaceships. Passing below you is the interior of a space station and you head towards a space portal to "launch" to the next part of the virtual ride. The only thing that tells your brain that this all isn't real is the cold wind passing across your body. It goes against the stars and the lava that you fly through, and you can find it slightly difficult to move your head around a great deal when you're dangling face-down in a harness.
The new VR-version of this ride has been two years in the making, but the accuracy of the video and the actual physical twists and turns was spot on. I did find that the vibration of certain parts of the ride was reflected in the CGI footage too, plus there was a couple of moments where the phone couldn't quite keep up with the rapid changes in direction of the ride.
That said, the acceleration and changes in direction matched VR experience pretty perfectly. That was good and bad because in a way it felt quite natural, almost calming. I could feel the acceleration and the g-force on my body, but it was almost like I was watching the original "Tron" movie in the back of a moving car. Instead of becoming anxious about an upcoming twist or inversion, you instead fail to tense up for that big loop in the distance and just sit back whilst watching a computerised video. At the end a little piece of me wanted to have another go – without the headset.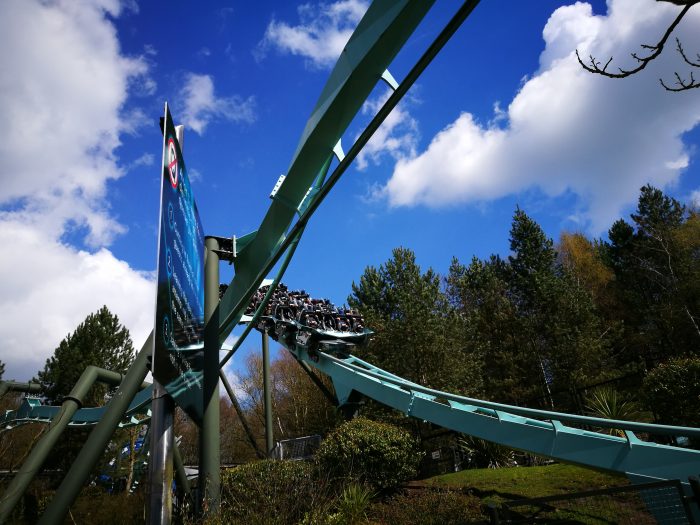 What also "got me" about this ride was view from the queue. I looked up at others experiencing the ride and it was a strange thing to see. People slid past, looking almost gormless as they gazed in several different directions. It was like seeing customers on a tube train on the Underground – each staring in different directions to avoid eye-contact. There was a lack of screaming. It was almost sedate.
So, as I was returned to the upright position, I didn't feel like I'd been thrilled or scared as much as I would've done on a regular rollercoaster. The same lady who'd adjusted my strapping earlier took out a bunch of alcohol wipes and, as she wiped my goggles down, asked me if I'd enjoyed myself. I was a little confused and I must admit it really didn't do it for me. Sorry love, it's me, not you.
Galactica VR Rollercoaster Review
Overall - 57%
Technically spot on, but the CGI was a bit too CGI and it took away the thrills and expectations. I ended up relaxing instead of being scared and amazed. Try it with, then without.