If you've tried Forex trading in the past, chances are you've used a PC with Windows. Forex trading software is complex, and trading requires flexibility. MetaTrader 4 (MT4) became the industry standard for its great functionality. But finally there are Forex trading apps for smart devices that you can carry around. MetaTrader 4 for iOS is at the forefront.
It's the most popular Forex trading platform and allows real-time quotes, complete trading history, a full set of trade orders and high-performance charts.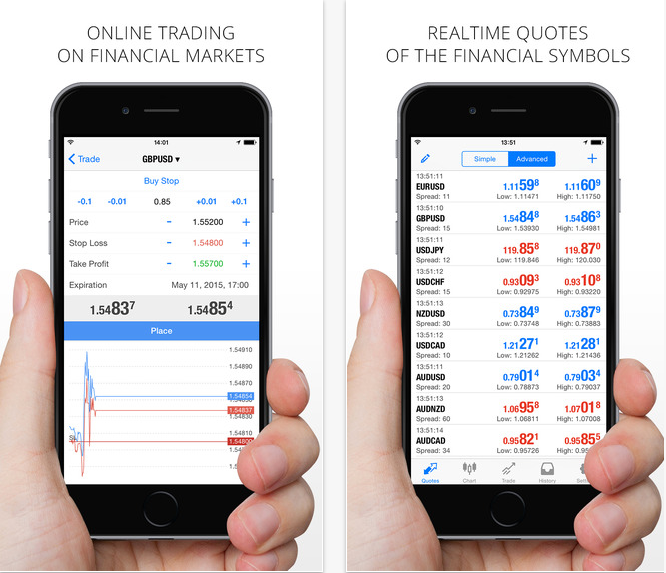 These are the features you should be looking for:
Live price feeds and market news
This used to be the standard that iOS apps could provide but always had its faults. A live price feed is vital to trading, no matter what the device. Smart trades can only be made if you're up to date with the news.
With technology improving, the news aggregated on iOS apps is smarter than ever. MT4 for iOS will provide what you personally need. You can filter price feeds and news in order to get the information crucial to your trades.
Charts
Charts are a trader's best friend. If you don't have the charts available at your fingertips, chances are your analyses will be flawed.
MetaTrader 4 for iOS offers 3 types of charts to help you make the right trades at the right time.
Observe your Take Profit and Stop Loss
The charts are meaningless if not used in context of your trading strategy. A good trading platform needs to have the ability to observe your Take Profit and Stop Loss levels. Being able to keep track of how your trades are doing – in context – will ensure you never miss the right moment. You can't follow the markets 24/5, but with good software on your smart device, you won't miss out on much.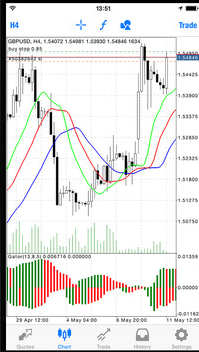 All indicators
A good iOS app will give you access to all the indicators available on the regular desktop application. If it can't do this, you will end up making decisions based on deficient information. You would not make these decisions when using your desktop platform, so why should you have to when using your smart device. MetaTrader 4 for iOS lets you apply all of the indicators.
Security
Forex trading requires intimate financial details and access to a lot of money. If an iOS app does not unambiguously promise perfect security, then you should reject it out of hand. MetaTrader 4 again is at the top of the game with safety, providing the best encryption methods out there.
Trading capabilities
All the information in the world is useless if you don't have trading capabilities at hand. The advantage of MetaTrader 4 for iOS and other new software is that now you can access information and analysis on the move and not have to wait for the chance to use it. iOS trading software should allow you to trade intuitively and provide seamless functionality.
As with desktop software, MetaTrader 4 for iOS is invariably head and shoulders above the rest of the field. Many online trading brokers, including Admiral Markets, offer MetaTrader 4 for iOS with their own integration.