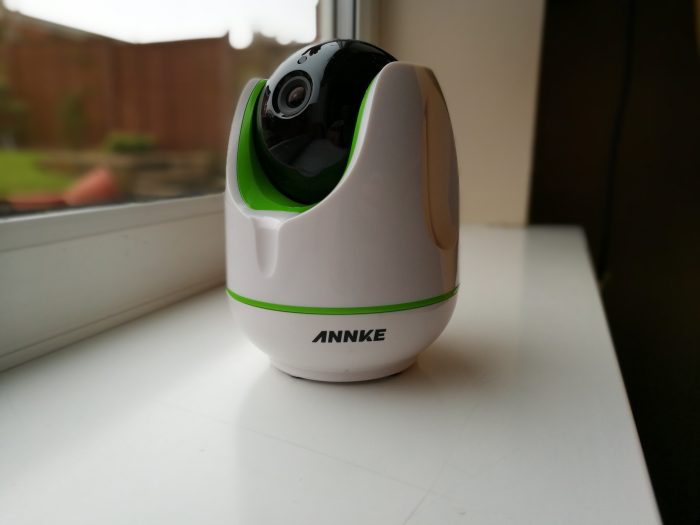 We've head quite a few security cameras cropping up here at Coolsmartphone. This one is from Annke and you can control and move it from anywhere via your smartphone.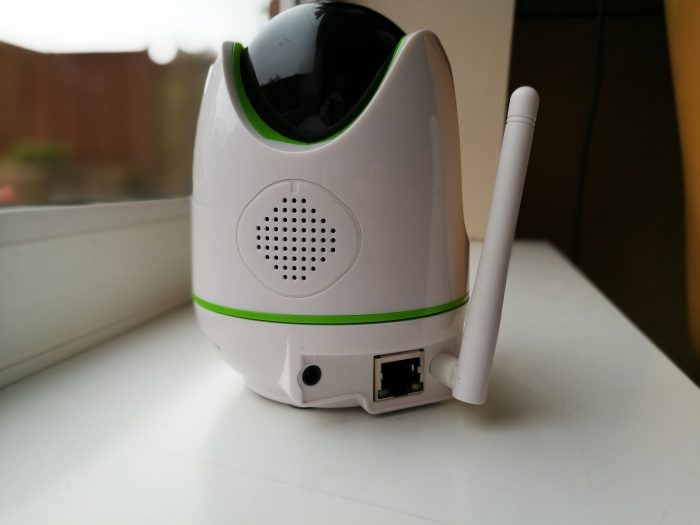 First up, the plus points. Although you'll spot an ethernet port on this, it connects very easily via WiFi too. The stubby, directional antenna has a good range as well. The setup is very quick, easy and there's a little speaker and microphone in there so that you can do two-way audio. Ideal for hearing what's happening back home or perhaps shouting at intruders or simply saying "Hi" to your pets.

This being a security camera, you can either start recording footage on the fly, record when motion is detected or perform a scheduled recording. There's a wide viewing angle, night vision and you can take a snapshot or alarm the camera straight from your phone.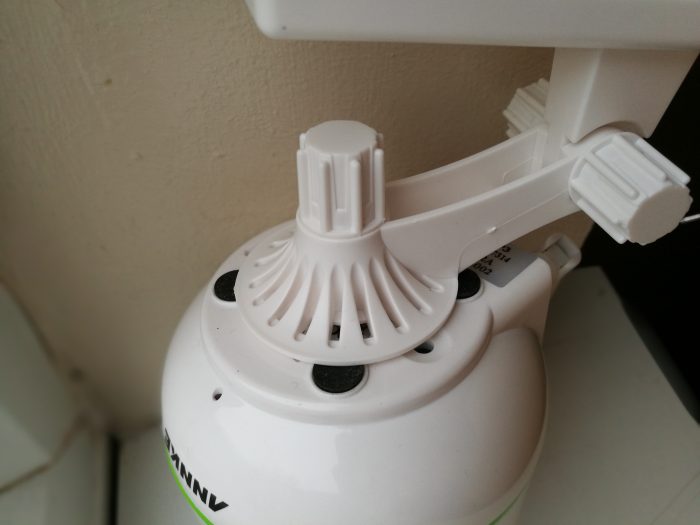 First though, let's get a look at it. The design, I must confess, is bright and friendly. It measures around 10 cm wide and just over 12cm high. You can affix it to the wall or ceiling with the help of the mounting kit shown and you can invert the image on your app and recordings or snapshots so everything is the right way up, even if your camera isn't.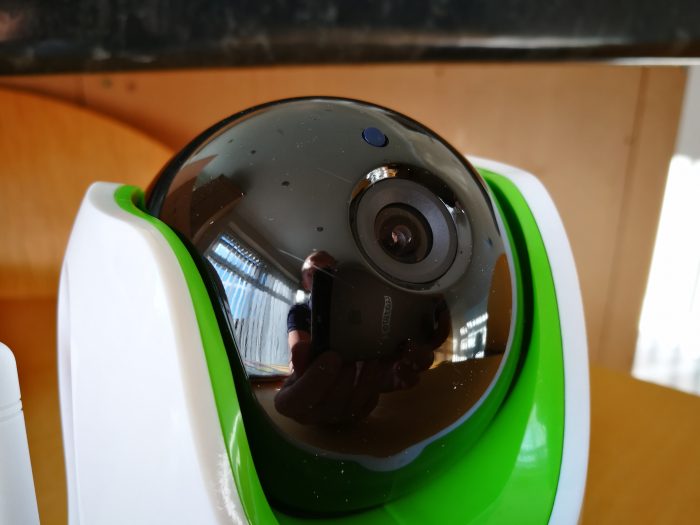 It looks almost child-like but is well built and the top half swivels around 355 degrees horizontally whilst the black ball camera section at the top moves up and down 120 degrees to complete a pretty big full pan and tilt.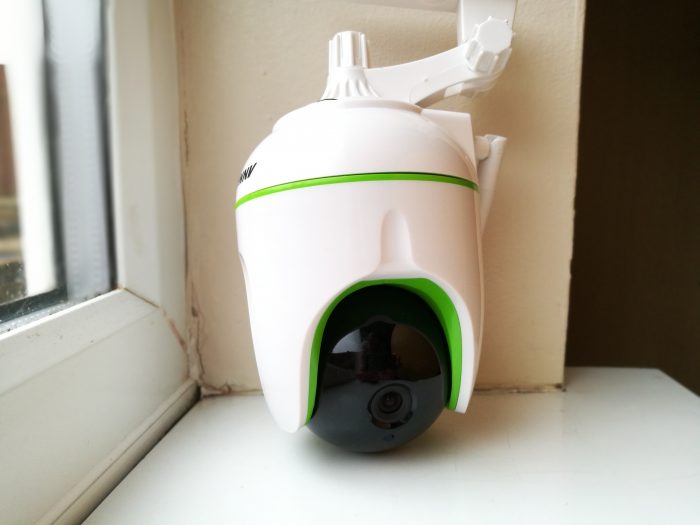 You can pop your own microSD card (up to 32GB) into the slot for storing your video, but all you need to worry about it plugging the thing in. It's then just a matter of grabbing the Yoosee app (available for Google Play or iTunes) and it'll guide you through the connection process. For me it was just a matter of installing that app and then plugging the camera in.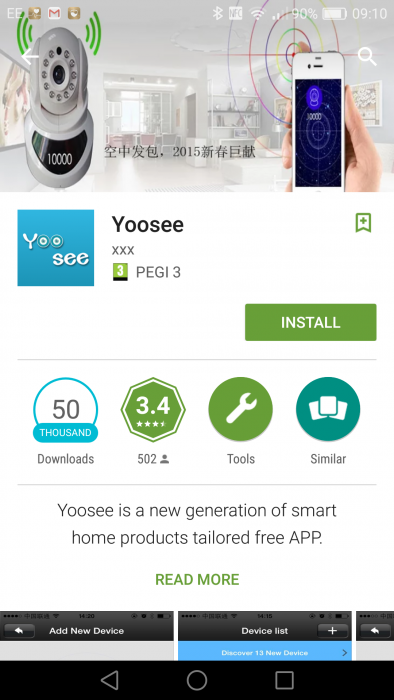 A computerised voice will come from the camera telling you that it's ready for a connection. It's then just a matter of letting the app find it. Once it does (and that takes seconds), it'll ask you whether you're going to connect via WiFi or ethernet. I chose WiFi, then gave it my WiFi access point and password. That, I have to say, was that. Everything else is just as simple too.
Here's an overview of the app in action..
You can get notified when there's movement at home via email and it'll make a right old noise out of the speaker to deter any intruders too! When it gets dark there's a bank of LEDs which will let you keep an eye on the room you're monitoring even in low-light conditions.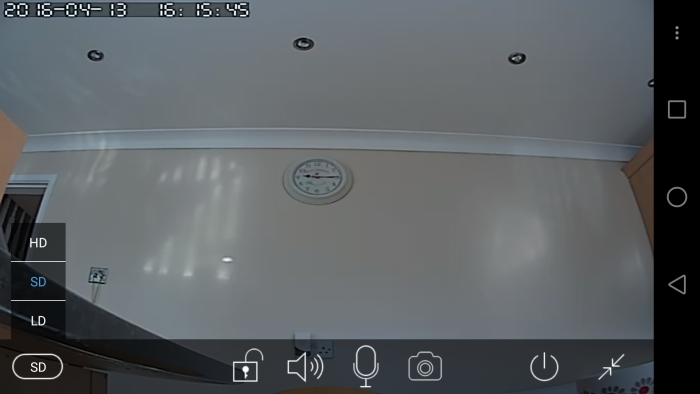 Once you've added a camera the app will let you twiddle with all the settings you need on the camera – alter the date and time, set an admin / guest password, change the video format (PAL / NTSC), the network, the type of notification (and how long to sound the loud buzzer for) and you can update the camera software itself directly from the app.
Now, I have to say, I've reviewed a couple of cameras like this in the past and I usually have some problems somewhere. I've seen random APK's needing to be downloaded, I've seen strange Chinese firmware and I've seen hit-and-miss functionality. Here ? None of that. It worked faultlessly and also worked as a great communication device when I was working away – I could speak to my son at home without having to faff around with any video call software. The movement of the camera was smooth, controlled and quiet. Plus, if you have the bandwidth, the 960p HD video output delivered to the mobile app was shockingly good.
I've got to say, what did it for me was just how brilliantly simple this was. You can setup and get going in seconds and the operation of the thing was remarkably simple and straight forward. I couldn't find anything wrong with it at all, other than I'd perhaps like some cloud storage addition maybe.
Get more information on this camera from the Annke product page or buy it from Amazon USA (currently $59.99) or Amazon UK (currently £49.99). The resolution was good, the movement sensor was spot on and the app / camera combination was a complete package.
Annke SP3 960P HD Wireless IP Camera review
Construction / design - 95%
App / control / UI - 93%
Solid, well though-out and easy to setup and control. A top bit of kit