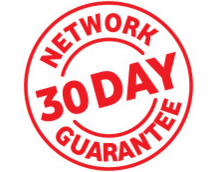 Those guys at Vodafone have already had their data test drive offer running for quite some time, but now they're adding a 30 day network guarantee. It will, in essence, give you a 30 day no-quibble trial of the network and applies to all customers.
Vodafone seem to be giving you the chance to properly test the coverage, the speed and the reliability of their network instead of relying on those "iffy" computer-generated network maps that each network puts online. It's a good idea, and one that I think all networks should think about doing.
Vodafone state …
We know it's a big decision to agree to any commitment lasting 12 months or more – so from today we're introducing the Vodafone 30 Day Network Guarantee which gives new and upgrading customers the freedom to experience the strength and quality of our Network before they fully commit.
The company have spent some £200 million in London during 2014 and 2015 for 99% 4G population coverage plus a massive £2 billion in total across the UK. This deal applies to all new and upgrading pay monthly and pay as you go bundles purchased through Vodafone direct channels.
Head to www.vodafone.co.uk/30daynetworkguarantee for all the details.