Some time ago I took out a 12 month EE SIM-only plan. It was a pretty good deal I thought, and delivered 4GB of data every month for £19.99. Not bad, but it was made even better thanks to a cashback offer I'd grabbed. It brought the monthly cost down to around £16, which really isn't bad at all.
However, now you can get an even better offer. This time there's a massive £96 cashback, and EE have increased the data to a massive 16GB every month, so let's work that one out.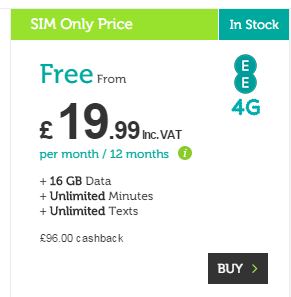 First, the full price for a 12 month SIM-only 16GB EE plan is £19.99 per month. That works out at £239.88 over the year. However, if you take the £96 cashback off, it equals £143.88 over the year, or just £11.99 every month!
£11.99 for unlimited minutes, unlimited texts and 16GB of data per month? Come on, that just has to be purchased.
Get the full details from MobilePhonesDirect.co.uk