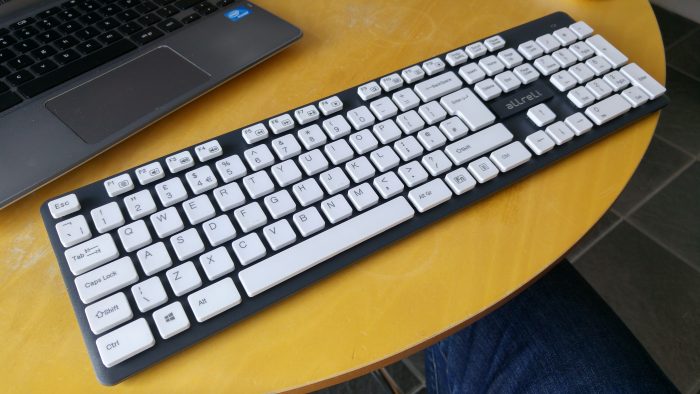 This is just £12.99 on Amazon and, I have to say, I quite like this. It's definitely my preference when compared to the gaming keyboard we looked at fairly recently. This is the aLLreLi KA150G Wireless Keyboard and it comes with 18 multimedia function keys too.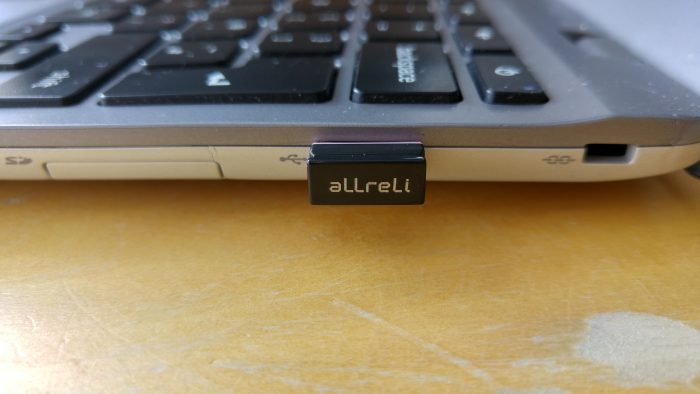 Out of the box there's a distinct lack of wires (obviously) as this is completely wireless and runs on 2.4GHz. I'm using it right now through the USB port on my Chromebook and it's fine – no drivers required. It needs a simple setup to get going, and on this particular model it's just a matter of putting one of the three supplied non-rechargable AAA batteries in and then pressing SHIFT+ESC to get the keyboard talking to the ultra low-profile USB receiver.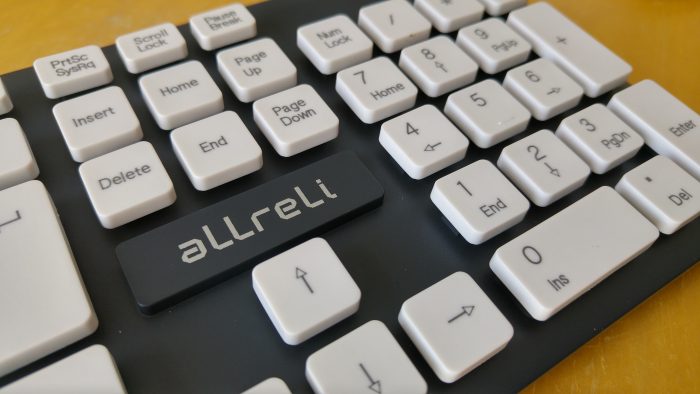 Thinking about it, I was quite glad to see three batteries supplied. Very good considering that the actual keyboard only needs one, so you've got some on-hand if you need them and there's a battery light on the top right to indicate when the current one is getting low. I kinda wanted to see a USB rechargeable unit, but at £12.99 you can't really argue. The company tell me that the keyboard is designed to use just a tiny amount of power to operate.
The keyboard itself has a soft-matt "chocolatey" appearance and the keys are low-profile but work very well indeed. I got a really good speed up when typing. The 18 multimedia keys will let you stop and start videos, adjust the volume, send email and more.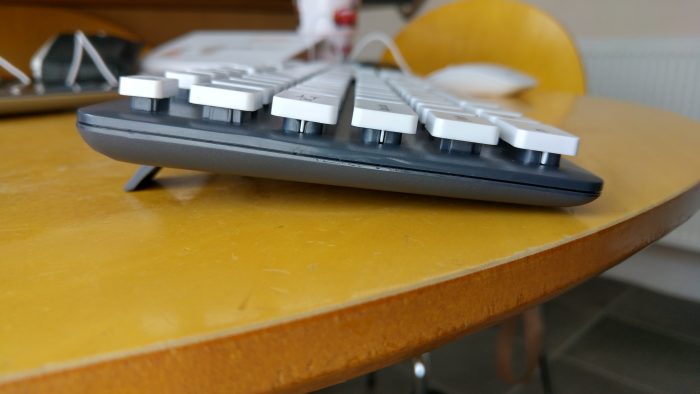 It's a very light, slim and portable device with sturdy legs at the back to tilt it up. If you're carrying it around and it gets dusty, don't worry – you can remove the keys and clean it very easily. I found it to be very comfortable and there was no sense of having to "get used" to it.
This is ideal for a kitchen, a studio or a place where you really don't want cables dragging everywhere. There's a 10 metre range via the 2.4GHz connection so you can perhaps use it with a TV or other multimedia equipment too. It's attractive, stylish and I found absolutely nothing wrong with the operation or the feel of it. Very nice.
Get it from Amazon UK for £12.99.
aLLreLi KA150 Wireless Keyboard Review
Overall - 94%
A slimline, well-designed and very practical keyboard which is easy to use and operates very well indeed. Just ensure you have a AAA battery nearby.