On Thursday at Gadget Show Live, I got the pleasure of meeting the UK team behind 'BagsByBlack'. The team has brought to our shores a new range of bags for both males and females to protect your tech. The range has been designed in South Africa for the consumer market worldwide, they chose the Gadget Show to unveil their products. Whilst I was receiving a demonstration from the team, the designer turned up from Johannesburg to everyone's surprise, including my own!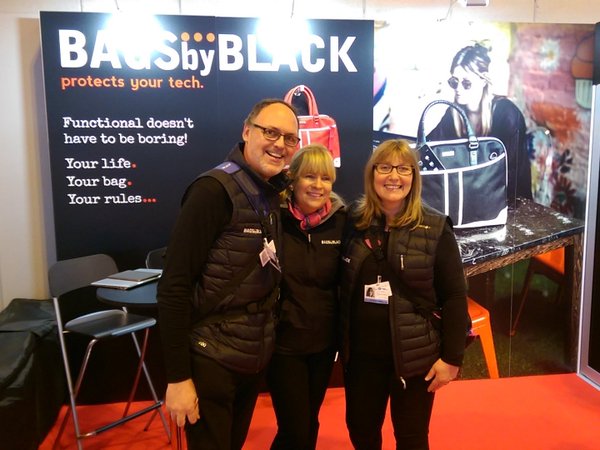 The bag for the ladies is called 'Lexi', purposely designed for being elegant, which is something not associated usually with carrying expensive laptops and tablets. The 'Lexi' comes with two zipped external compartments, suitable for simple storage of smartphones, pens, business cards and accessories. Top loading for easy access, this bag is designed to protect your laptop along with your documentation and everyday essentials.
Product Features:
RRP: £39.99
Exterior dimensions 53 x 35 x 15cm
Weight: 0.78 kg
Material: Nylon
Adjustable shoulder strap
Warranty: Limited lifetime warranty product
Features:
Cushioned
Water resistant
15.6″ laptop pocket
Smartphone pocket
Tablet pocket
Workstation
The next bag is called the 'Buddi' which is for either sex, but designed for the active user. The 'Buddi' is a side loading backpack that offers protection for laptops up to 15.6″, just like the 'Lexi'. It contains separate pockets for smartphones, tablets, cables and accessories to make sure your devices are insulated from bumps and scratches, behind zippered access.
Product Features:
RRP: £39.99
Exterior dimensions 53 x 35 x 15cm
Weight: 0.78 kg
Material: Nylon
Adjustable shoulder strap
Warranty: Limited lifetime warranty product
Features:
Cushioned
Water resistant
15.6″ laptop pocket
Smartphone pocket
Tablet pocket
Workstation
Water bottle holder
Key holder/money pocket
More information can be found at www.BAGSbyBLACK.com