Not another range of dash cams I hear you say, THINKWARE presented today a new range of dashcams at Gadget Show Live 2016. THINKWARE, unveiled its new X330 and the X550 dash cam technologies.
With a 1080 Front Full HD, 2.7inch LCD and the Sony CMOS Image Sensor, the THINKWARE DASH CAM X330 also now features Safety Camera Alerts when connected to the external GPS antenna. In partnership with camera alert specialist, Cyclops, it provides drivers regularly updated information on verified speed/red–light camera locations and known mobile speed traps. Updates are performed by connecting the camera directly to a PC or a Mac.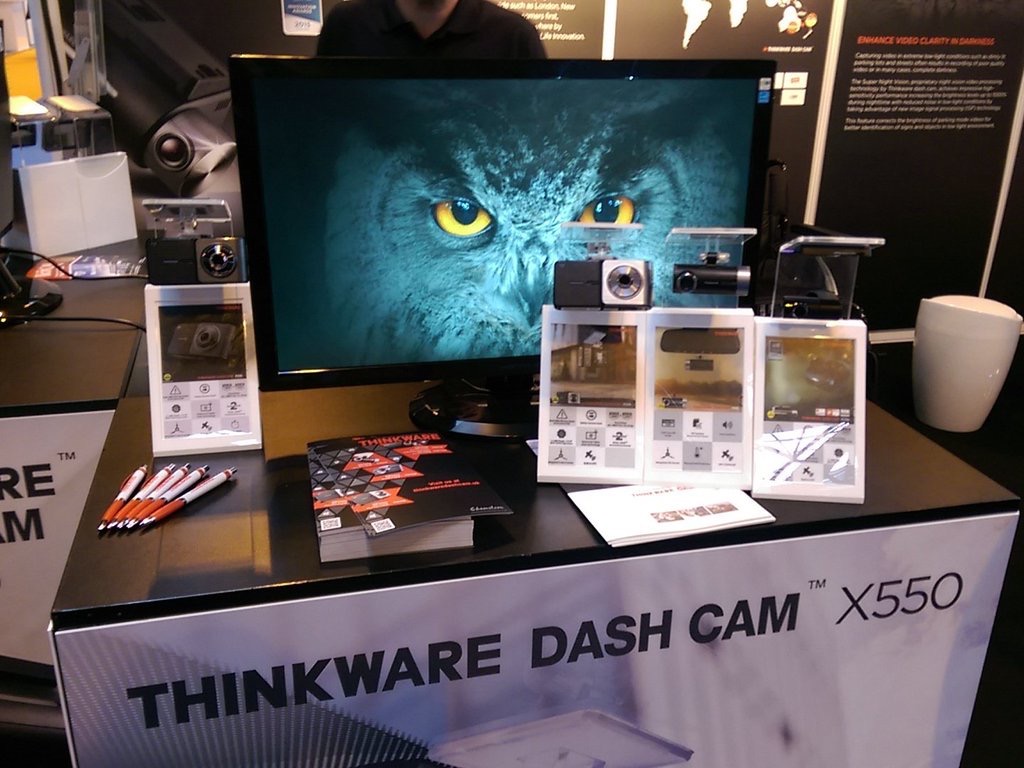 The THINKWARE DASH CAM X550, in addition to the Safety Camera Alert, also features Super Night Vision, a night image-enhancing feature, and Time Lapse photography, which records one frame per second. The Super Night Vision, which is optimised for dark parking environments, delivers up to 10 times more brightness than existing products in the market according to the lovely people on the today this is due to new image signal processing (ISP) technology and real-time video processing functions. The 'Time Lapse photography' features an improved video storage method, allowing it to record the details of the parked vehicle continuously for almost two days, as opposed to relying on the g sensor and motion detection to record incidents with regular parking mode. One of the main difference is that these cameras don't use Infrared for night-time mode.
The THINKWARE DASH CAM X550 has also adopted the 'Advanced Driving Assistance System (ADAS) which assures driver's safety and convenience with numerous driver alerts. The Lane Departure Warning System (LDWS) alerts drivers when swerving out of lane, the Front Vehicle Departure Warning (FVDW) informs drivers when the vehicle ahead is moving off and the Front Collision Warning System (FCWS) advises drivers of when to brake by calculating the speed of your vehicle and the vehicle in front in real time.
None of the units contain any batteries, as THINKWARE advised against using lithium batteries against a windscreen, but you can still hard wire them in or use a cigarette charger.
HEUNG BOK LEE, CEO of THINKWARE comments " We are delighted to be participating in The Gadget Show Live this year and are confident that UK consumers will love the new features we have introduced. The necessity for and interest in dash cam technology is growing rapidly throughout Europe and we believe this will be an increasingly important market for THINKWARE in the years to come."