There are lots of different devices and gadgets we take for granted that have changed how we live and work. As part of the upcoming Gadget Show Live event, they ran a poll to vote for the top inventions to come out of Birmingham (the home of GSL 2016). The winners were the pacemaker, pen and kettle. To mark the event, a blue commemorative plaque was presented by Gadget Show presenter, Jon Bentley to the Queen Elizabeth Hospital, the home of the very first pacemaker.
Birmingham's relationship with technology, innovation and all things gadgetry goes back hundreds of years, with some of the world's best ever inventions starting life in the minds and on the drawing boards of Birmingham's finest forefathers. In celebration of these achievements, The Gadget Show Live (31st March-3rd April, NEC) has held a poll with the people of Birmingham to decide their favourite local inventions that make them proudest of the the City.
The top three winning inventions comprise the Lucas Abrams pacemaker, invented in 1960 by Leon Abrams and first fitted at the Queen Elizabeth Hospital; the pen, invented by John Mitchell in Newhall Street during 1822; and the first immersed heating resistor, which paved the way for the first electric kettles, invented in 1922 by Arthur L. Large of Bulpitt & Sons.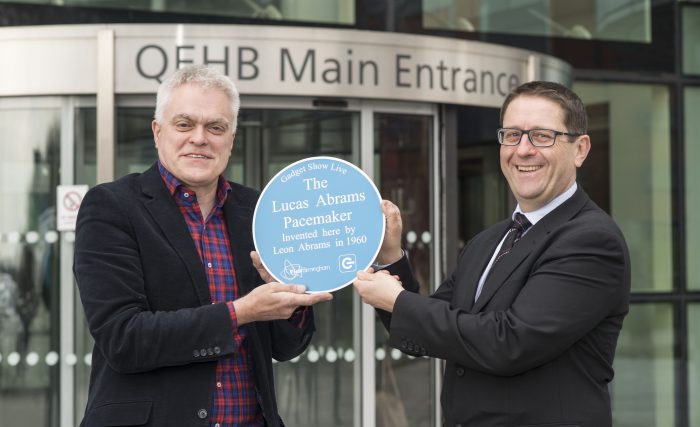 Jon Bentley, presenter of The Gadget Show, which is filmed in Birmingham, comments, "The UK is extremely lucky to have a production powerhouse like Birmingham, putting Britain at the forefront of past, present and future technical innovation. From time-saving products like the kettle – to life-saving inventions like the pacemaker – Birmingham's gadget heritage is hard to beat. It's great to be able to celebrate the products that the people of Birmingham are proudest of."
Emma Gray, director of marketing and communications, Marketing Birmingham, said: "Birmingham's history is a timeline of tech-savvy achievement. A city that once pioneered the creation of life-changing gadgets is now driving forward a thriving digital and technology sector. Birmingham has produced some of the most inventive minds, responsible for the creation of innovative, important gadgets ranging from the camera to the microphone. It is fantastic to be able to pay homage to the creators of the kettle, pen and pacemaker who turned their brilliant ideas into a digital reality."